Controversial Australian tennis player Nick Kyrgios delivered another memorable and skilful display to down Stefanos Tsitsipas in the Semi Finals of the Washington ATP 500 to set up his second clash with Daniil Medvedev in the space of 3 months. But the match wasn't all about the feel good factor as he showed plenty of his old angry self midway through...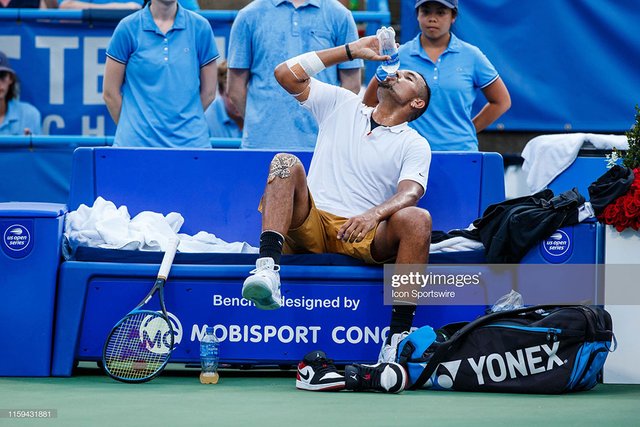 Source - Getty Images - Nick Kyrgios
The first set was by far the most entertaining and the best performance of the three by Kyrgios who had all the answers to Tsitsipas's serve and general rally play from the back. At times Tsitsipas looked on in bemusement at how he was being toyed with by Kyrgios. On show was the Nick's jumping drop shot where he feigns to go hit a flat forehand and instead drops the ball short just over the net. It's so well disguised it usually catches the player flat footed regardless of their own reflexive capabilities.
He even had time to entertain the crowd with fist pumps right across the side of the court having so delicately played a volley at the net that just caught the line. Things were going so smooth for Kyrgios in the first set that it was almost impossible for him to loose his temper. Finishing off the set in style Michael Jordan would have been proud of his jumping volley smash to put the set to bed.
But we all know what Kyrgios can be like as soon as a set of tennis doesn't go his way, the world suddenly doesn't seem all rainbows and sunshine's then. After being broken in the second set at 5-3 to Tsitsipas Kyrgios smashed his racket against the floor near his seat before spitting on the floor right in front of a ball boy. It was a truly disgusting act that seemed to go unpunished. I am a fan of Kyrgios but spitting for me just took it way too far today, of all the arguing and abuse to different people he has given, the act of spitting was just one step too far. It will be interesting to see if he gets fined for it and disciplined later.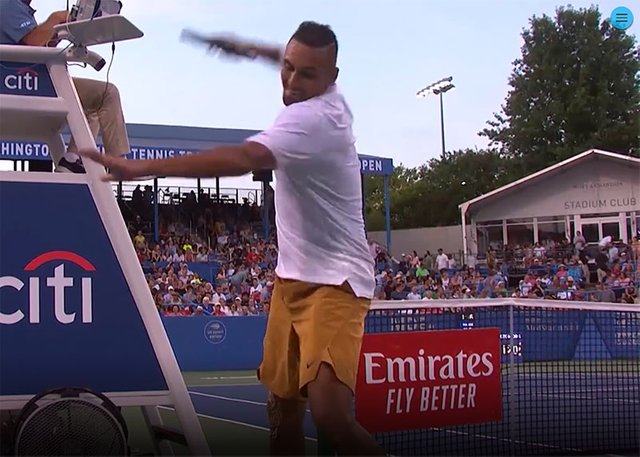 Angry Kyrgios smashing his racket on the floor after loosing the second set to Tsitsipas
The firey Australian held on in the final set by clinching it with a tie break win 9-7. If Kyrgios is to continue playing tennis someone will have to work on managing his temper because he seems to be getting progressively worse. I can't see him lasting long given his conduct, he will either be banned for a year or two due to some sort of violent behaviour before giving up after that or will quit the game out of frustration and anger before even another ban occurs.
Looking ahead, even though I don't agree with his conduct in the Semi Final and felt he should have been booted out of the tournament for spitting, now he's in the final I am backing him to go all the way and win the title vs Medvedev. It will be a good series of tips for me if he does having tipped him to win outright at 5.00 before then tipping him to beat Tsitsipas at 2.10. Now he's 2.10 to beat Medvedev tomorrow.
He faced the Russian in Rome on clay in May and enjoyed putting on a show with party tricks including a fair few under arm serves that embarrassed the bear somewhat. Fans will be eagerly anticipating Kyrgios's showman tennis tomorrow but all eyes will most likely be on his temperament and whether he can see the final through without anymore drama.
Watch Kyrgios Almost Implode on Way to Victory vs Tsitsipas