Part 2
FROM DE OTHER SIDE OF OCEANS #2 : NEW CALEDONIA - Part 2
ONLY 300kms FROM NOUMEA, THE CHANGE OF SCENERY IS TOTAL...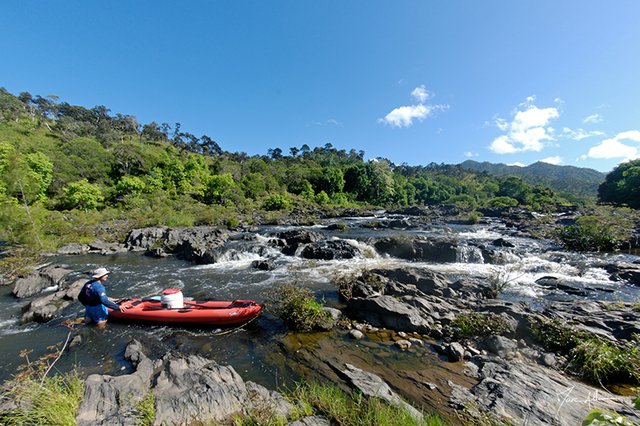 The northern tip is probably the most isolated place of the "caillou". More than 4 hours drive from its capital, this region offers the perfect calm and beautiful walks in the sea or on the surrounding islets. Thus a walk on the heights of Yenghebane Island, kindly improvised and guided by the children of the village, gives a good overview of the extent of the North Island Park. Turquoise bottoms, white sand beach ... the perfect postcard. To cross the eastern coast, the crossing of the Diahot, the largest river of Caledonia, is essential. Kayak enthusiasts can go up the river and visit the people of the banks. The more the hike evolves, the more the river closes. Soon a real Guyanese decor takes place. The jumps start to appear. You have to unload, carry, recharge and continue to evolve in a paradise setting. Bamboo forests, endemic plants, wild horses, family villages, the scenery is total and can last several days. Notice to sport lovers and athletics...
| | |
| --- | --- |
| | |
THE EAST COAST, THE WET COAST...
The Amos Pass marks the gateway to the East Coast. It is the windy coast, humid, green and mountainous. Several cascades of great heights are chained. Among them, the waterfall of Tao and that of Colnet. At the foot of the mountains, the life of the tribes is organized and very easily welcome visitors. The arrival in a tribe must always be courteous and if the custom can be avoided, knowing how to live is still in order. Hienghene is the hub of Northeast activities. Stuck in a beautiful little mouth, a small marina is home to a dozen boats. It is the departure of excursions towards the mountains or the nautical activities. The place is superb. Fans of religious architecture will also find their account. All villages own their church. Often dominated by a large, well-maintained green area that is also known as football field! They catch the eye and lend themselves easily to the sensors of our cameras.
Thanks for reading, End of Part 2, Part 3 soon...
[//]:# (!steemitworldmap -20.262197 lat 164.025879 long d3scr)
Read the first part by clicking here...
Version Française en cliquant ici...
Photography and text copyrighted ©Marc ALLARIA - www.photo-sousmarine.com