PSG is closing the year with a 19% revenue increase.
19% increase in revenue despite spending hundreds of million paying players, coaches, staffs and maintaining their facility.
This is what I call, Sports, Money and Entertainment; where sports meets money and entertainment.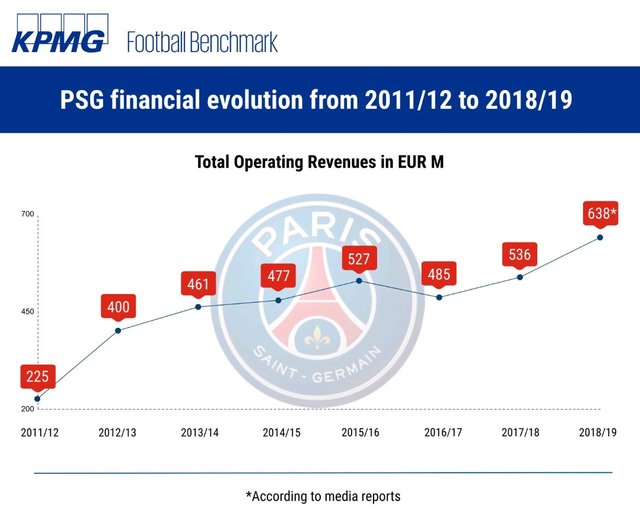 ---
19% increase in revenue is a big leap for a sports club and Paris Saint Germain just posted a very good return.
There is big money in sports and it never ceases to impress because, that sector has the capacity to generate some insane revenues while entertaining the world.
Don't you wonder how these monies are generated despite the millions paid to each players yearly? Big money sectors like sports and Gaming is something that should not be ignored.
Well, it is the game and it will always be exciting and rich.
---
Blessed!
---
Sports, Money and Entertainment is what is used together in sports and as someone running a Sports and Games ecosystem, I get really excited at the prospect of what we are building knowing, it is a sector that has to do with our interactions daily.
Sports is life and with the world as it is, there will be an imbalance without sports.
The reason for the increase in revenue is due to two sponsorship deals said to be worth over €150million annually as reported by the club.
The Ligue 1 champions new shirt deal with the French multinational hotel chain, Accor.


and

Their kit contract with Nike both of which were signed this year.
The club has a record total operating revenue of €637.8million for the 2018/2019 fiscal year and they made some profits in the process which is good for the owners and the team.
What remains is to see them win some trophies and also maybe allow Neymar finally leave and replace him with someone else?
---
Talk about big money and you are not far from the truth.
Waiting to see and bring more reports on how these clubs are performing and who is closing with a loss or a profit.
---
Make the world a better place for someone today!
---