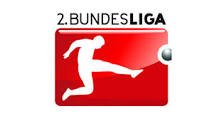 Zum Abschluß des 7. Spieltags in der 2. Bundesliga 3 Spiele am Sonntag.
At the end of the 7th game day in the 2. Bundesliga 3 games on Sunday.

vs.

Hamburg spielt zu hause gegen AUE. Die Weltstadt spielt gegen das Dorf aus dem Wald und jeder in Hamburg sieht einen klaren Heimsieg. AUE ist aber gut in die Saison geatartet und der Druck auf den HSV ist groß nach der Niederlage gegen Pauli. Ich tippe auf eine Überraschung und sage 0:2 Auswärtssieg.
Hamburg plays at home against AUE. The cosmopolitan city plays against the village from the forest and everyone in Hamburg sees a clear home win. AUE did have a good start to the season and the pressure on HSV is great after losing to Pauli. I'm guessing a surprise and say 0: 2 away win.
---

vs.

Dresden spielt zu hause gegen Regensburg. Dresden klarer Favorit gegen ihren Lieblingsgegner, aber Dresden hat eine Phase mit vielen Remis und deshalb 1:1.
Dresden plays at home against Regensburg. Dresden clear favorite against their favorite opponent, but Dresden has a phase with many draws and therefore 1: 1.
---

vs.

Osnabrück spielt zu hause gegen St. Pauli. Alles isr möglich und deshalb sehe ich auch hier ein 1:1.
Osnabrück plays at home against St. Pauli. Everything is possible and therefore I see a 1: 1 here too.
Funny games @all
Best regards & Glück auf
sportfrei