NOCHE MÁGICA EN ANFIELD, LIVERPOOL GOLEA 3-0 AL CITY DE GUARDIOLA / MAGIC NIGHT AT ANFIELD, LIVERPOOL WINS 3-0 TO MANCHESTER CITY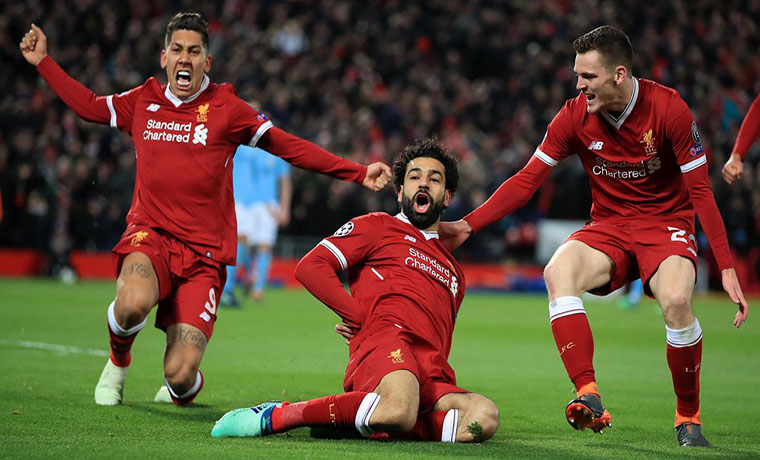 Una noche mágica fue lo que se vivió en Anfield… Liverpool recibió al Manchester City por la ida de los cuartos de final de Champions League, y volvió a demostrar que en el fútbol no hay favoritos, al volver a vencer al líder de la Premier 3-0 gracias a tantos de Salah, Chamberlain y Mané.
El City de Guardiola llegaba como gran favorito a ganar la Champions, luego de ser solido líder de la Premier League. Sin embargo, Los dirigidos por Jürgen Klopp, demostraron el buen fútbol que está practicando para volver a sus días de gloría.
Los locales salieron a buscar el partido desde el primer momento, y abrieron el marcador al minuto 12 por intermedio del egipcio, Mohamed Salah, quien anotó su tanto número 38 de la temporada.
Apenas se lo podían creer los citizens, que empezaron a volverse más erráticos en sus combinaciones y dejaron el camino libre al 21 a Oxlade-Chamberlain para que siguiera con la fiesta de goles, luego de poner el 2-0 con un zapatazo desde fuera del área para ampliar la ventaja de los "reds".
11 minutos después, Mohammed Salah, que está teniendo la temporada de su vida, tiró un centro templadito al área pequeña donde apareció Mané que remató a placer de cabeza, para colocar el 3-0 y desatar la locura en Anfield.
En la segunda mitad el City mejoró, sin embargo los dirigidos por Jürgen Klopp no dieron opción al equipo de Pep Guardiola, y lograron mantener el resultado, y ahora parten con una sólida ventaja para el partido de vuelta.
---
In English:
A magical night was what was experienced in Anfield ... Liverpool hosted Manchester City for the first leg of the Champions League quarterfinals, and again showed that in football there are no favorites, to return to beat the leader of the Premier 3 -0 thanks to so many of Salah, Chamberlain and Mané.
The City of Guardiola came as a great favorite to win the Champions League, after being a solid leader of the Premier League. However, the ones directed by Jürgen Klopp, showed the good football that is practicing to return to his days of glory.
The locals went out to look for the match from the first moment, and opened the scoring in the 12th minute through the Egyptian, Mohamed Salah, who scored his 38th goal of the season.
The Citizens just could not believe it, they began to become more erratic in their combinations and left the way clear to Oxlade-Chamberlain on 21 to continue with the goal celebration, after putting the 2-0 with a zapatazo from outside the area to expand the advantage of the "reds".
11 minutes later, Mohammed Salah, who is having the season of his life, threw a small center to the small area where Mané appeared that he finished off with head pleasure, to place the 3-0 and unleash the madness in Anfield.
In the second half the City improved, however those led by Jürgen Klopp gave no option to the Pep Guardiola team, and managed to maintain the result, and now they start with a solid advantage for the second leg.