Emery Clearly Not The Man To Steer Arsenal Forward.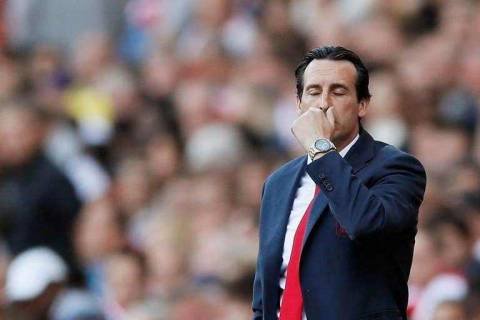 Unai Emery
Arsenal manager Unai Emery's days at the Emirate appear to be numbered, another lacklustre performance and poor results by the Gunners, a 2 nil loss to Leicester City made it a run of 4 league matches without a win(including 2 home draws against Wolves & Crystal Palace) and 5 in all competitions(including the 1-1 draw at lowly Guimaraes in the UEFA Europa Cup & the Carabao Cup defeat to Liverpool's reserve team).
Arsenal's last 4 league results now read
0-2 loss at Leicester City
1-1 draw at home to Wolverhampton
2-2 draw at home to Crystal Palace
0-1 loss at Sheffield United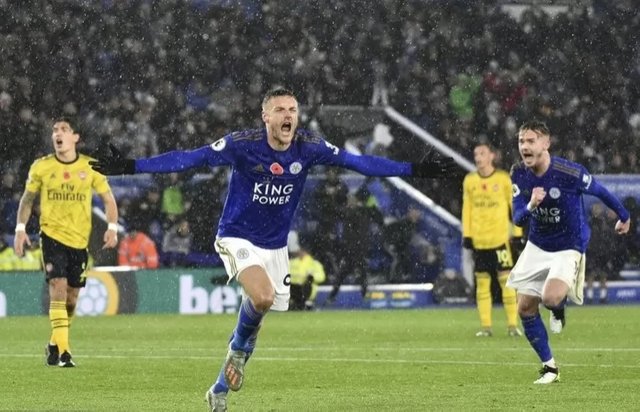 Jubilant Vardy and teammate
The Spaniard arrived at Emirate last season with promises, even though he blew his chance to mark his debut season with a UEFA Europa League Trophy(lost the final to Chelsea) and squandered the chance of an EPL top 4 finish from a vantage position, he was still cut some slack by many Arsenal fans, many who sited the state and disposition of the team he inherited from his predecessor Arsene Wenger. However, the Spaniard had overseen 3 transfer windows and is still unable to steady Arsenal ship. His choice of signings has raised more questions than answers, especially his decision to okay the big-money signing of winger, Nicholas Pepe when Arsenal could have invested such huge money on a world-class defender, a Van Dijk-Esque signing so to say, an area that has been Arsenal's weak link for years, now it's happening all over again, Arsenal just cannot hold onto a lead.
Emery is into his 2nd season at Arsenal and it is disturbing and quite unclear what tactics Emery deploys, it seems to me that the gaffer just sets the players on the pitch and ask them to do their thing. Amid the uncertainty of Emery's tactics is the consistent underuse and/or playing from out of position of certain players such as Alex Lacazette, Lucas Torreira, Dani Ceballos, Mesut Ozil, ... The hallmark of an Arsenal team has always been the attack, there was never a shortage of goals during Wenger reign, but now the team hardly create scoring chances let alone scoring, it's appalling.
What kind of team manager elected his team captain(Granit Xhaka) against the popular choice of Sokratis or David Luiz and then turn around some few weeks later to replace him? Now staring in Emery's face are a bunch of unhappy players, plus he(Emery) now has an uphill task of winning back the support of the fans, who increasingly grows frustrated and impatient with the team's string of poor results.
For a script of Emery's confusion on what players to play or tactics to use, it's written all over the latest defeat at Leicester City, just 1 shot on target all evening from a mere 5 shots in total, in contrast to Leicester's total shots of 14, 7 of which are on target. Arsenal isn't even dominating opponent anymore, they recorded 45% of the possession, as the Foxes outplayed [[them with 55% of the ball possession.
Emery's sack seems not to be a matter of 'IF' but 'When', and it won't cause a shock if he's relieved off his job in coming days.
Thank you all, feels good to be back after some time away.