COPA AMERICA // BRASIL VS VENEZUELA 0-0
Good evening community of steemit, as you well know we are in full tournament of the America Cup, tournament in which 3 groups of 4 face where are 10 Americans and 2 guests from other regions.
Yesterday Brazil faced off against Venezuela, as a preamble, the Brazilian team in its first game and scored 3-0 against Bolivia while Venezuela had tied 0 against Peru.
A game where they expected a dominance by the local team and with few surprises.
A first time with many attempts from Brazil, a great attrition and a Venezuela that held the score as it could. The first goal (or almost singing) came from the feet of Firmino but was invalidated thanks to the VAR that had been missing in the same play to receive the ball.
And in the second half it happened basically the same 2 almost goal songs, but that were not invalidated directly by the referee but by the VAR, both offside. One quite clear and the other that is given by a center attempt that clears the center and takes advantage of a Brazilian player who was offside.
I think that few times has seen a match where 3 goals are annulled and is in 0 to 0. Honestly a game with deficiencies at the offensive level of Brazil in terms of effectiveness and very conformist Venezuela with the result in 0.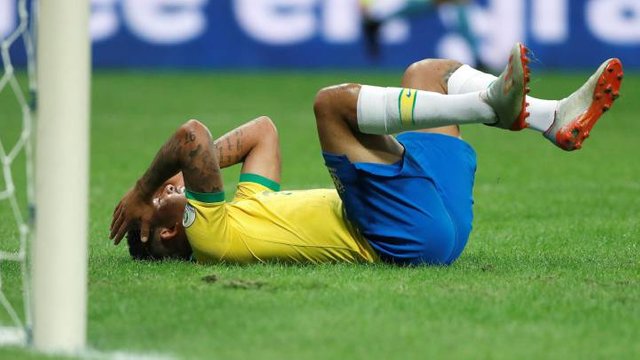 source
---
---
---
ESPAÑOL
buenas noches comunidad de steemit, como bien saben nos encontramos en pleno torneo de la Copa America, torneo en el cual se enfrentan 3 grupos de 4 en donde son 10 americanos y 2 invitados de otras regiones.
El día de ayer se enfrentaron Brasil contra Venezuela, como preámbulo, el equipo de Brasil en su primer juego ya goleo 3 a 0 a Bolivia mientras que Venezuela habia empatado a 0 contra Perú.
Un partido donde se esperaba un dominio por parte del equipo local y con pocas sorpresas.
Un primer tiempo con muchos intentos de Brasil, un gran desgaste y una Venezuela que aguantaba el marcador como podía. El primer canto de gol (o casi canto) vino de los pies de Firmino pero fue invalidado gracias al VAR que había realizado falta en la mismo jugada para recibir el balón.
Y en el segundo tiempo ocurrió básicamente lo mismo 2 casi cantos de gol, pero que no fueron invalidados directamente por el arbitro sino por el VAR, ambos en fuera de juego. Uno bastante claro y el otro que se da por un intento de centro que despeja el central y la aprovecha un jugador brasilero que se encontraba en offside.
Creo que pocas veces se ha visto un partido donde se anulan 3 goles y quede en 0 a 0. Honestamente un partido con carencias a nivel ofensivo de brasil en cuanto a efectividad y muy conformista Venezuela con el resultado en 0.