COPA AMERICA // BRASIL VS PARAGUAY // 0-0
We returned with the Copa America, already to give the start to the quarterfinals, the host faced Paraguay, in a match that seemed easy for the home team, including for many and the betting houses, an almost automatic pass for Brazil . Let's see what happened.
From the beginning Paraguay was going to surprise or better to wake up to Alisson in the first minutes, although this would respond with ease.
As the minutes passed some shots of Brazil but nothing to worry too much Paraguay who held the 0 to 0.
In the second half, at minute 58, in the area of ​​Paraguay with dominance of the ball in Brazil, a foul would be called for which is penalized, but after revision of the VAR, it is shown that the offense occurs outside the area and sanctions free kick, in turn the referee ejects Balbuena who was the one who committed the foul.
Brazil would continue and continue trying, but without reaching anything.
Even where it seemed that the marker would break, but the stick says no to a shot from William at mid distance.
And this went to penalties, where the first to fail is Portillo for Paraguay, until the fourth penalty that fails Firmino for Brazil and then Gonzales to give the victory to Brazil, which suffered enough until the end.
A game where many took for granted the pass to Brazil, who had to get to penalties to seal their qualification to the semifinals. We'll see what happens tomorrow.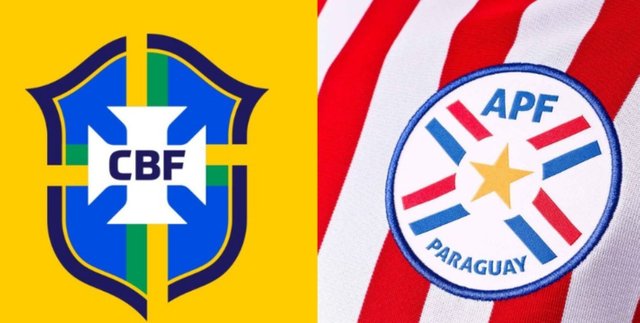 source
---
---
---
ESPAÑOL
Regresamos con la Copa América, ya para dar el inicio a los cuartos de final, el anfitrión se enfrentaba a Paraguay , en un partido que parecía fácil para el equipo casa, inclusive para muchos y las casas de apuesta, un pase casi automático para Brasil. Veamos que ocurrió.
Desde un principio Paraguay iba a sorprender o mejor dicho despertar a Alisson en los primeros minutos, aunque este respondería con facilidad.
Conforme pasaban los minutos algunos remates de brasil pero nada para preocupar demasiado a Paraguay quienes aguantaban el 0 a 0.
En el segundo tiempo, al minuto 58, en el área de Paraguay con dominio de la pelota en brasil, se pitaría una falta por lo cual se sanciona penal, pero tras revisión del VAR, se demuestra que la falta ocurre fuera del área y sanciona tiro libre, a su vez el arbitro expulsa a Balbuena quien fue el que cometió la falta.
Brasil seguiría y seguiría intentando, pero sin llegar a nada.
Inclusive donde parecía que se rompería el marcador, pero el palo dice que no a un disparo de William a media distancia.
Y esto se fue a los penales, donde el primero en fallar es Portillo por Paraguay, hasta el cuarto penal que falla Firmino por Brasil y luego Gonzales para así darle la victoria a Brasil, que lo sufrió bastante hasta el final.
Un partido donde muchos daban por hecho el pase a Brasil, quien tuvo que llegar a los penales para sellar su clasificación a las semifinales. Ya veremos que ocurre mañana.