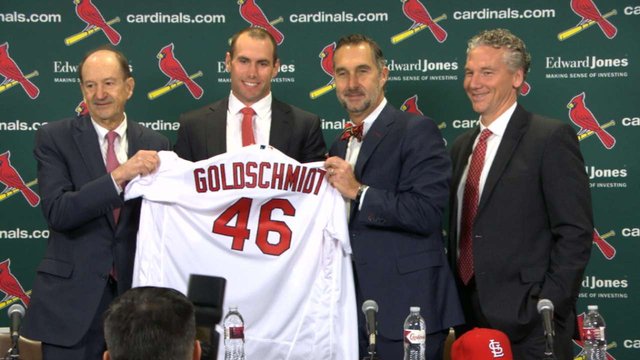 Source
I may only have 28 years under my belt, but for as long as I can remember there hasn't been an off-season like this. It's not even just baseball, It's every sport. -I know there are other sports- but if you compiled a list of big moves for basketball, football, and baseball for each sport's most recent off-season, your list would look like this:
NBA: LeBron James, DeMarcus Cousins, DeAndre Jordan, Isaiah Thomas, Dwight Howard
NFL: Le'Veon Bell, Antonio Brown. Odell Beckham Jr., Dee Ford, Sheldon Richardson, Landon Collins, Tyrann Mathieu, Earl Thomas, C.J. Moseley, Terrell Suggs, Tre' Flowers, Roger Saffold, Kareem Hunt, Mark Ingram, Tevin Coleman, Golden Tate, Eric Weddle, Adrian Peterson, Clay Matthews, Jared Cook, Nick Foles
MLB: Mike Trout (12 year extension), Nolan Arenado (8 year extension), Bryce Harper (13 year contract), Manny Machado (10 year contract), Blake Snell, A.J. Pollock, Daniel Murphy, Michael Brantley, Patrick Corbin, Nelson Cruz, Josh Donaldson, Brian Dozier
And then some.
It's starting to feel like a never-ending frenzy. Like Christmas even. When you're a sports fan, what's a bigger present than Mike Trout or Bryce Harper signing 12+ year deals - or LeBron James going to L.A. - or both Antonio Brown AND Odell Beckham Jr. being traded...all in a single off-season? Seriously, tell me what is juicer than that? Because I honestly don't have an answer.
You've got the fearsome Browns in Cleveland putting their finishing touch on creating a long-awaited championship level team, something of which football fans were starting to feel may never happen prior to the arrival of quarterback, Baker Mayfield. LeBron within an hour's drive to Hollywood, donning yellow for the historic Lakers. And of course, the absolutely massive contracts for four of major league baseball's top 10-15 hitters still in their 20s.
It seems like everyone had their Christmas, or Hanukkah, or whichever other celebratory winter holiday you may know as your own. And while I thoroughly enjoyed this off-season that still isn't even over - given that the likes of arguably the best closer since Mariano Rivera remains unsigned - I never quite received that gift that many other fans of teams like the Phillies, Angels, Lakers, Raiders, Browns, and Jets did.
Although, I came very close to it. You see, I live 15 minutes from St. Louis, Missouri - just across the river. I can recall many a time in which I attended a game with family or friends - or even one of those random field trips you take in school as a kid. Yes, it's true - while I love baseball, I'm more of a fan of players than any one, single team, but when you live 15 minutes from a major league stadium, it's more innate to root for that team than brushing your teeth.
Ever since the departure of Albert Pujols, St. Louis has lacked a superstar caliber player - a face of the franchise. This off-season, the Cardinals, however, did trade for Paul Goldschmidt. With one year left on his contract, the Cardinals let go of promising young starter, Luke Weaver, and the apparent predecessor at the catcher position, Carson Kelly, in return for Arizona's Goldschmidt.
From the get-go, I was thrilled with this move. It made more sense than I could even imagine. Sure, it kind stinks to see Jose Martinez continue to lose out on a position to play, offensively speaking, but if there was a place that made sense for a lead-by-example kind of guy like Paul Goldschmidt, it's St. Louis. Dubbed as having the best fans, it finally felt like the team had somehow gone back in time and paid the piper for another year out of Pujols.
Okay, okay. Goldschmidt isn't Albert Pujols, but he's really stinkin' good. I speculated from the start the Cardinals would lock up Goldschmidt to a long-term deal and, as of today, (just a mere hour or two after Rays' Ace, Blake Snell, agreed to a 5-year deal) it appears that they have.
Per MLB.com, the St. Louis Cardinals are finalizing an extension with first baseman, Paul Goldschmidt, for what is being reported as being "at least 5 years" in length and "at least $110 million" in total earnings. Details are still in the early stages.
St. Louis sorely needed an offensive force to anchor their lineup and they undoubtedly got it. 30 home runs and 100 RBI from now, I can easily see Goldschmidt becoming the face of the franchise even after only one year of being on the team. Considered a top 10 player just a year ago, St. Louis will love Paul Goldschmidt and his skillset. And as the famous quote goes, "Merry Christmas to all...and to all a good night".
---
© This writing was created by and remains property of the username, lionsmane. It is to be claimed as an original piece only on whaleshares and steemit under this username. Creation date: March, 2019
Disclaimer: I do NOT own the rights to the photos used within and will gladly take any photo down at the request of the owners/creators
---
Tip Jar
If you would like to tip or reward me for my writing in other ways, you are free to do so by sending USD to my PayPal address at lionsman[email protected] Simply send using the "friends and family" option (no fees). Note: this is in no way whatsoever required or expected, but greatly appreciated should you decide to do so!