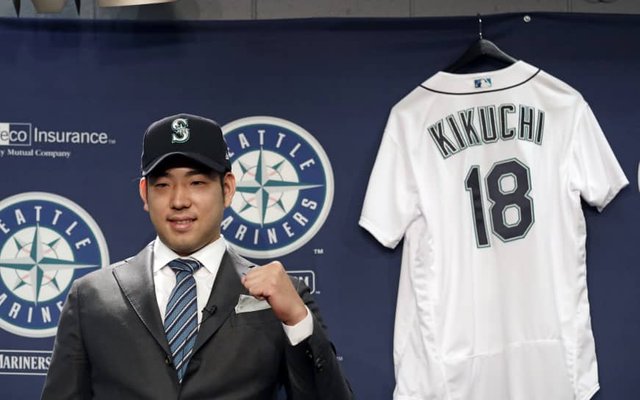 Source
One aspect of baseball that makes it so interesting is the use of minor leagues. In the NFL, players are drafted directly unto an NFL roster (that's if they make the team). In the NBA, the only semblance of minor league ball is the D-League, which is exactly what it sounds like.
As a fan, we're blessed with being able to witness the progression of players from the moment they're drafted out of high school or college all the way until their first MLB at-bat (and beyond). This is especially true in today's age of metrics - provided in great depth and detail by websites such as Fangraphs.com. While I never really wanted children personally, I'd imagine it's a lot like watching your kids grow up and mature.
I used to wonder how a mobile app like Farmville, for instance, could ever be a form of entertainment for anyone - but when I compare it to my own little baseball world in which we sit back and enjoy the cultivation of minor leaguers, it does make sense.
Ironically, this year in particular, we've numerous young players who happen to be the sons of former professional baseball stars, at least a couple of whom don't even need to be named at this point. This makes it all the more interesting because the kind of cultivation we enjoy as fans has been a part of these guys' lives for well before the minor leagues and drafts, etc. I mean, it's hard not to think of "Vlad" Guerrero Jr. without at least once thinking about what his childhood was like being the son of one of baseball's most talented hitters of all time.
Was he force-fed the game of baseball by his father like Bryce Harper was? Did he spend hours around MLB batting practices, as a boy, with special privileges that enabled him to develop innate abilities that perhaps others might not have? Fast forward to 2019, and one look at his minor league numbers might make you question all of this even further.
By all accounts, this year's rookie class, led by the one and only, Vladimir Guerrero Jr. (which feels weird to say given that his name is roughly 89% the same as his father's), is something special. When we, as fans, hear that we have possibly the best minor league prospect ever approaching his first taste of MLB, it's not taken lightly.
Still, anything can happen, and there's no guarantee we've a thoroughbred, born-to-play-baseball cyborg on our hands...at least I think.
Which is another aspect that also makes baseball fun - picking who will win the Rookie of the Year Award(s). And, phew, thankfully there are two leagues so that at least one of those predictions isn't already set in stone. (I can only hope my sarcasm was picked up on).
National League Rookie of the Year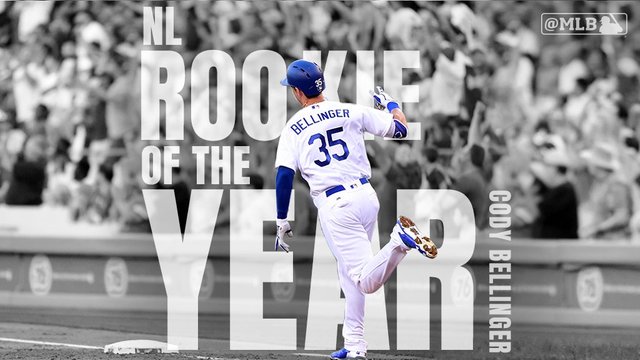 Source
Unlike the American League, the National League doesn't feature a Vlad Jr., but that doesn't mean there's a lack of talent. There are guys we've been hearing about for years - Victor Robles, Fernando Tatis Jr., Nick Senzel, and Alex Reyes - as well as strong 2nd tier prospects like Pete(r) Alonso and Garrett Hampson who could also both make a potentially huge impact in 2019.
It's funny that the latter two prospects I just mentioned, Alonso and Hampson, were listed in succession because their styles of play are such opposites. One's a sub-.250 batting average, 40 home run candidate while the other's a 40 steal, high BA, sub-10 homers candidate.
And this is what I think will decide this year's ROY - not the ability to succeed in one facet of the game, I.e. power or speed, but across-the-board performance.
But before I name my ROY winner, I want to discuss some of the other rookies in the NL, starting with Chris Paddack. New Padres pitcher and the team's potential 2019 #1 starter, Chris Paddack, was honestly who I initially wanted to predict as the winner of the award. After only reaching AA in 2018, Paddack was awarded with a rotation spot just this past week - making a leap that is often reserved only for the game's best talents.
In his last three minor league stops, Paddack showed excellent control - boasting a BB/9 under 1.00 at each level. Additionally, his highest ERA at any of the minor league levels was a cool 2.24.
Maybe I'm buying into the hype this spring. Maybe it's the video clip of him inducing 10 swinging strikes on 34 fastballs. Maybe it's the numbers I've listed above. Whatever the case, Paddack would be my sneaky pick for Rookie of the Year.
The main issue here is a more-than-likely innings cap. Paddack has thrown just 177 innings across three seasons (over a span of four years as he unfortunately missed time due to Tommy John surgery in 2017). He's yet to throw more than 90 innings in any of his professional seasons, although that 90 inning season did come just last year in 2018. My guess is he's not going to throw more than maybe 135 innings, but that's just a guess as we don't really know.
Some years, 135 innings of strong pitching would be enough to win the award for top rookie - however, with several promising offensive rookies slated to begin the year starting in the majors, it doesn't seem likely.
As mentioned above, some of the rookies are potentially somewhat of a one-trick pony. Pete Alonso could hit 35 home runs, but he could also bat .235. Hampson could possibly hit .300 with 30+ steals, but could also finish with 5 home runs or less.
These are, again, fine seasons in their own right, but I expect this year's Rookie of the Year to be one of the "big two", Tatis Jr. or Robles - and, frankly, I don't think it will be Robles.
Don't get me wrong. I think Robles will have a good year. He's already had a taste of the bigs after logging 66 PA last year and 27 PA the year before. In 2018, he actually performed quite well in that small sample - putting up a 131 WRC+ while showing some pop and speed as he chipped in 3 homers and 3 steals. Really, by all accounts, Robles has been good at every stop along the way.
Overall, I just think he may perform at kind of like an Adam Eaton level, offensively. Perhaps, a little more speed. This is not a knock against Eaton, it's just production that I think could get undervalued. For a simple reference, I'm thinking a .280-.285 BA, 10 homers, 20 steals.
Maybe I'm buying into the Padres too much. It's all just seemed to surprisingly come together for the team as of late. Clearly, most of the baseball community didn't envision Tatis Jr. being the opening day shortstop. Some of the same lore that's followed Vladimir Guerrero Jr. has also followed Tatis Jr. as well, though, along the way if even just to a lesser extent.
I honestly expect a 20-20 (or better) season from Tatis. It's the batting average that remains a huge concern. He's had a slightly high strikeout rate in the minors although he does have the pedigree to be one of those prospects to adjust quickly. I'm pegging Tatis' BA at .250. Anything above that would be spectacular.
I do believe Machado will be a nice addition to the team's growth ala Jayson Werth when he signed a $100 million dollar contract with the up and coming Washington Nationals in 2011. And while the world hates Eric Hosmer, he was a fine player in 2015 and 2017. If he can even touch his production from those two years, that's immediately huge for the Padres and Tatis Jr. Otherwise, there's just enough in this Padres offense to take the weight off Tatis and open the door for some 4 category production and a 20-20 rookie year.
American League Rookie of the Year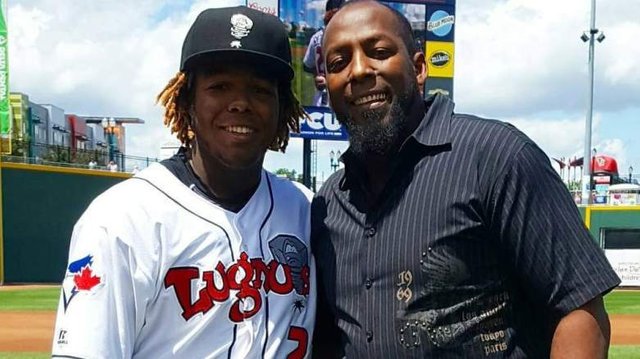 Source
Vladimir Guerrero Jr wins AL Rookie of the Year. That's all! Thanks for reading!
I'm kidding - kind of. Honestly, I'm tired of talking about it. We're all tired of hearing about it. In a way, we got our "wish" as not only was it initially stated that Vlad would not be on the opening day roster and instead sent to the minors to improve defense, etc. (and hopefully lose a little weight)- but he also suffered an oblique injury two weeks ago that could linger for quite some time.
What if the Blue Jays are right? Guerrero is, after all, a chunky fellow. He doesn't look like he'd be whom some annoint as the best prospect of all time. I also don't think most people would argue that he's not a good fielder and probably won't ever be (leaving him as a DH or 1st baseman eventually). Time will tell.
I really do think we will see a strong case for ROY from Yusei Kikuchi. This reminds me a lot of Kenta Maeda in 2016 when he finished 3rd in NL voting. At 27 years old, he already has an advantage in age and professional experience (in Japan). One issue with Kikuchi is it's being reported he will need maintenance over the course of the year. I could see Kikuchi ultimately finish 3rd in AL voting.
So who's #1 and #2? Vlad Jr. and?
One guy we haven't talked about yet is uber-prospect, Eloy Jimenez. Any other year and this guy would be the top AL prospect if not the top prospect in all of MLB. Unfortunately for him, he's not the Jr. of a former MLB star. Frankly, Jimenez has destroyed minor league pitching. It's difficult to find a flaw in any of his numbers and apparently the White Sox thought the same as they recently signed him to a 6 year, $43 million dollar contract.
What this means is Jimenez will begin the season on the opening day roster. While the White Sox lineup outside of Abreu is uninspiring, I still think Eloy can easily hit .300 with a potential for 25+ home runs. Ultimately, the time Vlad Jr. misses due to injury and whatever the Blue Jays ask him to work on will be the biggest detractor to him winning Rookie of the Year. Eloy is about two and a half years older and wiser which could make a small difference in its own right and, while Guerrero looks like a future slam-dunk superstar, I expect Eloy Jimenez to momentarily interrupt the dream and snag the AL Rookie of the Year award away from him.
---
© This writing was created by and remains property of the username, lionsmane. It is to be claimed as an original piece only on whaleshares and steemit under this username (and possibly scorum under my other username). Creation date: March, 2019
Tip Jar
If you would like to leave a monetary tip for my writing, you are free to do so by sending USD to my PayPal address here. It helps me out more than you'll ever know.
Posted using Partiko Android