I run through life at a ridiculously fast pace. I simply cannot sit still. As a result, I do not spend enough time calmly dreaming of my past. Sadly, I need a catalyst to inspire me to become nostalgic and reflect on my life. Recently, the movie Christopher Robin provided me with an inspiration to do just that. Leave it to movies (one of my passions) to furnish me with this opportunity.
Yesterday, I stumbled upon another such motivation. It came in the form of another one of my passions: sports. In this case, it was baseball.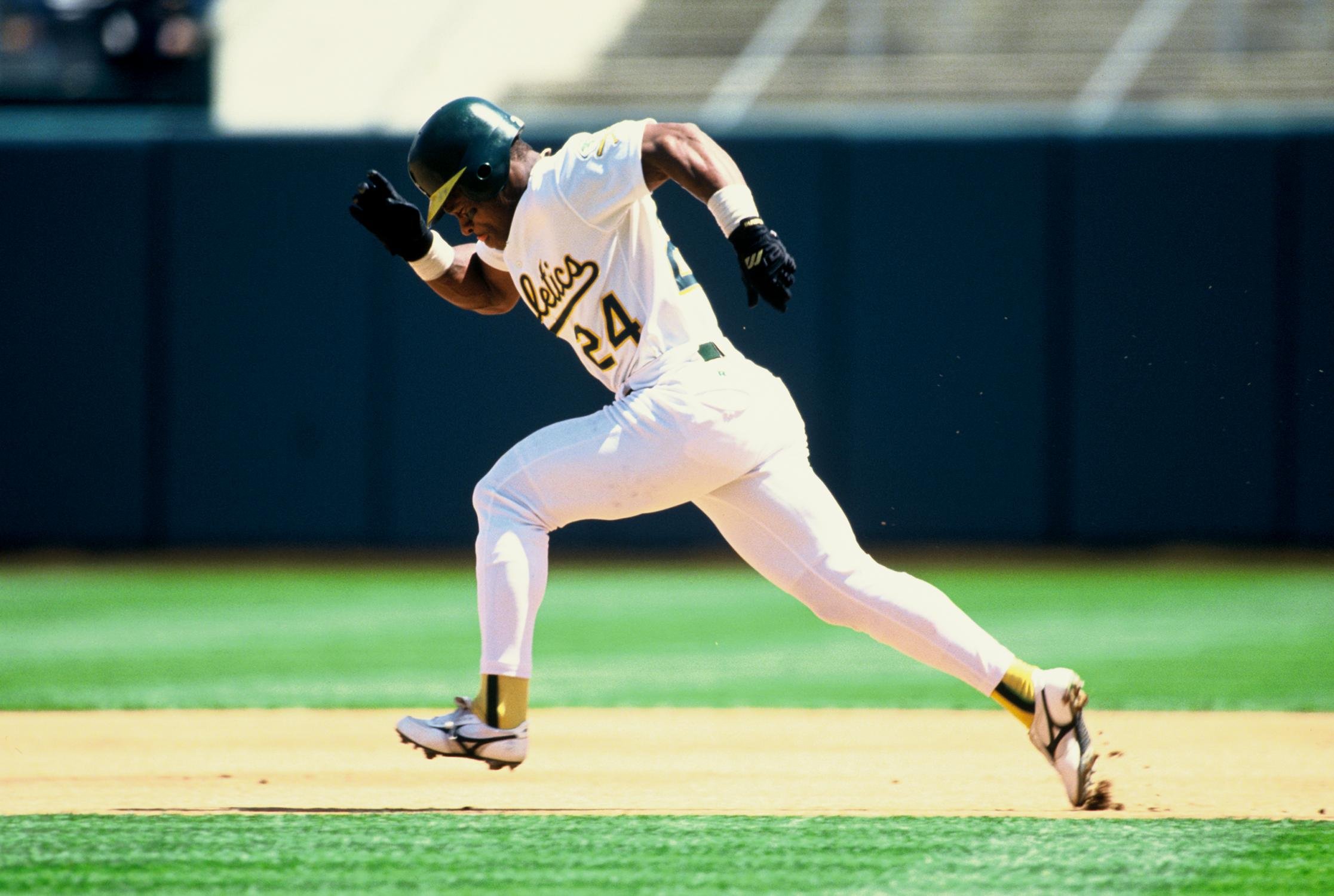 This is me racing through life.
Over the years, it seems I have always used baseball to mark important points in the timeline of my life. I remember going to my first game when I was seven. One summer afternoon when we were eleven, my friends and I passed a rite of manhood when we took the train all by ourselves from the suburbs to Wrigley Field to see the Cubs play (and hopefully lose). That is right. Eleven! Things were much different back in 1982. I remember my first playoff game, getting yelled at by a player for the first (of many) times, and taking my first date to a game.
I also remember lying in my bed dreaming of magically being bestowed with the talent to become a major league baseball player. I often drifted off hoping that while I slept, The Baseball Angel would bless me and I would wake up with a rocket arm or thunderous bat. Thanks to the The Natural's Roy Hobbs, who inspired a coach to exclaim, "People don't start playing ball at your age, they retire!" sometimes I still dream this.
I think Darth Vader himself summed it up best:
"And they'll watch the game and it'll be as if they dipped themselves in magic waters."
But thanks to a website I stumbled upon, I think I can finally stop praying to that Baseball Angel.
The geniuses at Enlightenment.rip have figured out a way to help complete baseball/number nerds like me to get nostalgic about the game and players we grew up loving. I distinctly remember measuring my age according to those of my favorite players. When I was young, every player in the MLB was a super human being far older and better than I. Whenever I asked for an autograph, I always began with, "Mr. Baines...". Then they became my peers, who I still referred to as "Mister"... except for when I was mercilessly heckling them. And now, they are all far younger than I. In fact, I think I am old enough to be the father of half of the players in the MLB.
But thanks to Enlightenment.rip, I don't have to guess anymore. This site allows you to enter your birthday and it will give you your MLB "endcaps". These are the first player to ever debut in the Major Leagues when they were younger than you and the last active player who was older than you.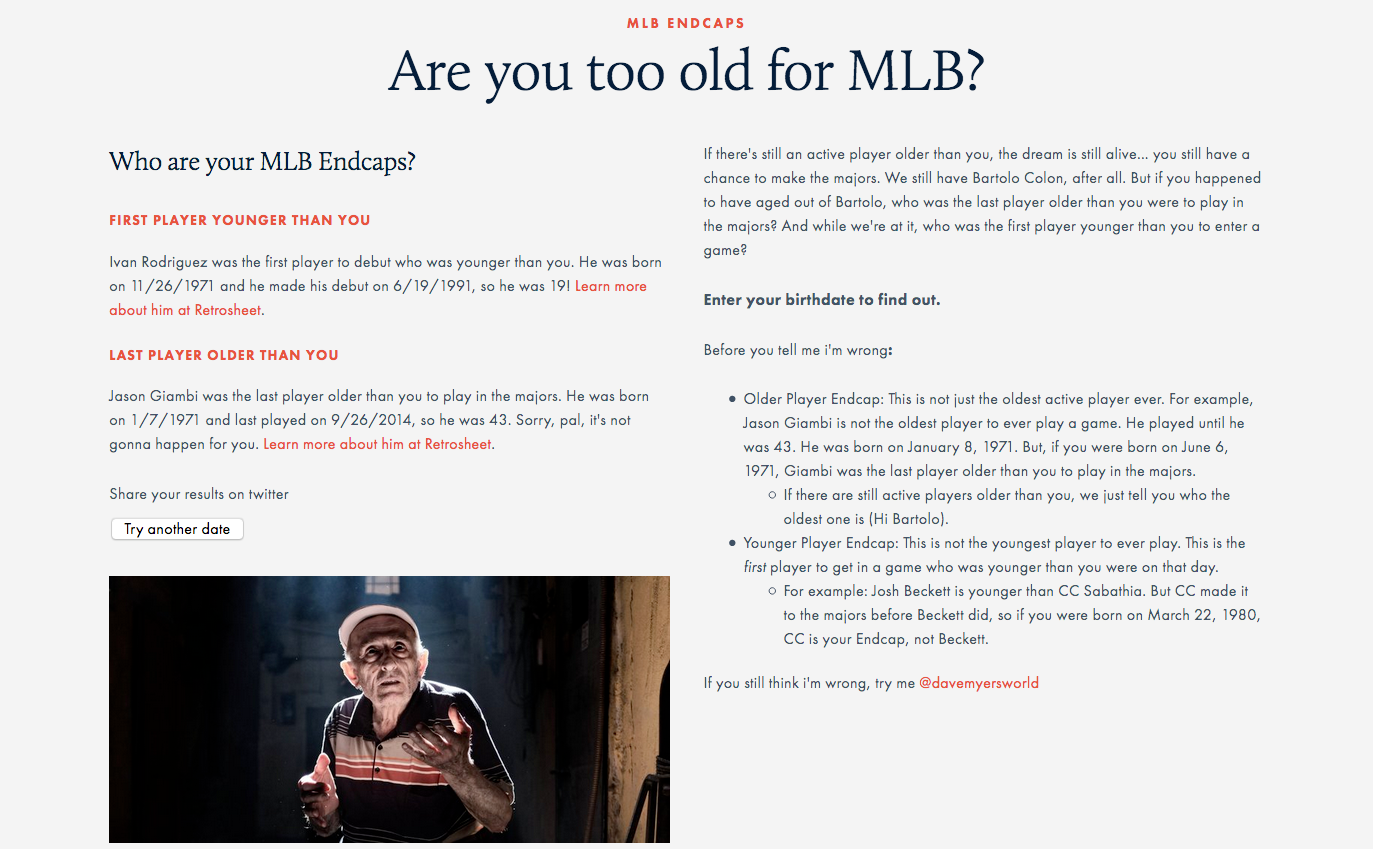 I don't know how that site got a picture of me.
Mine are Ivan Rodriguez, who debuted in 1991 when he was 19, and Jason Giambi, who played until he was 43. Sadly, he retired way back in 2014, so my dream has been dead for almost 4 years.
Big deal?
Of course it isn't a big deal.
But it is fun for nerds like me and my friends!
Not only did this information cause me to reminisce about my past, it gave my friends and I an excuse to exchange baseball memories. As we sat around the bar knocking back a few whiskeys, a group of us got out our phones, checked the site and shared our endcaps. We laughed a lot. That was until we got to the guy whose youngest player is Victor Robles (who is still considered one of the game's best prospects) and doesn't have an old endcap... because he is freaking 21!
Screw you and your healthy back, good knees and non-wrinkled skin!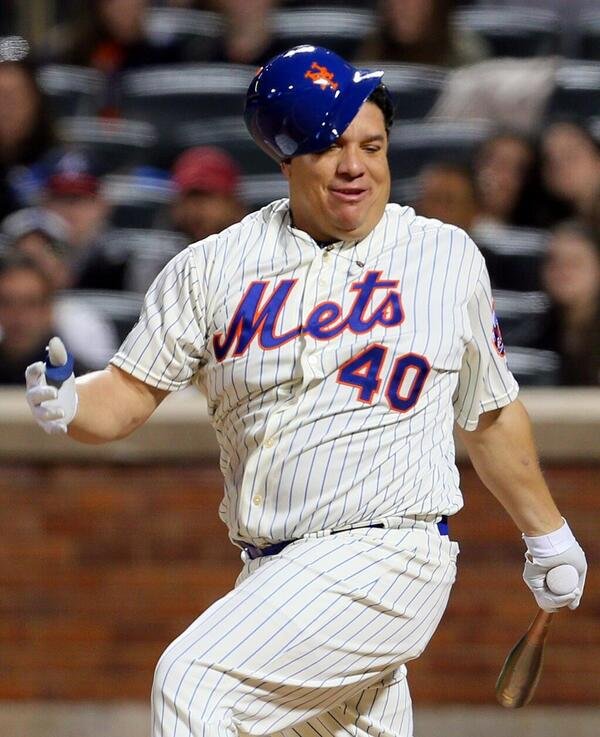 Now this is more like it. Doesn't this image just scream, "elite athlete!"?
By the way, if you were wondering, as long as Bartolo Colon can still roll his 45 year old body onto the mound, most of you can keep praying to the Baseball Angel... because you still have a chance.
Thanks Enlightenment.rip for reminding me that pretty soon, when I ask a player for an autograph, I will have to say, "Hey Sonny, do you have time to sign for an old timer like me?"
Then I will hand them $20... because no one signs for free anymore.