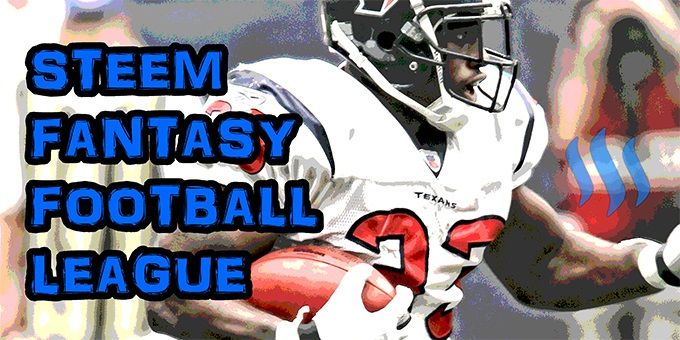 Week 12
Week 12 in the NFL is a wrap. The fantasy league is in the thick of things as the franchises fight for playoff spots. We had some amazing matches this week. Let's see how they break down.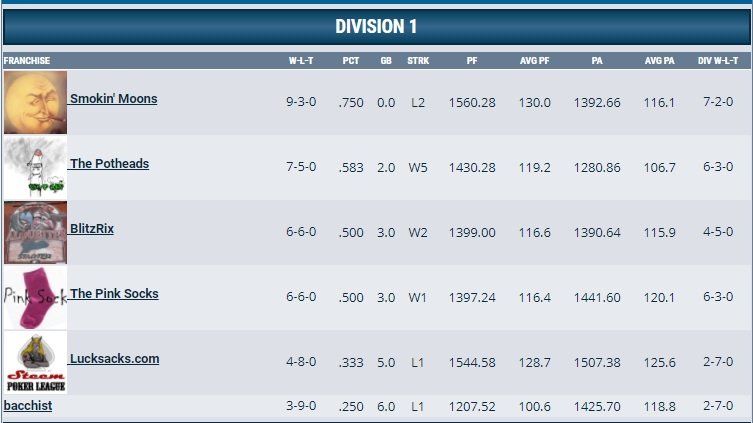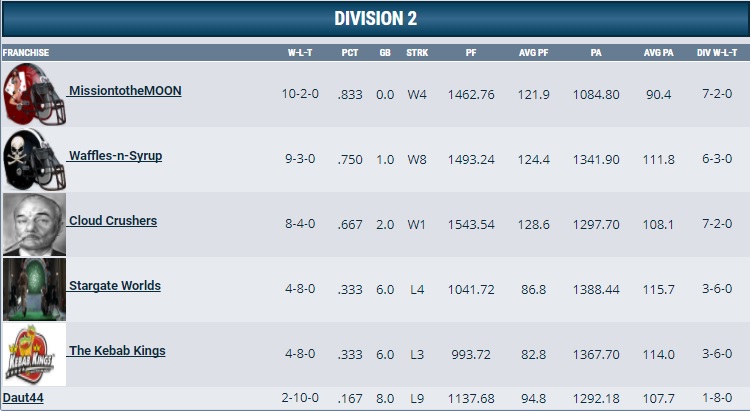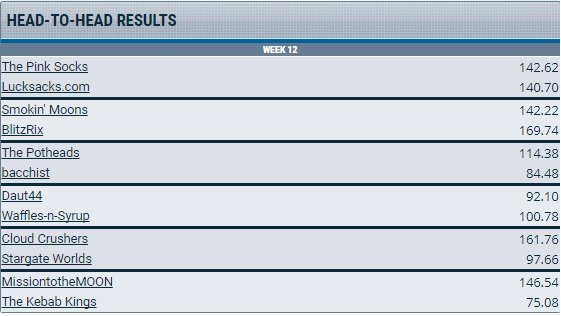 Matchup 1


Our first matchup of week 12 was extremely close. It came down to Danny Woodhead coming up with 2 extra points that put him over the top for the win. This derailed Lucksacks come back and it ends his playoff aspirations.
Matchup 2


Our second matchup of week 12 was an action packed upset. BlitzRix came up with a whopping 169 points to take down the 9-2 Smokin Moons. Blitz has WR Antonio Brown to thank for the win, he put up 40 plus points in his matchup. On to next week for these two as both fight for playoff spots.
Matchup 3


The Potheads came out victorious in their week 12 matchup. Taking down Team Bacchist by 30 points. It's fair to say Bacchist doesn't give a rats ass and is out living it up somewhere. Enjoy, sir. Thank you for the win. The Potheads will have a tough matchup next week as they fight for a spot in the playoffs.
Matchup 4


In our fourth matchup of week 12, Waffles-N-Syrup took down Daut44 by a hefty margin. Leading the way was QB Tom Brady who put up 20 points. Waffles has been crushing it lately and is ready for the playoffs to start.
Matchup 5


The Cloud Crushers put up an impressive 161 points in their matchup against Stargate Worlds. WR Keenan Allen had another stellar game, contributing 34 plus points. On to next week as Clouds hones his skills for the playoffs.
Matchup 6


In no surprise fashion, MissiontotheMoon blasted off the Kebab King into fantasy waste land. Leading the way was WR Juilo Jones who put up an outstanding 50 points. Mission will be getting ready for the playoffs, while The Kebab King adjusts his kispet.
---
Thank you for taking the time to read this post. Please join us next time as we take a look at the week 13 matchup previews. Until then, please take a moment to get to know our sponsors.
---

Official Sponsors of the SFFL

Special thanks to @followbtcnews and @randowhale for supporting the Steem Fantasy Football League with generous donations! If you'd like to return the favor of support, please follow them, use the @randowhale services, and give @followbtcnews a witness vote!

Special thanks to @blocktrades for their continued support of the sports and contest community!

Please show them support in return with a witness vote and by using the BlockTrades services to quickly exchange digital currencies.

Special thanks to @SPL (Lucksacks Poker) for donating league dues. Please show some support and give them a follow. If you enjoy poker, you can play for free and earn SBD.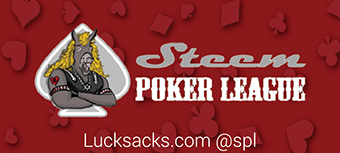 Special Thanks to @ats-david for donating league dues and the league prize pool. Please show some support and give him a follow. Check out his weekly contest to win SBD!