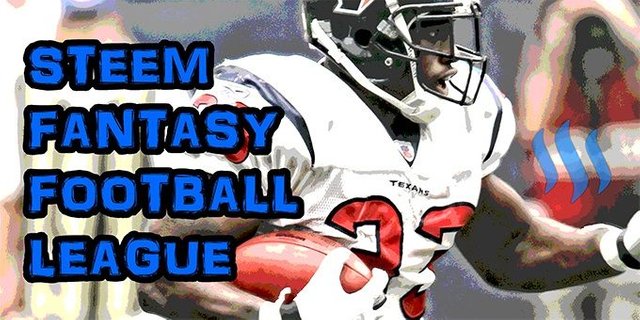 Week 9 Results
Boom! And just like that week 9 has wrapped up in the NFL. It was an exciting, action packed week in the fantasy league as well. Let's dive right in and see how your favorite franchises fared.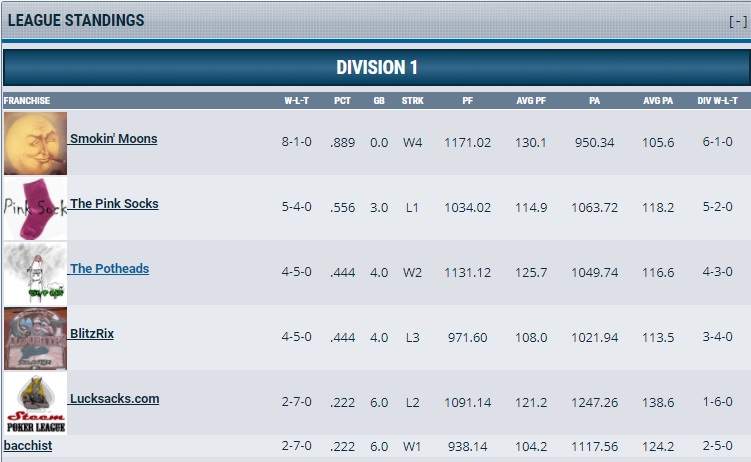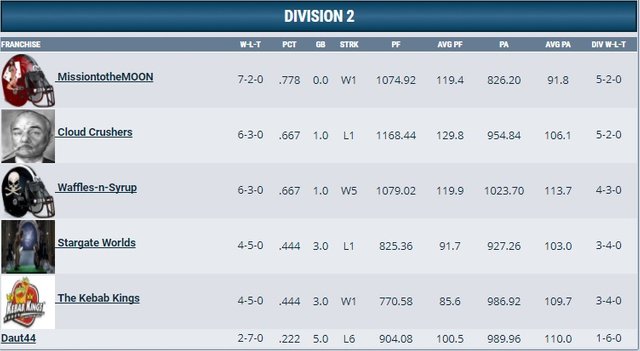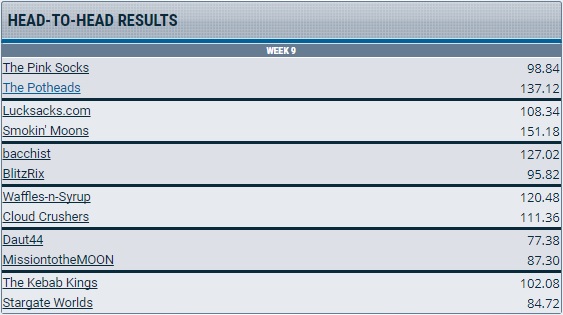 Matchup #1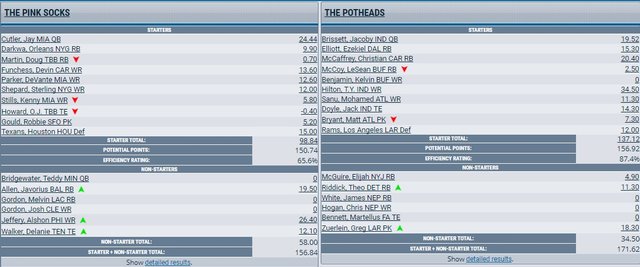 Bigpchef has locked in another win. Look at the output of points for T.Y. Hilton. Bigp was able to pull out a win, even with Kelvin Benjamin going down early in the matchup. The Pink Socks took a crushing loss and it was due to some awful performances by some of his players. Mainly the negative points from TE O.J. Howard. Let's see if they can bounce back in week 10.
Matchup #2


The Lucksacks fell short this week in their come back campaign, despite a very good game from QB Jared Goff. It look as if again he was up against some real tough competition, with his opponent having four players with 20 or more points. The opponent was none other than Smokin' who had good games from nearly the whole team. It's gonna be tough to beat when the defense is even puttin up double digit points.
Matchup #3


Team Bacchist got the win in week 9, despite a negative showing from the Buffalo defense. Greatly helping his cause was TE Travis Kelce who put up 20 plus points. Now that is impressive. BlitzRix had just two players play decent games, QB Drew Brees, and RB Damian Williams. The rest of the team just did not play very well. They will need a big bounce back game in week 10.
Matchup #4


And down go the Cloud Crushers. Waffles-N-Syrup continues there strong comeback on the season. Leading the way in week 9 was WR Robert Woods who put up a smooth 23 points of offense. The Cloud Crushers took a tough loss, and the blame lies heavily on the sub standard performances by WR Mike Evans, and K Blair Walsh. I expect Cloud to bounce back next week.
Matchup # 5


MissiontotheMoon continues his winning ways, despite showing up to the stadium with a few teammates missing. Leading the way for the win was QB Tyrod Taylor who put up 26.90 points. Daut44 took another loss on the season. Even a huge game from RB Todd Gurley couldn't seal the deal. I think both franchises would like to hurry up and forget about week 9.
Matchup #6


Our resident no-show got his 4th win of the season...some how. He had a huge game from RB Alvin Kamara who put up 30 plus points. I am sure that had a lot to do with it. That and, the 0 point showing from the opponents RB Jerick McKinnon. If Stargate Worlds was able to fill that short coming in his RB game, he may have had a chance at the win. Now he must live with a loss to the Kebab King.
---
Thank you for taking the time to join us for the week 9 matchup results. Join us next time for the week 10 previews. Till then, please take a moment to get to know our sponsors.
---

Official Sponsors of the SFFL

Special thanks to @followbtcnews and @randowhale for supporting the Steem Fantasy Football League with generous donations! If you'd like to return the favor of support, please follow them, use the @randowhale services, and give @followbtcnews a witness vote!

Special thanks to @blocktrades for their continued support of the sports and contest community!

Please show them support in return with a witness vote and by using the BlockTrades services to quickly exchange digital currencies.

Special thanks to @SPL (Lucksacks Poker) for donating league dues. Please show some support and give them a follow. If you enjoy poker, you can play for free and earn SBD.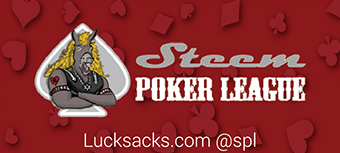 Special Thanks to @ats-david for donating league dues and the league prize pool. Please show some support and give him a follow. Check out his weekly contest to win SBD!