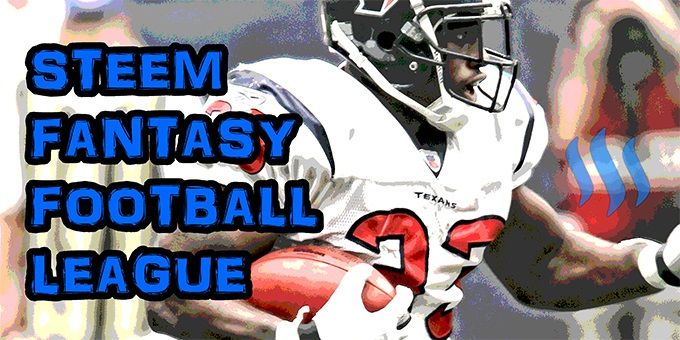 Week 12
Week 12 of the NFL season is upon us. So far the fantasy games have been wild, with lots of blowouts. We are nearing the home stretch, and those with playoffs aspirations, now is the time to fix any problems in your line up. And if you are not in a position to make the playoffs, that does not mean you can't play the part of spoiler. Now is the time to show the league what your franchise is made of.
Matchup 1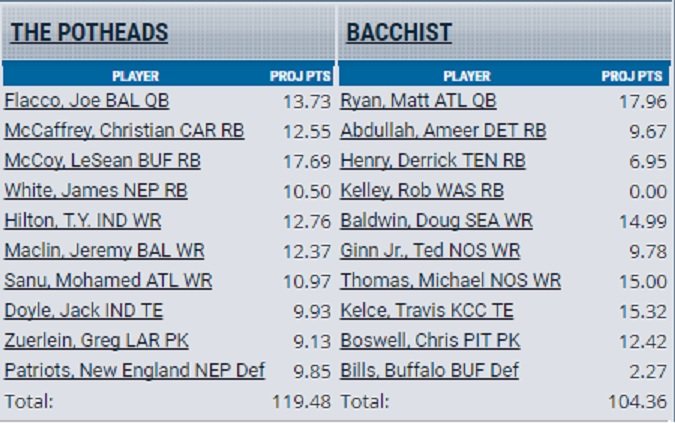 Due to miracles, The Potheads somehow have a winning record. Not sure how they accomplished that, but they look to continue their winning streak. Standing in his way is Team Bacchist. The Potheads are shooting for the stars with a few sleeper selections...this may turn out to be a closer match than anticipated.
Matchup 2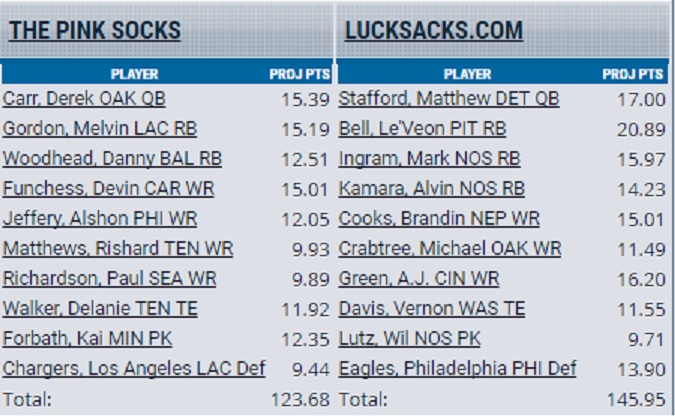 I am personally looking forward to this match. It is setting up to be the matchup of the week. Both are projected to have a good showing and it's going to come down to who's team's superstars will out preform their expected points.
Matchup 3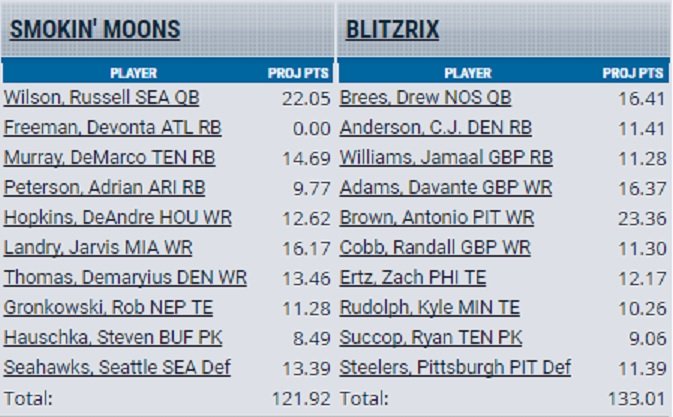 The 9-2 Smokin Moons will be going up against the 5-6 BlitzRix. Blitz will be looking to play the spoiler and add another loss to Smokin's record. Smokin' better hope his 0 projected points from RB Devonte Freeman doesn't stand in the way of his win.
Matchup 4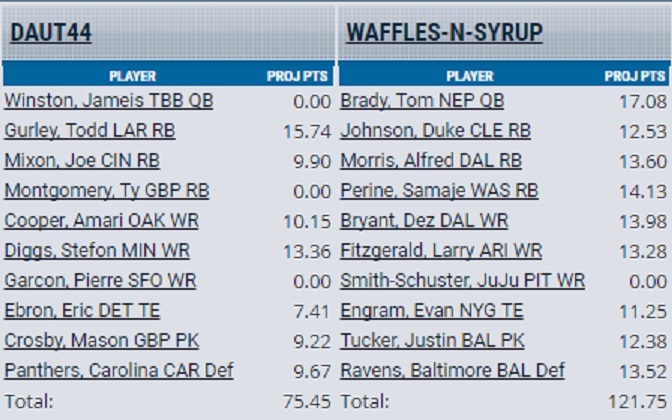 The fourth matchup of week 12 is shaping up to be a beat down. Waffles will be leading the charge with QB Tom Brady who will put up some beast numbers no doubt. Daut44 most likely is chilling on a beach somewhere, and has left his franchise to the poker gods.
Matchup 5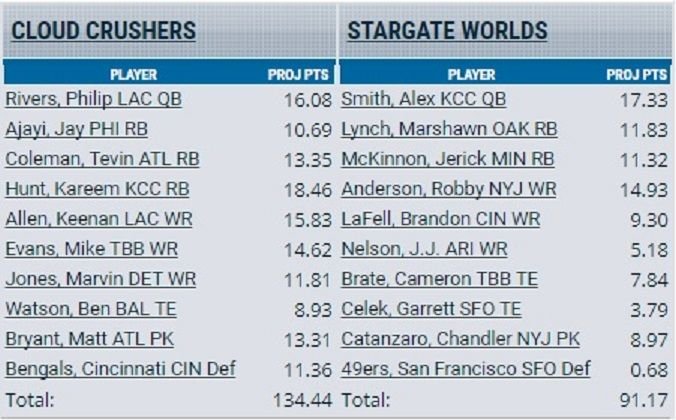 In our fifth matchup of week the Cloud Crushers are looking to crush Stargate World. If the stars preform as expected, then more likely than not Cloud will come away with the win. However, if the stars have lackluster games, this match may be closer than expected.
Matchup 6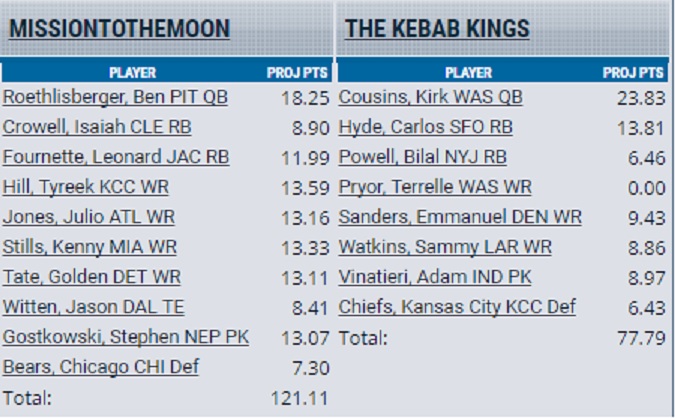 In our final matchup of week 12, the 9-2 MissiontotheMoon is looking to skewer The Kebab Kings. And unless a miracle occurs, there is gonna be kebab juice spewed all over the place. Bring some napkins, it's going to get messy.
---
Thank you for taking the time to read this post. Please join us next time as we take a look at the week 12 matchup results. Until then, please take a moment to get to know our sponsors.
---

Official Sponsors of the SFFL

Special thanks to @followbtcnews and @randowhale for supporting the Steem Fantasy Football League with generous donations! If you'd like to return the favor of support, please follow them, use the @randowhale services, and give @followbtcnews a witness vote!

Special thanks to @blocktrades for their continued support of the sports and contest community!

Please show them support in return with a witness vote and by using the BlockTrades services to quickly exchange digital currencies.

Special thanks to @SPL (Lucksacks Poker) for donating league dues. Please show some support and give them a follow. If you enjoy poker, you can play for free and earn SBD.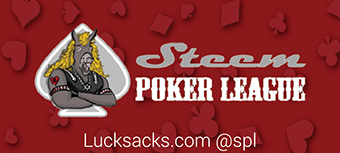 Special Thanks to @ats-david for donating league dues and the league prize pool. Please show some support and give him a follow. Check out his weekly contest to win SBD!