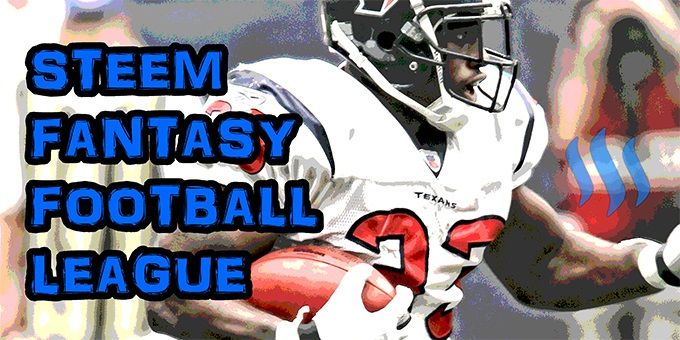 Week 10
Week 10 of the NFL and Fantasy Football season is upon us. We are getting into the thick of things. Right now is when the teams who have their sights on the playoffs have to start making their moves. The ones on the fence must start winning, and the losing teams...well it maybe time for them to start thinking about next season's draft picks.
This time of year is especially exciting because teams are able to player the spoiler roles. Let's see which franchise ends up being a thorn in the side of the league leaders.
Matchup #1
BlitzRix (4-5) vs The Potheads (4-5)
This will is a make or break game for both franchises. Whoever wins this, still has a slight chance at making the playoffs. Whoever loses this game, is all but done for the season. BlitzRix will be counting on big games from QB Drew Brees, and WR Antonio Brown. The Potheads will need a big game from their RB core if they are to make up the points that will be missed by Zeke Elliot, who's suspension commences in week 10.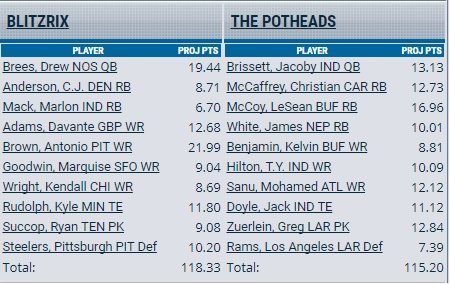 Projected Points
Matchup #2
Lucksacks.com (2-7) vs Bacchist (2-7)
At this point, this match is mainly about bragging rights. Both teams are virtually out of the play off hunt, and are already looking to next season. Let's see which franchise can tag on a moral victory this week.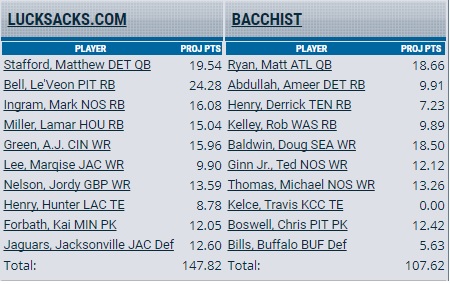 Projected Points
Matchup #3
Smokin' Moons (8-1) vs Pink Socks (5-4)
This should be a great matchup this week. Smokin is on his way to securing a playoff spot, and working on home field advantage. While Pink Socks is in the playoff hunt and trying to garner another win towards that happening.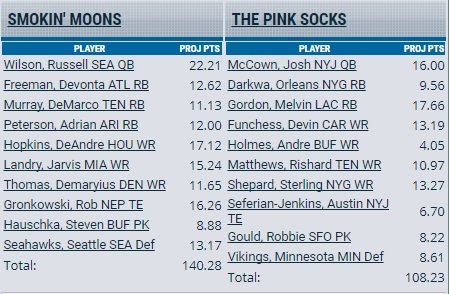 Projected Points
Matchup #4
Waffles-N-Syrup (6-3) vs The Kebab Kings (4-5)
The fourth matchup of week 10 will surprisingly be a good one. Waffles is on his way to the playoffs, but does not have much room for losses. So he must stay on top of his game. He will be up against the Kebab master who somehow has four wins on the season, and is going for a .500 record. He some how finds a way to win, let's see if he can do it again.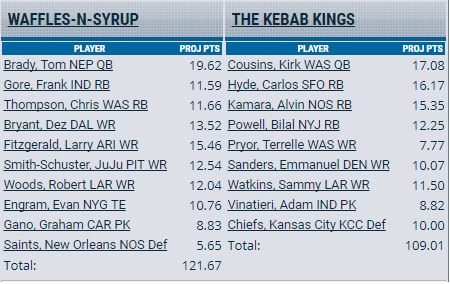 Projected Points
Matchup #5
Cloud Crushers (6-3) vs Daut44 (2-7)
The Cloud Crushers are all but a lock for the playoffs and will now be playing for top seeding. Daut44 is here to play the spoiler role. He will need his entire team to play well if he is to pull that off. But as it stands right now, that does not seem very likely.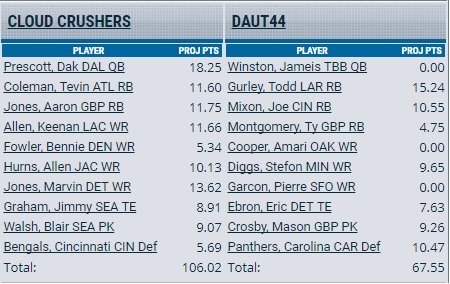 Projected Points
Matchup #6
Stargate Worlds (4-5) vs MissiontotheMoon (7-2)
Stargate Worlds will be going for a .500 record in this game. But they will certainly need to do some coaching if they want a chance at beating the unstoppable MissiontotheMoon franchise. Mission is on there way to another easy win this week, and is already making plans for the playoffs. This most likely will be a one sided game.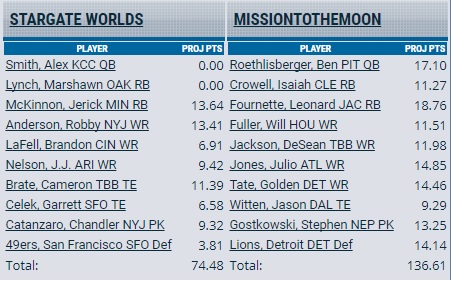 Projected Points
---
Thank you for taking the time to read this post. Please join us next time as we take a look at the week 10 results. Until then, please take a moment to get to know our sponsors.
---

Official Sponsors of the SFFL

Special thanks to @followbtcnews and @randowhale for supporting the Steem Fantasy Football League with generous donations! If you'd like to return the favor of support, please follow them, use the @randowhale services, and give @followbtcnews a witness vote!

Special thanks to @blocktrades for their continued support of the sports and contest community!

Please show them support in return with a witness vote and by using the BlockTrades services to quickly exchange digital currencies.

Special thanks to @SPL (Lucksacks Poker) for donating league dues. Please show some support and give them a follow. If you enjoy poker, you can play for free and earn SBD.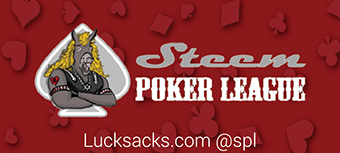 Special Thanks to @ats-david for donating league dues and the league prize pool. Please show some support and give him a follow. Check out his weekly contest to win SBD!