Salam steemians, salam pengemar steemit Premier League 🦁⚽
Pada kesempatan ini saya ingin mengumumkan Player of the Month untuk bulan April. Yang berhak mendapatkan penghargaan tersebut, Selamat Wilfried Zaha telah memenangkan penghargaan EA SPORTS Player of the Month untuk bulan April.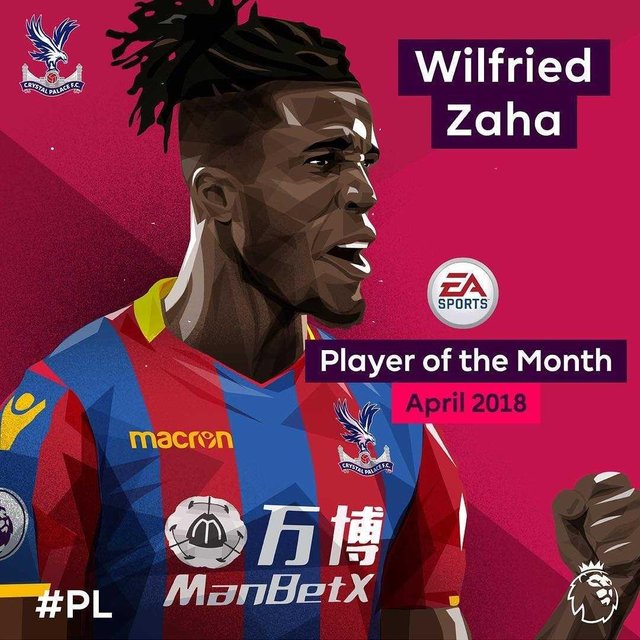 Wilfried Zaha PL POTM April
Pemain sayap Crystal Palace berusia 25 tahun itu mengklaim kehormatan untuk pertama kalinya setelah empat gol dan satu assist dalam empat pertandingan bulan April lalu berkat sebuah keganas nya di depan gawang lawannya.
Gol-Gol nya lah yang membantu Crystal Palace mengamankan status Liga Primer League mereka, meski memulai musim yang tidak mudah dengan tujuh kekalahan berturut-turut.
"Saya senang karena pertunjukan itu datang bersama-sama dan orang-orang benar-benar melihat sendiri bahwa saya telah bekerja keras," kata Zaha.
"Saya lebih suka bermain di depan benar-benar, karena saya merasa seperti jika saya melakukan lari yang benar, atau jika saya mendapatkan bola pada waktu yang tepat, saya hanya bisa satu lawan satu dengan bek dan kemudian jika saya berhasil melewati bek tengah, itu satu-satu dengan 'penjaga. Kata Zaha (Crystal Palace)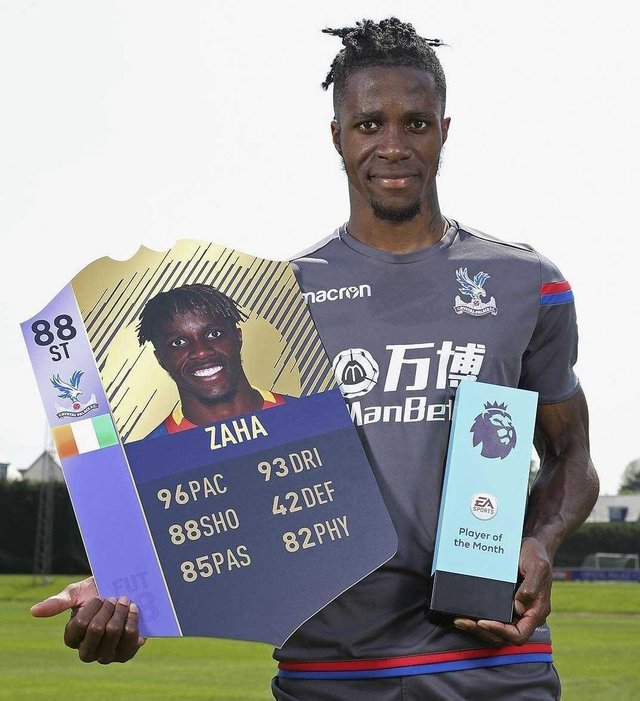 Wilfried Zaha mendapatkan penghargaan EAsports FIFA
Wilfried Zaha menerima suara paling banyak dari , kapten Premier League, dan dari penggemar.
Dia mengklaim penghargaan ini dengan mengalahkan enam nominasi lainnya: Pierre-Emerick Aubameyang, Christian Eriksen, Jake Livermore, Jordan Pickford, Paul Pogba dan Raheem Sterling.