International Champions Cup // Juventus vs Inter // 1-1
As is well known in these dates from July to August, the European leagues as well as most of the leagues in the world are on vacation waiting for the opening next season 2019-2020.
Despite the aforementioned, there are always friendly tournaments between prestigious clubs and others not so much, to start the preparation of the teams as well as the arrival of new players to the squads.
Today I come to talk about Juventus against Inter, the first derby to measure forces.
A match where we would see the new jewel of Juventus De Ligt from Ajax for 70 million Euros as well as the debut of other players in both teams.
A very active first half where Inter had better opportunities and that the first goal of the feet of the newly arrived De Ligt would fall, but it would not be marking the opponent but at the door itself.
This is how in the 10th minute in an attempt to clear a corner kick the young defender scores a goal against.
The inter for the rest of the first half continued with the dominance of the game, but in the second in a lack of free kick charged by Cristiano, who when executing it would deviate with the barrier and end up inside the goal for 1 to 1.
At the end of the 90 they went to the penalties, which would happen Juventus 4 to 3 with several errors by both teams.
A game where Inter went from more to less until the penalties that even in the execution of the same were surpassed by the rival.
source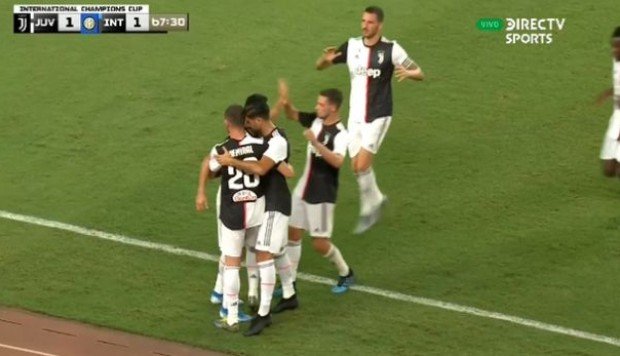 source
---
---
---
ESPAÑOL
Como bien es sabido en estas fechas de julio hasta agosto, las ligas europeas así como la mayoría de las ligas en el mundo se encuentran de vacaciones a la espera de la apertura la próxima temporada 2019-2020.
A pesar de lo mencionado, siempre existen torneos amistosos entre prestigiosos clubes y otros que no tanto, para dar inicio a la preparación de los equipos así como la llegada de jugadores nuevos a la plantillas.
El día de hoy vengo a hablarles del Juventus contra Inter, el primer derby para medir fuerzas.
Un partido donde veríamos la nueva joya de la juventus De Ligt proveniente del Ajax por 70 millones de Euros así como el debut de otros jugadores en ambos equipos.
Un primer tiempo muy activo donde el Inter tuvo mejores oportunidades y que caería el primer gol de los pies del recien llegado De Ligt, pero no sería marcandole al rival sino que en propia puerta.
Así es como en el minuto 10 en un intento de despeje de un tiro de esquina el joven defensor marca un gol en contra.
El inter por el resto del primer tiempo siguió con el dominio del juego, pero en el segundo en una falta de tiro libre cobraba por Cristiano, que al ejecutarla se desviaría con la barrera y terminaría dentro de la portería para el 1 a 1.
Al concluir los 90 se fueron a los penales, que pasaría la Juventus 4 a 3 con varios errados por ambos equipos.
Un juego donde el Inter fue de más a menos hasta los penales que inclusive en la ejecución de los mismos fueron superados por el rival.