COPA AMERICA // FINAL // BRASIL vs PERU
And finally the day of the final of this Copa America has arrived, this competition that had several ups and downs, many arbitration errors, teams that seemed to be able to give more and stayed out, but finally we reached the final.
This match was played between the local Brazil (it is not surprising for the spectators that being Brazil the local as well as their soccer level has reached the final) and their rival to win, Peru whom we remember got into the quarterfinals as best third in the group phase and managed to get to this point.
Start the game and Brazil having a little more the ball will be the first to score.
At minute 15, in the first quarter, in a great play, Dani Alves kicks a pass to the right wing that Firmino receives and with a little effort and skill he dribbles to deceive the defenders and kick the center. would receive and hit the player Fred first, hitting hard and down the back post to score 1 to 0.
finishing the first time Peru would equalize things for a penalty committed in a center from the right wing that Thiago Silva would sweep and cover with his hand. Penalty charged perfectly by Guerrero for 1 to 1.
Although the party would not last long as only a minute later (they were given 3 minutes of aggregate for the time lost in the VAR in the goal of the tie) Gabriel Jesus would place things again in his favor.
In the second half without further news until the 70th minute that Gabriel Jesus would be expelled by double reprimand (which ne opinion of many unjust) and very bad win even hitting the VAR area
And already about the end although the match seemed over already, a penalty in favor of Brazil that honestly a bit exaggerated, but as we mentioned in other post very bad refereeing in this Copa America.
Penalty charged by Richarlison for the final 3 to 1.
source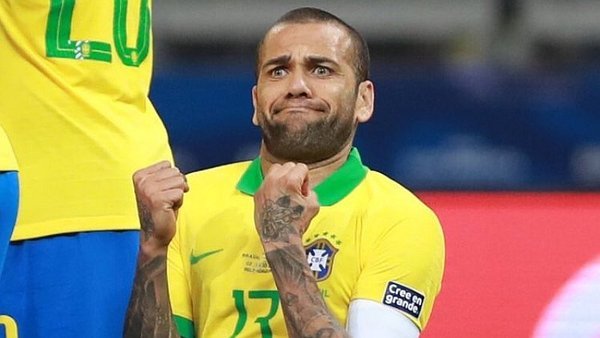 source
---
---
---
ESPAÑOL
Y finalmente ha llegado el día de la final de esta Copa America, esta competición que tuvo varios altibajos, muchísimos errores arbitrales, equipos que parecían que podían dar más y se quedaron fuera, pero finalmente llegamos a la final.
Este encuentro se disputó entre el local Brasil (no sorprende mucho para los espectadores que siendo Brasil el local además de su nivel de fútbol haya llegado a la final) y su rival a vencer, Perú quien recordemos se metió en los cuartos de final como mejor tercero en la fase de grupo y logró llegar hasta este punto.
Inicia el partido y Brasil teniendo un poco más la pelota va a ser el primero en marcar.
Al minuto 15 a penas en el primer cuarto en una gran jugada que Dani Alves patea un pase a la banda derecha que recibe Firmino y este con un poco de esfuerzo y habilidad realiza un regate para engañar a los defensas y así poner patear el centro que recibiría y le pegaría de primera el jugador Fred, pegando fuerte y abajo al segundo palo para así marcar el 1 a 0.
terminando el primer tiempo Perú igualaría las cosas por un penal cometido en un centro desde la banda derecha que Thiago Silva se barrería y taparía con la mano. Penal cobrado perfectamente por Guerrero para así el 1 a 1.
Aunque la fiesta le duraría poco ya que apenas un minuto después ( se dieron 3 minutos de agregado por le tiempo perdido en el VAR en el gol del empate) Gabriel Jesus colocaría las cosas otra vez a su favor.
En el segundo tiempo sin mayores novedades hasta el minuto 70 que Gabriel Jesus se iría expulsado por doble amonestación (que ne opinión de muchos injusta) y de muy mal gana inclusive golpeando el área del VAR
Y ya sobre el final aunque el partido parecía terminado ya, un penal a favor de Brasil que honestamente un poco exagerado, pero como mencionamos en otros post muy mal arbitraje en esta Copa America.
Penal cobrado por Richarlison para así el 3 a 1 definitivo.