COPA AMERICA // 3º - 4º / ARGENTINA VS CHILE
Good evening Steemit community. We are already in the final part of this America Cup held in Brazil, we have the finalists but first fight for the third and fourth place respectively. In this match we have Argentina on one side and Chile on the other. Let's see what happened.
Once the game started, Argentina would give the first warning of the feet of Kun Aguero for a pass by Lo Celso at minute 6, when the ball was just deflected.
At minute 12 the player who had already given notice would have his goal. In a foul in the midfield in favor of Argentina, which Messi quickly charges the cobra giving a pass to the hole that runs Kun Aguero being 1 to 1 against the goalkeeper and managed to beat him to place his team in advantage.
10 minutes later, at 22. In a play somewhat similar to the first goal, Otamendi from the midfield gives a pass to Lo Celso and this pass to the gap so that Dybala arrives just before the goalkeeper from the left side and shoots the second suit 2 to 0 in a match totally dominated by the Argentina squad.
Before the end of the first half, the controversy of the game would occur in a ball that goes long, and there is a friction between Messi and Medel, where Chile faces him and they begin to push with their chests. To everyone's surprise the referee decides to expel the two players, when it is the Chilean who starts so to speak; even so totally wrong action at least in my opinion, with sanctioning yellow to both players was enough.
In the second half, Chile had its chance to bring the result closer, due to a fault that had to be reviewed in the VAR to corroborate if it had occurred inside or outside the area, after review the referee sanctions criminal.
Penalty charged by Arturo Vidal who manages to score and the game would end 2 to 1.
Incredible that he had to expel two players under very stupid circumstances that also what was played was the third and fourth place. Very little of the arbitration in this Copa America.
source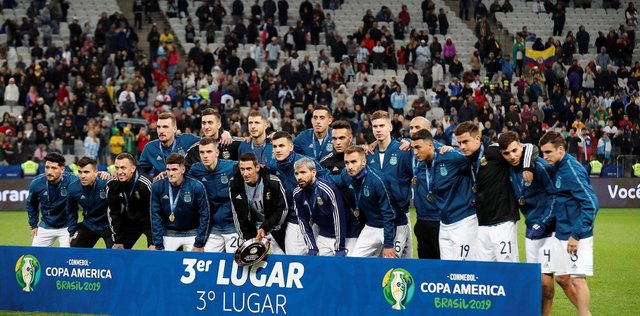 source
---
---
---
ESPAÑOL
Buenas noches comunidad de Steemit. Ya nos encontramos en la parte final de esta copa America celebrada en Brasil, tenemos a los finalistas pero primero se disputa la lucha por el tercero y cuarto puesto respectivamente. En dicho partido por un lado tenemos a Argentina y por el otro a Chile. Veamos que ocurrió.
Iniciado el partido el Argentina daría el primer aviso de los pies del Kun Aguero por un pase de Lo Celso al minuto 6 que se va la pelota apenas desviada.
Al minuto 12 el jugador que ya había dado aviso tendría su gol. En una falta en el medio campo a favor de Argentina, que cobra Messi rápidamente la cobra dando un pase al hueco que corre Kun Aguero quedando 1 a 1 contra el portero y lograría ganarle para así colocar su equipo en ventaja.
10 minutos después, al 22. En una jugada un tanto parecida al primer gol, Otamendi desde el medio campo da un pase a Lo Celso y este un pase al hueco para que Dybala llegue justo antes que el portero desde la banda izquierda y dispare al segundo palo. 2 a 0 en un partido totalmente dominado por la escuadra Argentina.
Antes de terminar el primer tiempo, ocurriría la polémica del partido en una pelota que se va de largo, y ocurre un roce entre Messi y Medel, donde el Chile lo encara y se empiezan a empujar con el pecho. Para sorpresa de todos el arbitro decide expulsar a los dos jugadores, cuando es el chileno quien empieza por así decirlo; aun así acción totalmente errada al menos en mi opinión, con sancionar amarilla a ambos jugadores era suficiente.
En el segundo tiempo, Chile tuvo su oportunidad de acercar el resultado, por una falta que se tuvo que revisar en el VAR para corroborar si habia ocurrido dentro o fuera del área, tras la revisión el árbitro sanciona penal.
Penal cobrado por Arturo Vidal quien logra marcar y el partido terminaría 2 a 1.
Increíble que se haya tenido que expulsar a dos jugador bajo circunstancias muy estupidas que además lo que se jugaba era el tercero y cuarto puesto. Muy poco del arbitraje en esta Copa America.