Well great result for Team Haas in Bahrain.
Kevin Magnussen finished in 5th position which means 10 points for the Haas Team.
Romain Grosjean should have joined the party. But had some technical issues and was left out of the points.
He did manage to fuck up K-Mags run when he should have gotten out of the way for a clearly faster Haas car.
But didn't. I'm sure the Haas boys will be looking at this and get it sorted.
Romain Grosjean is technically the first team driver.
But nobody has told K-Mag about this, so we can only assume sparks will fly.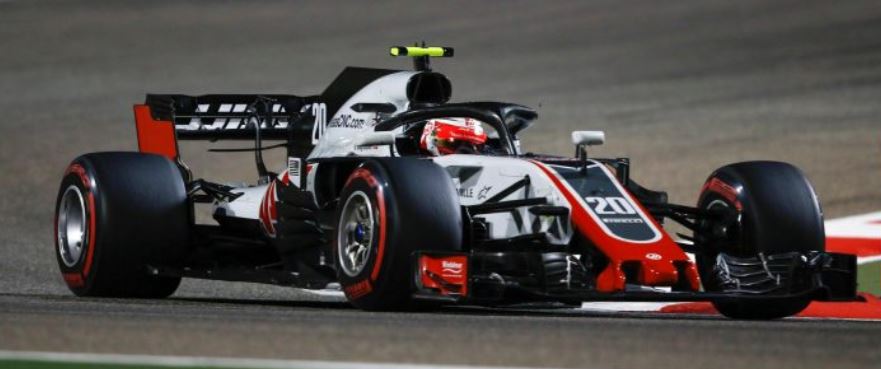 It is F1 and at the moment K-Mag is in the ascendancy.
Which means all the teams who are doing shite will be looking to sign him up.
Williams for example are in the dog house.
They have 2 very young Gunfighters with large wads of dosh behind them and nothing to show for it.
K-Mag just like Grosjean is a Paid driver.
One of the very few paid drivers in F1.
Which means he is being paid because he has a talent for driving very quickly and scoring points.
If Williams wants to employ him they will have to pay a wage.
Not something they are used to at the moment.
Lance Stroll has his Daddy Warbucks pumping around $30M big ones into Williams and Sirotkin has the Russian bags of cash keeping him a seat.
But it can't go on. They do have Robert Kubica as their test and reserve driver.
So I will not be supried if he is parachuted into a seat if things still keep going south for this great team.
Anyway Vettel wins the Bahrain race with a tame Valtteri Bottas chasing him into second place.
Hamo the Hammer is in third.
Roll on FI China. Looking for Haas to grab some more Big Points.
https://www.haasf1team.com/news/bahrain-grand-prix-race-recap-0
Image Courtesy of formula1