US F1 Team Haas - Silverstone UK - Still Kicking Ass in Formula One 2019
Well what can I say........... after possibly the best all around F1 race in years.
The Haas boyz manage to shoot themselves in the foot. and take each other out.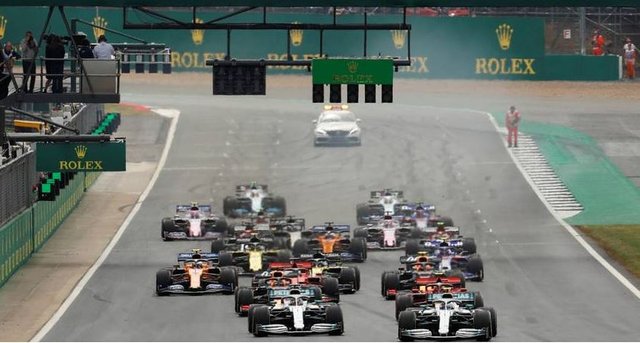 I've said it everytime about Grosjean.
If he didn't have bad luck he'd have no luck at all.
Was K-Mag at fault for trying to shoot past him.
Who knows. You can't change the K-Mag driving style. And if he thinks he can go past, he will give it a go.
His only problem was trying to pass the most unluckiest driver in F1 at the moment.
So bang bang and both were out of the race before it had even begun.
Gunther their boss was not a happy camper. He has a shitstorm on his head as it is.
The car is fast but goes nowhere. Their sponsor is a bunch of fucking nutters.
Who ever thought it was a great idea to sign up with Rich Energy needs to be given the boot.
Poor oul Gene Haas is pumping over a $100million into the F1 Haas project as a fantastic marketing tool.
And all he is getting back is World class ridicule.
And then the drivers fuck it up.
Never mind. The race itself was fantastic. The Hammy Hamster Hamilton winning yet again and Vettel rear ending Verstappen.
Loved it.
2019 British Grand Prix: Race Highlights (Watch on Youtube)
British Grand Prix: Team Haas Race Recap 2019
https://www.haasf1team.com/news/british-grand-prix-race-recap-0
Mercedes driver Lewis Hamilton won today's British Grand Prix, crossing the finish line 24.928 seconds ahead of his Mercedes teammate Valtteri Bottas. It was Hamilton's milestone 80th career win, his seventh of the season and sixth at Silverstone. Charles Leclerc of Scuderia Ferrari took the final podium position of third.
Guenther Steiner, Team Principal, Rich Energy Haas F1 Team
"It was a very disappointing race for us. I'm just stating the obvious here. The best that our drivers could bring to the battle was a shovel – to dig the hole we're in even deeper. We need to go back, regroup, and see what we do in future."
Well I'm still a big K-Mag fan and lets hope they both leave their shovels behind.
As they head for Hockenheim.
Go K-Mag!!!!!!!!!!!!!!!
Go Grosjean!!!!!!!!!!!!!!!!!!
The 2019 FIA Formula One World Championship resumes
July 28 with the German Grand Prix
At Hockenheimring in Hockenheim.
Image Courtesy of EB