The F1 World Circus is back with a bang. New drivers new rules and a born again Flying Finn.
Made it an enjoyable race to watch.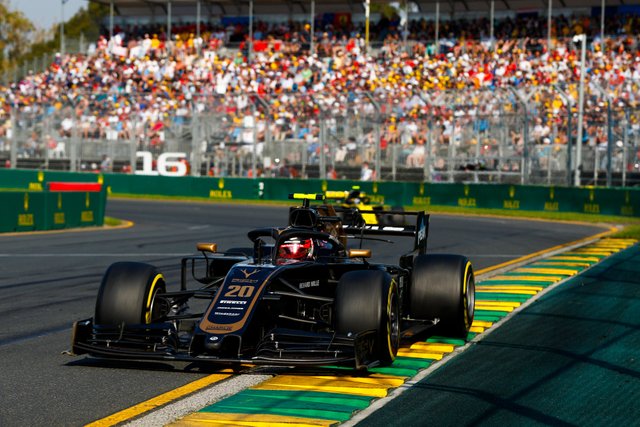 Bottas kicks Hammy Hamilton's ass. And Grosjean loses a wheel again again.
Honda gets on the Podium. And the Williams gets lapped.
K-Mag drives a superb race to finish 6th. So a good day at the office for K-Mag and Haas.
A bad day at the office for Grosjean. As his wheel falls off. It's Deja Vu all over again.
Ferrari were shite. And must improve in the next race.
2019 Australian Grand Prix: Race Highlights (Watch on Youtube)

2019 Australian Grand Prix: March 17th Race Recap - Team Haas
https://www.haasf1team.com/news/australian-grand-prix-race-recap-0
The resulting eight points from Magnussen's effort placed Rich Energy Haas F1 Team fourth in the constructors' standings, two points ahead of fifth-place Renault and seven points behind third-place Red Bull.
Mercedes driver Valtteri Bottas won the Australian Grand Prix by 20.886 seconds over pole sitter and teammate Lewis Hamilton. The win was the fourth of Bottas' Formula One career, his first since the 2017 season finale in Abu Dhabi and his first at Melbourne Grand Prix Circuit.
The 2019 FIA Formula One World Championship resumes
with the Bahrain Grand Prix March 31
At Bahrain International Circuit in Sakhir.
Go K-Mag!!!!!!!!
Go Grojean!!!!!!!!!!!!!!