Splinterlands Monster Card Giveaway - Sea Genie
Welcome to another Splinterlands giveaway!
The Sea Genie is one of the most useful of all the Reward Edition common cards. In fact, other than the Wood Nymph, it is probably my most played Reward Edition common card. And why not? The Sea Genie is a pretty powerful card. It starts out with the Flying ability making it harder to hit. Once it reaches level 6, it gains Strengthen so that every member of your team gains one health point.
To help you get started building a better Sea Genie, today's givaway will be this Level 1 Sea Genie card which will go to one lucky winner when this contest closes at post payout time.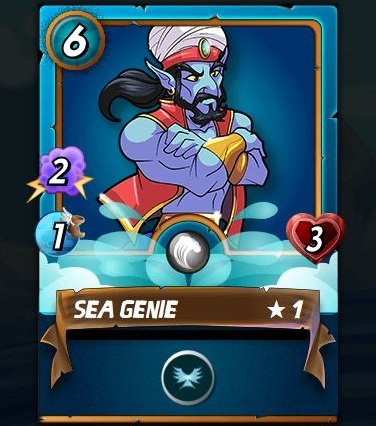 How To Enter The Giveaway
For a chance to add this Sea Genie to your Splinterlands deck, just leave a comment with your Splinterlands account name. Only 1 entry per person. The contest will end at the 7 day point of payout for this post, when I will use a random comment selector to choose the winner.
Good Luck!

Be sure to check out my other Steem Monster giveaway:
Vampire Giveaway
Undead Minotaur Giveaway
Goblin Mech Giveaway

I'm a proud member of