Saint Damien of Molokai
I am ready to be buried alive with those poor wretches – Father Damien.
Father Damien (3 January 1840 – 15 April 1889), described as a "martyr of charity", was born and bred in rural Belgium; it was assumed that he would take over the farm he grew up on, but life has some other plan for him. He travelled to Hawaii as a missionary and landed at Honolulu Harbor on 19 March 1864.
Mission At Molokai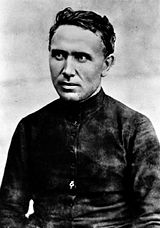 Father Damien in 1873 before he sailed for Hawaii
The
vicar apostolic
of the Honolulu diocese (bishop
Louis Désiré Maigret
) felt that lepers needed a Catholic priest, while at the same time, because of high risk, he did not want to send any one person in the name of obedience. That's when Father Damien volunteered for the job of working with the lepers.
On May 10, 1873, he arrived at Kalaupapa, where 816 lepers then lived. In this isolated colony of human despair, most of the diseased reeked of decaying flesh. And young girls who had just contracted leprosy were raped by " demon-faced men in final decay". And the thieves would steal from the dying.
He made an irrevocable decision to transform this hell into a civilized habitat and he accomplished it through his cheerful conversation about Christ; he ended up giving the lepers not only faith but also homes and his medical expertise and essentially a brand new life. He gave the lepers his own life.
Father Damien contracted leprosy and died at the age of 49 – as an immortal figure of Christian caring for the afflicted – at 8:00 a.m. on 15 April 1889.
SOURCES: