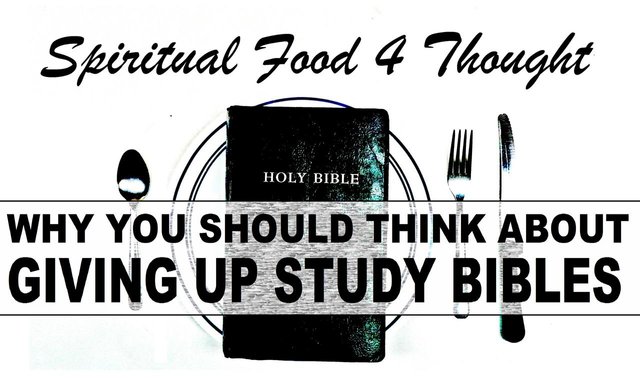 Ah, the study Bible.
---
Sure, the intentions behind them can be good, but does that make them a proper thing to put out? Repeatedly throughout the Bible God commands us not to add or take away from his words. Far too often, this may be exactly what the study Bibles do.
Unfortunately, it seems that study Bibles also encourage people to put their face in men, rather than in God. If you really want to understand the message that God is trying to deliver with certain passages of scripture, I'd suggest asking God to reveal it to you by His Spirit, meditate on His Word, and work on having an understanding of the entire Bible to make sure you have a foundation of His truth to test difficult passages with.

GIVING UP STUDY BIBLES VIDEO
---
Also, if any of you enjoy these videos, please feel free to subscribe to my new channel Spiritual Food 4 Thought and share these videos wherever you think people may either enjoy them or need them. Thanks everyone!

Until next time…

GIF provided by @anzirpasai
---
Bitcoin (BTC) - 35jP794XJ1yHUaoxuQUXwGPyCuy6zyiQA5