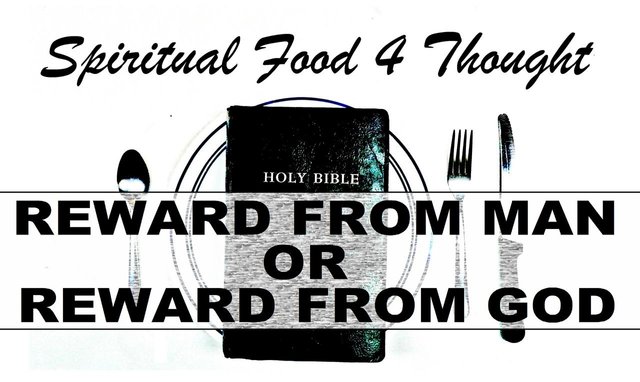 How do we give, and where will our reward come from?
---
As I mentioned in my last video, Jesus only mentions one thing pertaining to actually laying up treasures in heaven, and that's giving alms.
When we look at alms more deeply in Matthew 6:1-4, we see that there are two rewards that we could potentially get. The one reward is from man, and the other one is from God. Interestingly enough, the way to receive a reward from God is to give secretly and without others knowing.
It seems interesting once we consider the 501(c)(3) tax deductions that people can claim on their taxes. If this a form of getting a reward from man that negates people getting a reward from God. It's at least interesting to consider, and I do not think that we can get both. Much like in many other areas of our walk, we may need to make a choice and choose one or the other.

REWARD FROM MAN OR REWARD FROM GOD VIDEO
---
Also, if any of you enjoy these videos, please feel free to subscribe to my new channel Spiritual Food 4 Thought and share these videos wherever you think people may either enjoy them or need them. Thanks everyone!

Until next time…

GIF provided by @anzirpasai
---
Bitcoin (BTC) - 35jP794XJ1yHUaoxuQUXwGPyCuy6zyiQA5