Hola Steemians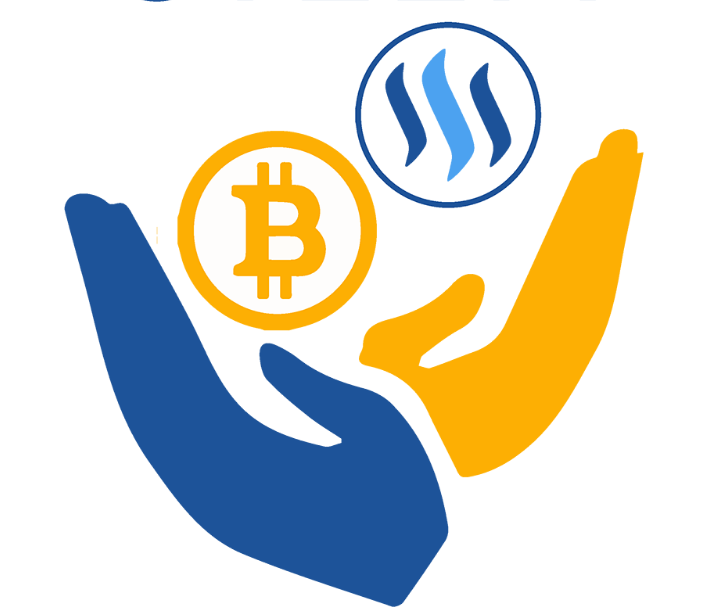 Hoy quiero comentarle de una de las sorpresas más gratas que me he encontrado en Steemit en mi corto periplo acá.



Sin duda alguna si eres un usuario que al igual que yo tiene muy pocos SP, sigue leyendo. Este programa puede echarte una mano.

Comencemos
Primeramente, considero que escribir sobre que es Steem Basic Income (SBI)? Como funciona? Quienes están detrás de esto? Costos? Rentabilidad?, entre otras preguntas no es necesario de explicar.
¿Por qué?
De todas formas, en caso de que no sepas absolutamente nada sobre el Programa SBI, acá una breve explicación:
¿Que es Steem Basic Income (SBI)?
Steem Basic Income is a social experiment to bring basic income to as many Steemians as possible. Members join by sponsoring others into the program. Steem Basic Income is delivered through providing regular upvotes to member content.

Source: FAQ - Steem Basic Income (SBI)


¿Que significa esto? Simple, a través de este sistema acumulativo nosotros podemos de la mano de amigos (debido a que cada "share" es compartido entre 2 usuarios) un "piso" para nuestros Posts, ya que cada Share garantiza un upvote de + 0.01SBD para nuestro Post, entonces si tienes 5 Shares, el Upvote será de 0.05SBD y así sucesivamente. Esto es algo realmente util para usuarios nuevos como yo, que tenemos muy pocos SP.
¿Como me Registro?

Simple, has usado Bots? Mismos principios, solo coloca
@steembasicincome
, en cantidad coloca 1 Steem (Or SBD) y en Memo, escribe el nombre del usuario con el cual deseas compartir el Share. Bastante fácil, ¿verdad? Por los momentos la carga de Share es manual, por lo que debemos esperar par de dias hasta que carguen nuestro Share al Programa.
Just send 1 STEEM to

@steembasicincome

. Include the name of a Steemian to sponsor in the transaction memo (preceded by @). You and the person you sponsor will each receive 1 share in the program. You can sponsor any active Steemian, it does not have to be a current member of SBI.

Source: FAQ - Steem Basic Income (SBI)


¿Como se si cargaron mi primer Share?

Con el primer Share, una transferencia de 0.001sbd es enviada colocando en el Memo que esta+as dentro del Programa :) , pero
@steembasicincome
hace esto solo la primera vez.
Entonces, ¿Como se cuantos Shares tengo y como veo si me han cargado los nuevos?
Muy facil, Mira aquí
Link
y localiza tu usuario, allí puedes ver si
@steembasicincome
cargó tu nuevo Share.
La forma más simple es mirando en tu más reciente Post el valor del upvote de @steembasicincome upvote.
Aprovecho la oportunidad para recomendarte steemworld. Aqui puedes ver exactamente el valor de cada upvote que recibes, agrega al final del link /@tusuario. Steemworld tiene muchas más funciones, está es una herramienta muy util. Posteriormente realizaré un Post sobre esto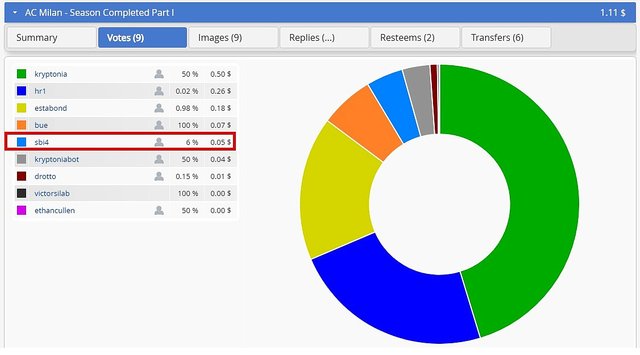 Mi experiencia.
Yo no sabía absolutamente nada sobre este programa, pero afortunadamente fui nominado en un concurso
Pay It Forward Curation Contest - Steem Bounty and SBI Shares
y allí aprendí sobre este Programa. Por cierto gracias a
@thedarkhorse
pro realizar este concurso.
Participé durante 3 semanas seguidas y tuve el placer de recibir 3 Shares, actualmente estos me dan un upvote de 0.05SBD en cada post que hago. Importante, el upvote lo efectúan despúes de pasar los 20 minutos.
No lo voy a negar, a veces considero que el Programa SBI es rentable y otras veces no. Tienes que ver esto como un beneficio a largo plazo, esto no es algo diseñado para invertir muchos SBD y esperar resultados al mes. A parte del hecho de que su función es realmente proveer un soporte a los minnow como yo. En este sentido, en mi opinión, El Programa SBI cumple.
Quiza quieres ver esto como yo lo hago, para mi cada Share realmente cuesta 0.5SBD, ¿como es eso? sencillo, solo acuerda con un amigo para pagar entre los 2 por el Share, así cada uno pagaría 0.5SBD, así luce mucho mejor, ¿cierto? . Una persona deberá transferirle a la otra para que este realice el pago completo.
Sin embargo, la mejor manera de conseguir Shares en mi humilde opinión es participando en concursos.
De esta forma sería un Ganar - Ganar, seguramente ya lo sabes pero por si acaso, participar en concursos es algo vital para los usuarios nuevos, tu post será visto por delfines y ballenas, puedes conseguir seguidores, upvotes, resteem y comentarios...
Mira, aquí está la lista más reciente de concursos que ofrecen SBI, Steem Basic Income - More Great Contests: A Fresh List
@steembasicincome actualiza semanalmente la lista, te recomiendo seguir su cuenta.

Conclusiones
Yo pienso que esto es una excelente iniciativa para usuarios nuevos como yo. En mi caso, tengo el respaldo de un upvote de 0.05SBD upvote en mi post diario, y esto va a ir creciendo a medida que obtenga mas Shares, actualmente estoy a la espera que me carguen 4 Shares más de 2 concursos que gané :) .
Definitivamente, considero que la mejor alternativa es participar en concursos, estos son muy buenos. Personalmente recomiendo Pay It Forward porque este es una excelente platadorma para que los usuarios nuevos nos mostremos. Participar allí me ayudó a crecer en Steemit.
Recomiendo mirar a SteemBasicIncome como un complemento, como un excelente complemento. No pienses en comprar muchos SBI buscando un resultado económico a corto plazo. Este proyecto es para ir creciendo poco a poco en Steemit, paso a paso, creciendo cada día.
Al principio, Steemit lucía muy rudo para mi, pero SteemBasicIncome junto a otros programas me permitieron llevar las cosas mucho más fácil acá. El camino de los plancton no es un camino facil.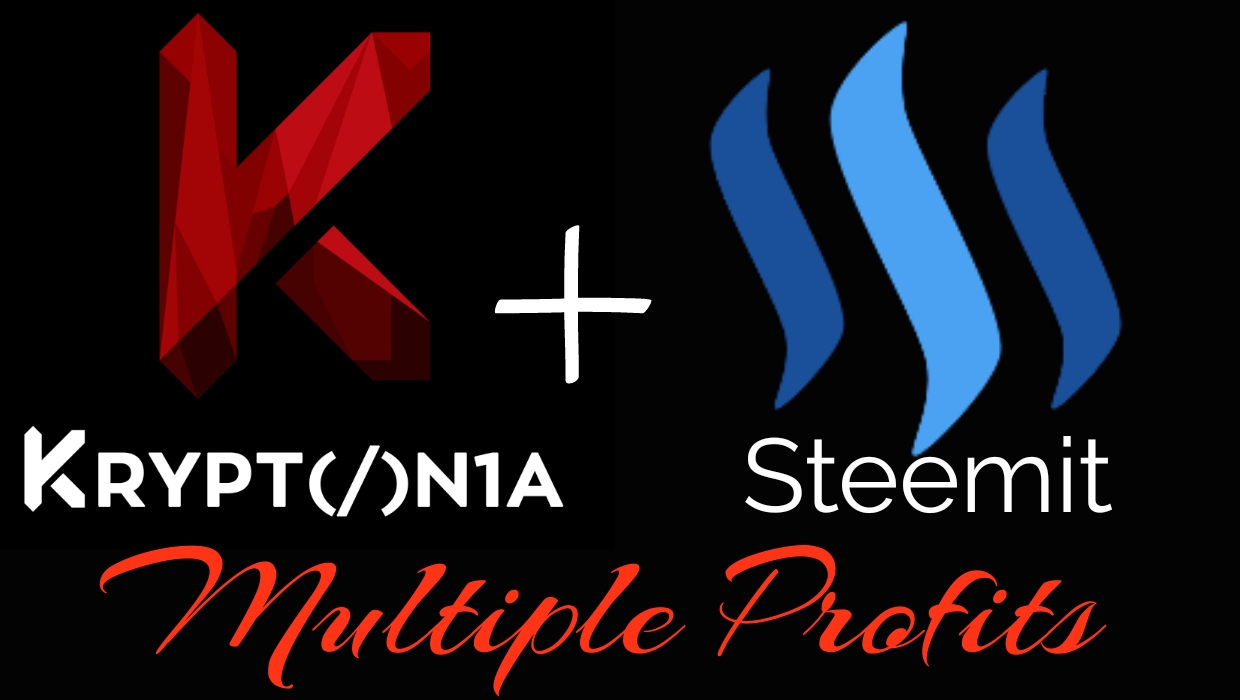 ¿Aun no estás en @kryptonia?
Aquí mi Link de Referido



Completa mi Tarea en @Kryptonia para recibir 14 Superior Coins que podrás usar luego para mejorar la visibilidad, conseguir votos o resteem para tu post en Steemit :).

Amigos, gracias por leer mi post.
PD: Todas las fotos provienen de post de @SteemBasicIncome posts y una captura hecha por mi del portal web de steemworld.