Lo acabo de decidir, sí, saldré a dar un paseo en mi escoba voladora. El cielo está gris, ¿será que va a llover?, que tonta, si yo soy una bruja, haré un hechizo para espantar la lluvia y traer el sol:
Pitahaya madura,
amarilla con dulzura.
Trae de vuelta al sol,
llévate la lluvia hoy.
Pum, pan, pom.
¡Escobita, escobita, a volar con alegría!
Según el GPS de la escoba, esta es la avenida de Los estudiantes; dicen algunos libros de hechicería antiguos, que la nombraron así por unos estudiantes que fueron asesinados. Aunque yo no veo muertos, lo que sí veo son muchos carros.
No es un lugar bonito, pero se encuentran locales comerciales, además escuche que es parte de la senda del carnaval y un buen sitio de encuentro con amigos.
Voy a ver que encuentro, quizá llegue a casa con ropa nueva.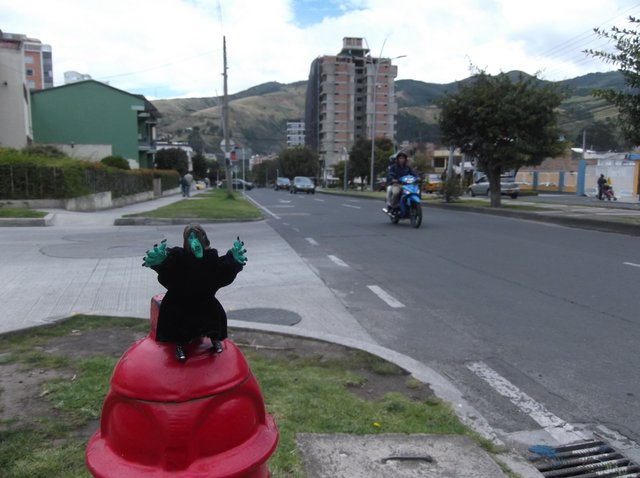 ---
Qué bonito, agua subiendo y cayendo, vendré a bañar al perro, de paso ahorro agua, ¡qué astuta soy!
El GPS indica que aquí inicia la avenida de Los estudiantes. Le preguntaré a un transeúnte como se llama este lugar.
―Señor, ¿cómo se llama esta laguna de pavimento?
Tan gracioso el señor, salió corriendo. Me tomaré una foto más bien.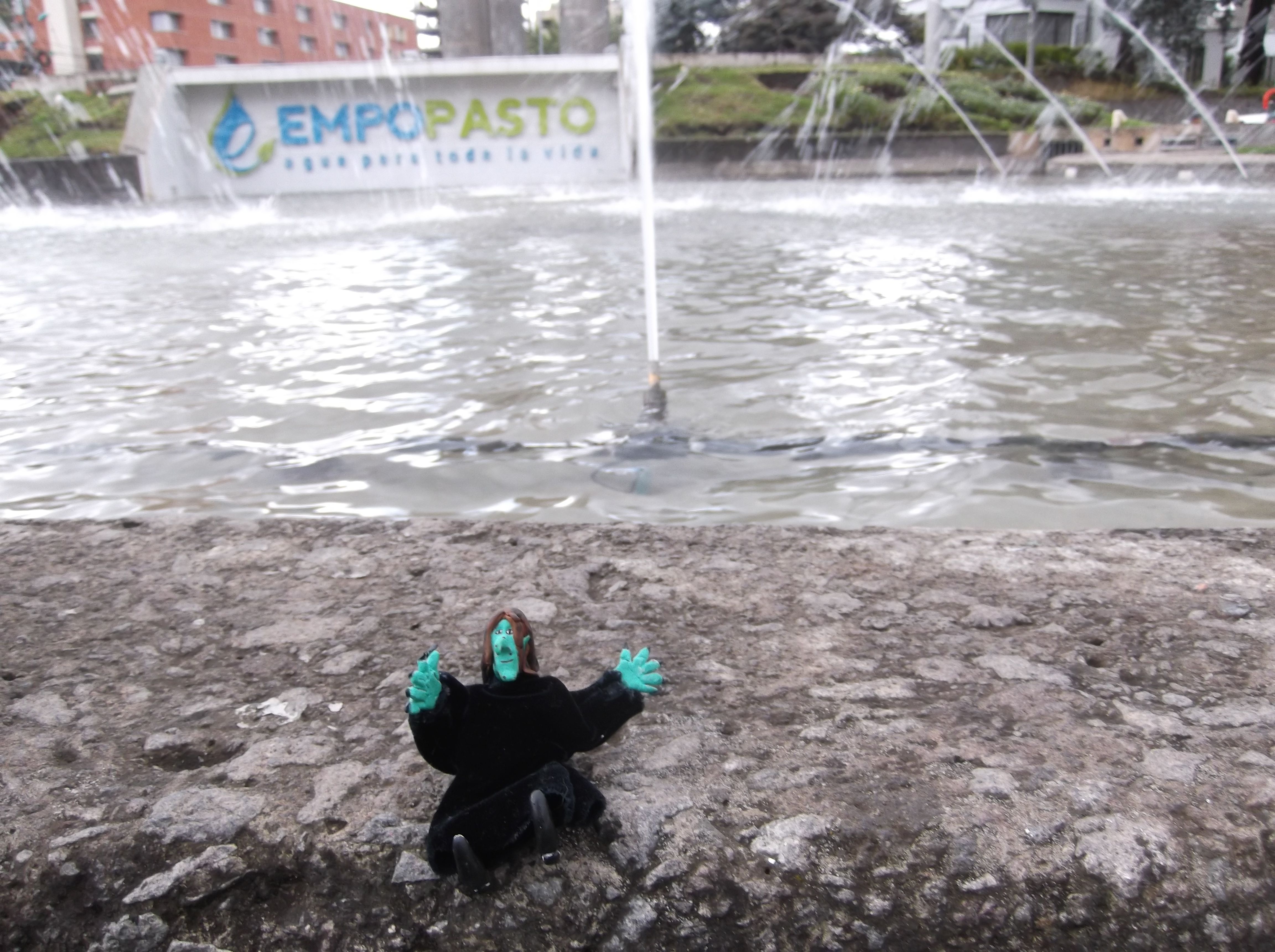 ---
El famoso Absalon, he escuchado que venden unos cócteles muy buenos, son tres sedes, pero está cerrado, voy a esperar un rato.
Que emoción, en ese carro esta sonando mi canción favorita:
The beautiful people, the beautiful people
It's all relative to the size of your steeple
You can't see the forest for the trees
And you can't smell your own shit on your knees.
Definitivamente no van a abrir. Claro, son las 8 am, y no me se ningun conjuro para la apertura de locales comerciales.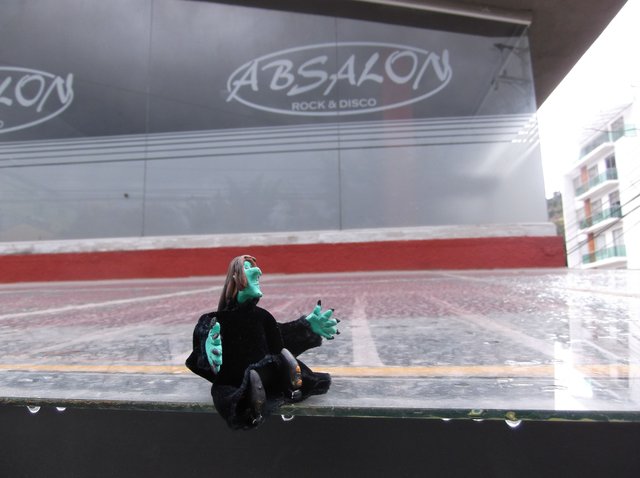 ---
Un puesto de verduras y frutas, llevaré algo para la cena.
Las mazorcas se ven frescas, las acelgas tienen gusanos.
―Señora deme tres mazorcas por favor.
―¡Ah!, una bruja.
No entiendo a la gente, salen corriendo como si yo fuera algo extraño, solo soy una bruja verde. Mejor me voy.
¡Escobita, escobita, a volar con alegría!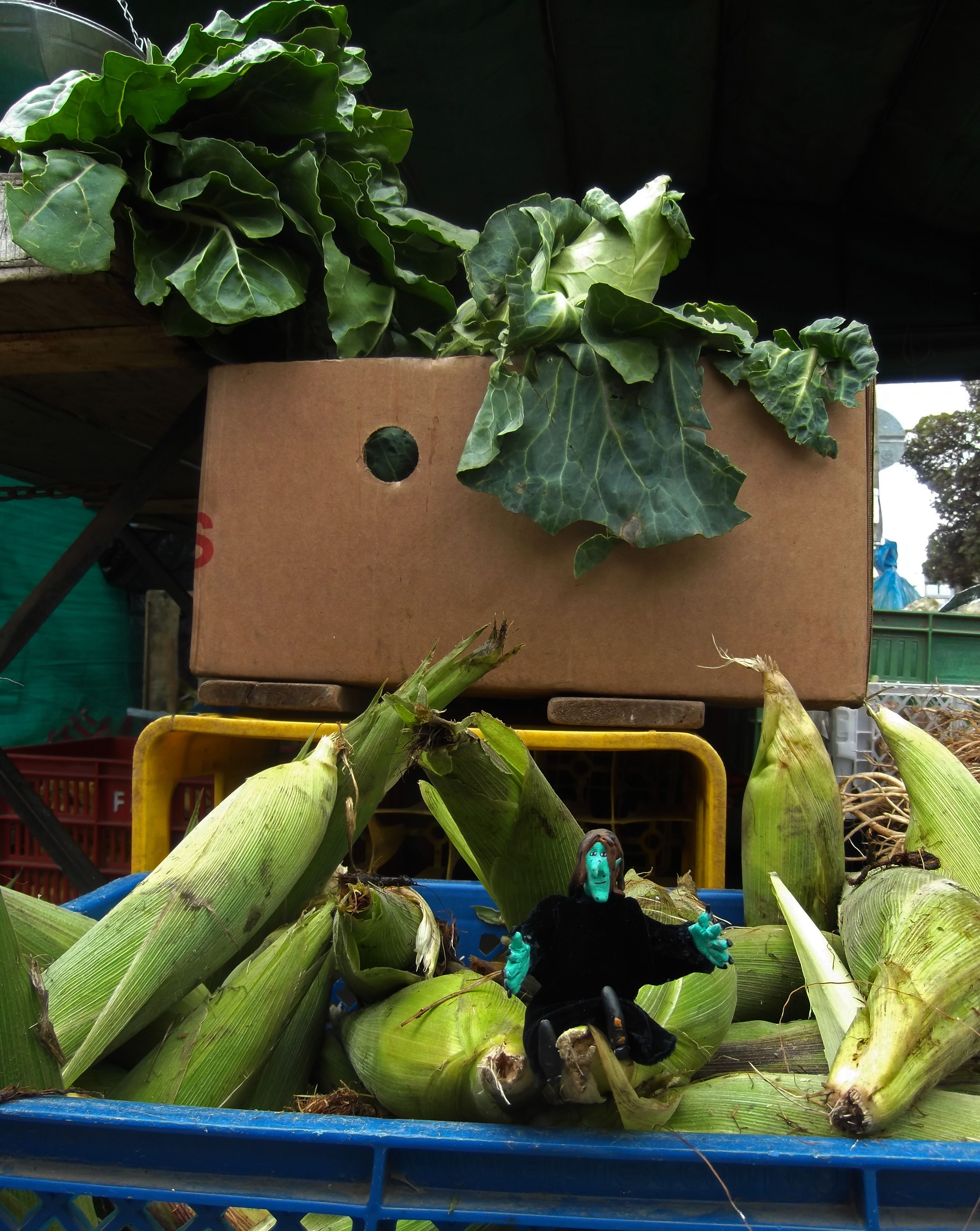 ---
¿Y esto?, ¿qué será?
Ca-fe-fe-fe-to, cafeto, sí, dice cafeto, parece que venden pasteles y está abierto. Entraré a ver qué consigo.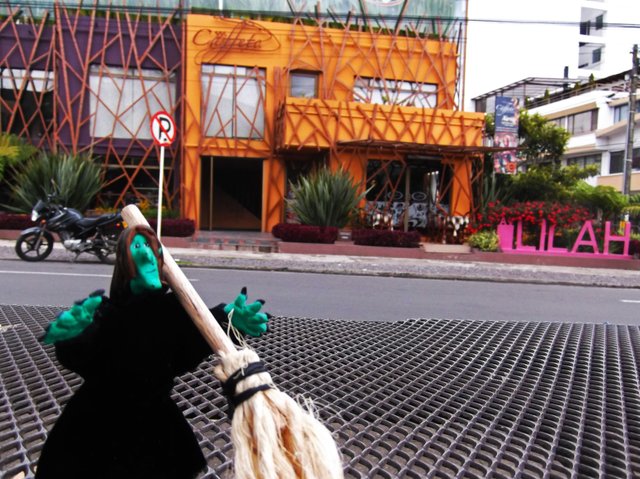 ---
Esa torta de chocolate se ve sabrosa.
―Señorita, me puede dar una torta de chocolate, un trozo bien grande, no quiero convertirla en rana.
―Nombre de quien hace el pedido por favor.
―La bruja verde.
―Reclame su pedido al final de la barra señora bruja verde.
Un gran trozo de torta, para mi sola.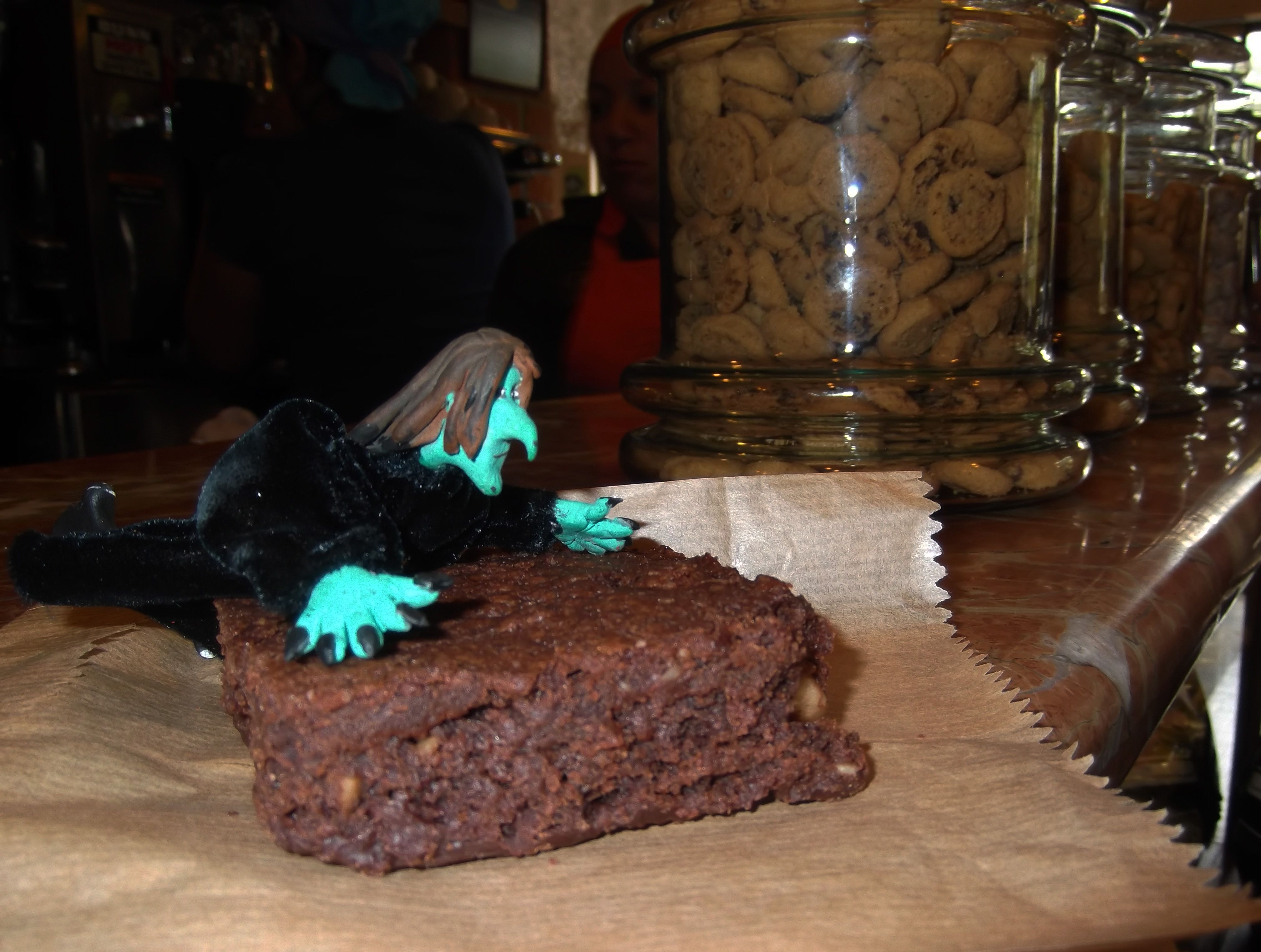 ---
¡Divinos!, sí, esos vestidos amarillos son divinos, en esta avenida se encuentran almacenes de ropa también.
¿Será que tienen mi talla?, yo soy gordita, no como las flacas de la vitrina.
Haré un conjuro para engordarlas, no pueden ir por el mundo mostrando sus huesos.
Palos flacos,
sin forma ni gracia,
aumentan de talla,
sean bolas con patas.
Pum, pan, pom.
Tan raro, el conjuro no funcionó, mejor me voy, creo que tanta azúcar me hizo daño.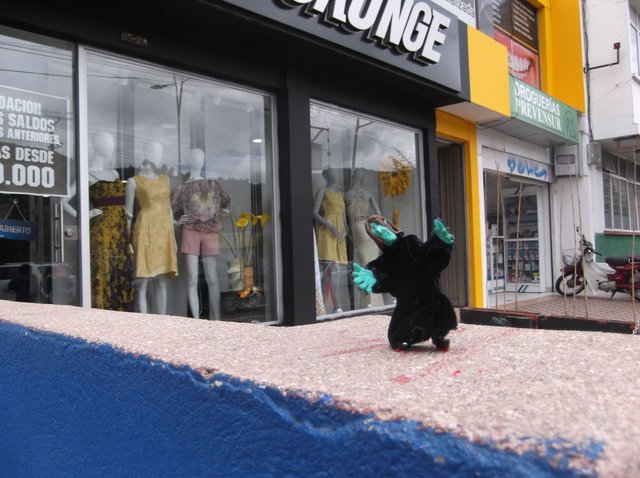 ---
Me siento mareada, definitivamente no debo comer tanto dulce.
No recuerdo si la casa está a la derecha, izquierda, atrás.
¿Y esto es un obelisco?
Llegué al final de la avenida de Los estudiantes, ¿será que llamo a ver si me vienen a recoger?, no, mejor no.
¿Escoba, serás capaz de volver a casa?
Escobita, escobita ven a mi lado,
llévame a casa,
donde duermo de lado.
Pum, pan, pom.
¡Escobita, escobita, a volar con alegría!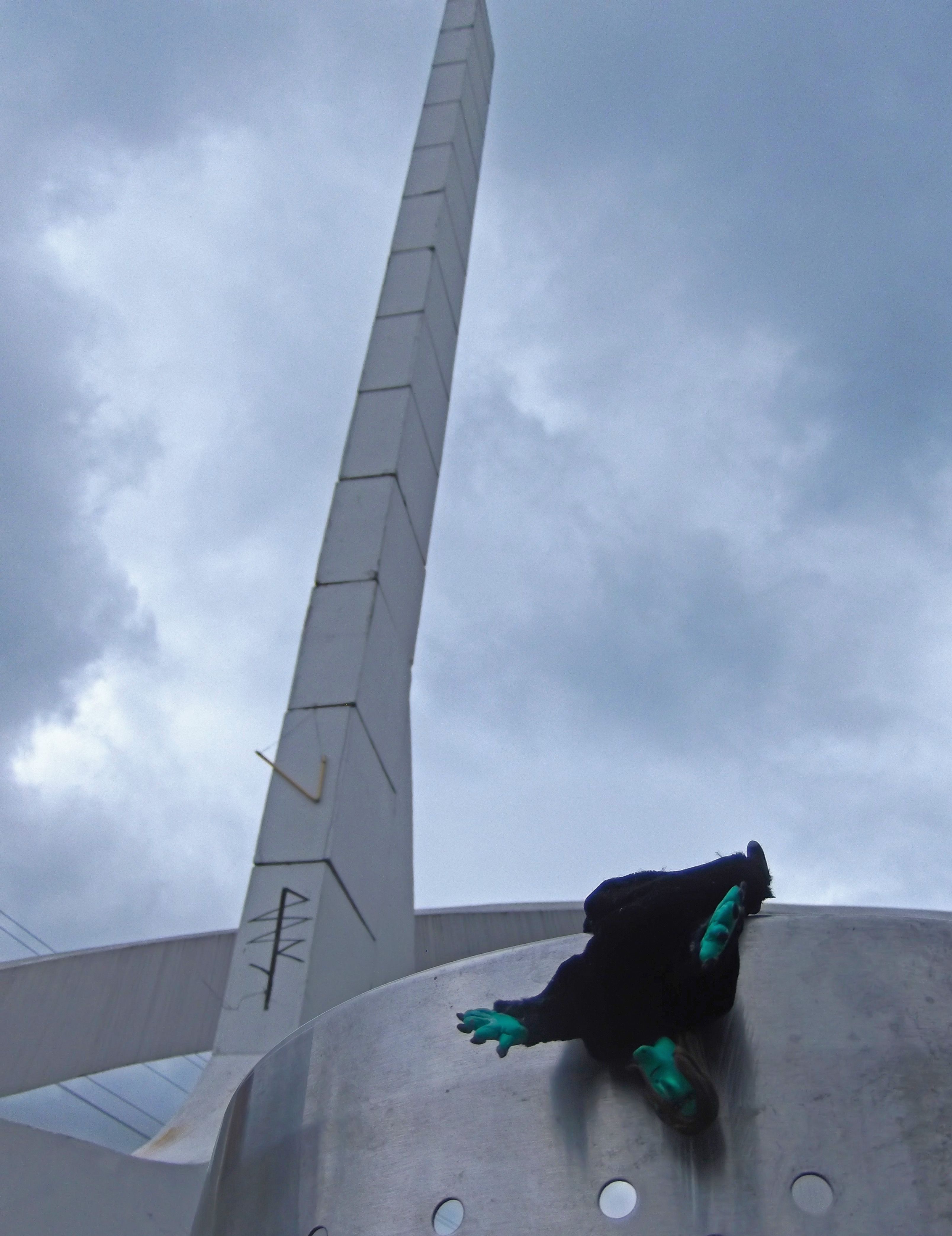 Por fin en casa, ahora si, a descansar.
---
***
La Avenida de Los estudiantes, se encuentra ubicada en la zona norte de San Juan de Pasto, a unos pocos metros de la entrada a la ciudad. Inicia en la Fuente de la transparencia, y termina en el obelisco frente al hospital infantil. En este lugar se concentran varios locales comerciales que incluyen finos restaurantes, otros no tan finos, bares, entre otros. Su nombre es un tributo a varios estudiantes asesinados en una protesta contra la corrupción del gobierno en el año 1929.
Se considera un sitio de encuentro con amigos y en época de carnaval uno de los lugares de concentración más importantes, por esa razón quería presentarles este pedacito de ciudad.
Guardo la esperanza que un día tomen un avión que diga "San Juan de Pasto – Colombia", y cuando eso pase, quién sabe dónde esté yo, así que, con esta pequeña guía, por lo menos sabrán que existe una avenida de Los estudiantes. No quiero que se vayan a perder, y no puedan regresar a sus hogares nunca, nunca…nunca.