The Sanare Alligator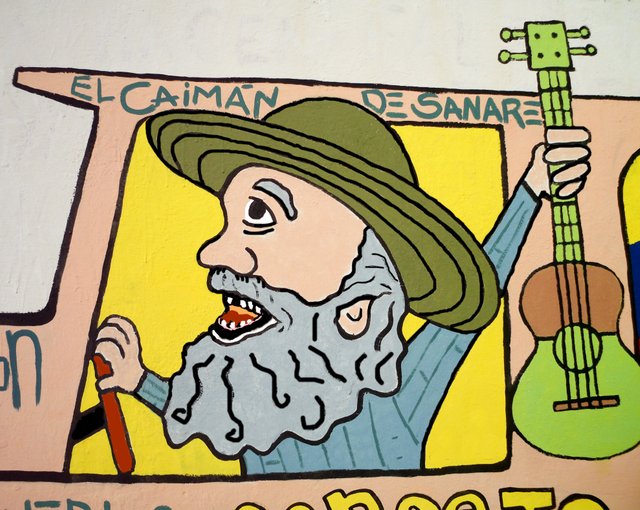 Detalle de Mural realizado con pintura de agua sobre pared, 2012
Regreso acompañada de esta imagen que extraje de un mural que dibujé hace algunos años, sobre el popular cuentero "El Caimán de Sanare".
El Caimán fue un maravilloso ser que vivió en el pueblo de Sanare, en una montaña andina del Estado Lara.
Quizá sea Sanare, dentro de Venezuela, el sitio donde más abundan los personajes dicharacheros, poéticos, creadores y amorosos por su tierra.
"El Caimán de Sanare", cultivador de canciones, cuentos y mentiritas bonitas; se paseaba por calles y esquinas del pueblo, siempre dispuesto a deleitar con su ingenio solo a cambio de una sonrisa.
😍
I return accompanied by this image that I extracted from a mural that I drew a few years ago, about the popular storyteller "El Caimán de Sanare".
The Cayman was a wonderful being that lived in the town of Sanare, in an Andean mountain of Lara State.
Perhaps it is Sanare, inside Venezuela, the place where the most joyous, poetic, creative and loving characters for their land abound.
"The Cayman of Sanare", cultivator of songs, stories and pretty little lies; he walked through streets and corners of the town, always willing to delight with his wit just in exchange for a smile.
¡Hasta la próxima! : 😉