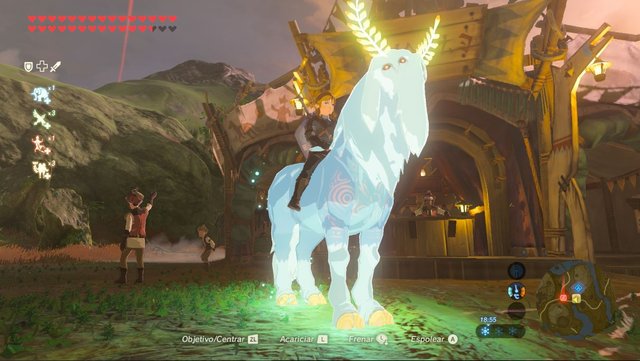 ---
Había una luz misteriosa en la parte superior de un pico. Era aguamarina y apareció durante ciertos momentos del día. Intrigado por esto, fui hasta el pico de la montaña. En su parte superior, hay un estanque con un cerezo y muchos Rupiconejos por todo el lugar. Entonces lo vi; El señor de la montaña.
Al principio, no entendí su forma. Parecía un caballo, pero con algunas características interesantes. Lo atrapé desde los cielos y tomó mucha energía domar a esta bestia espiritual.
---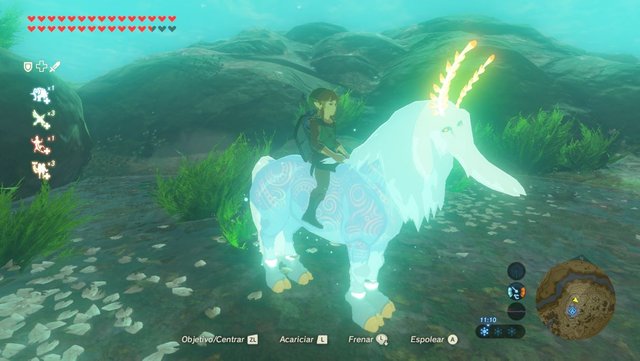 ---
Me recordó el espíritu del bosque de la película Princesa Mononoke. Tiene una cara peculiar compuesta de dos caras humanas de rupiconejos. Su cuerpo está lleno de tatuajes que brillan todo el tiempo. Las piernas son similares al espíritu de mononoke. Probé este magnífico ser afuera. Corre rápido y los sprints son infinitos.
Mientras corre, cada lugar donde pisa florece y brilla, de nuevo, de forma similar al Espíritu del Bosque. Lamentablemente no es registrable y en el momento en que bajé desapareció. Aun así, ¡Fue divertido y parte de los pequeños detalles que hacen que Zelda: Breath of the Wild sea místico y genial de jugar!
---
@gaeljosser
Capturas tomadas de mi partida en el juego.