FICHA TÉCNICA
---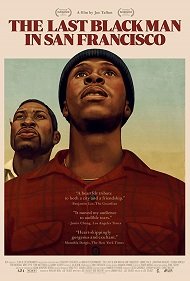 Fuente del Póster:

IMDb
Clasificación: R
Año: 2019
Título Original: The Last Black Man in San Francisco
País: Estados Unidos
Fecha de Estreno: 7 de junio de 2019 (USA)
Duración: 120 minutos
Género: Drama
Dirección: Joe Talbot
Guión: Joe Talbot
Música: Emile Mosseri
Fotografía: Adam Newport-Berra
Productora: A24
Reparto: Jimmie Fails, Jonathan Majors, Rob Morgan, Tichina Arnold, Danny Glover Ver todo - IMDb
---
  QUE ES THE LAST BLACK MAN IN SAN FRANCISCO?

The Last Black Man in San Francisco es un drama indie sobre un hombre que sueña con recuperar la casa familiar que tuvo que dejar cuando era niño.
 
La historia sigue a Jimmie Fails, un hombre afroamericano y sus esfuerzos para recuperar el hogar de su infancia, una casa victoriana en el corazón de San Francisco que su abuelo construyó.
Aunque en la película no hay demasiado contenido que sorprenda, esta se mueve lentamente y sus temas son maduros y bastante sutiles. La violencia se limita solo a disparos lejanos y a una muerte fuera de pantalla
Ambientada en una comunidad marginada en un área metropolitana costos, este drama es dulce y hermoso, mostrando una amistad poderosa y solidaria entre dos hombres. The Last Black Man in San Francisco claramente despierta afecto por sus personajes y por el barrio en el que se encuentran.
Joe Talbot hace su debut como director al dirigir este drama basado en una historia de Jimmie Fails y Talbot, la cual se basa en parte en la vida de Fails, y esta protagonizada por Él junto a Jonathan Majors, Danny Glover, Tichina Arnold, Finn Wittrock, Rob Morgan, Thora Birchy Mike Epps.
The Last Black Man in San Francisco tiene presente mensajes sobre el trabajo en equipo, la perseverancia, tolerancia y empatía
---
  IMÁGENES DE LA PELÍCULA

Click en la imagen para verla en pantalla completa!
Fuente de las Imágenes:

Rotten Tomatoes
El copyright de las imágenes pertenece a sus respectivos autores y/o productoras/distribuidoras.
---
  TRÁILER

Fuente del Tráiler:

A24
El copyright de este vídeo pertenece a la productora y distribuidora,
su publicación es solo para dar a conocer la película.

PÁGINAS USADAS PARA COMPLEMENTAR EL POST

RESÚMENES ANTERIORES

GRACIAS POR SU TIEMPO
¡Hasta la proxima!