Inauguración de NeuroTeruel / NeuroTeruel Opening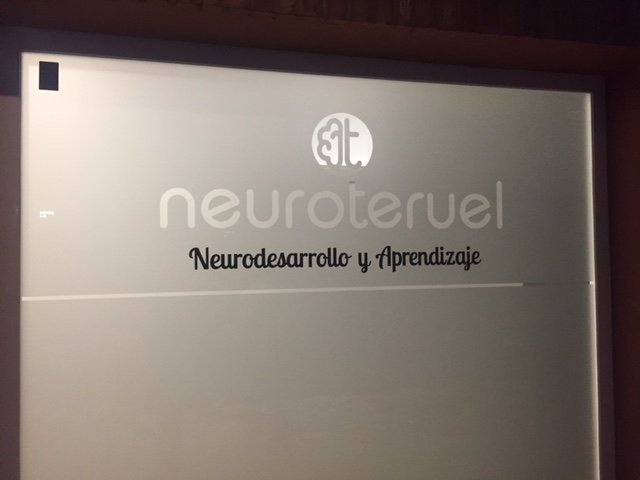 Buenos día Steemit. Ya hace unos días que no me pongo y escribo pero he tenido un inicio de curso un poco ajetreado. Eso sí, en los próximos artículos os iré contando lo que me ha ido sucediendo estos días. 
Good morning Steemit. Since a few days ago that I do not put myself and write but I have had a start of course a little busy. Of course, in the next articles I will tell you what has been happening to me these days.
No obstante, este artículo va dedicado a una de las personas que más me importa en esta vida: mi hermana María. 
However, this article is dedicated to one of the people that matters most to me in this life: my sister Maria.
Ayer tuve la suerte de poder asistir a uno de los eventos más importantes de la vida de mi hermana:La inauguración de su clínica "NeuroTeruel". 
Yesterday I was lucky enough to be able to attend one of the most important events in my sister's life: The inauguration of her clinic "NeuroTeruel".
¿Por qué digo que es uno de los eventos más importantes de su vida? Simplemente porque llevaba muchos años buscando su propósito de vida, cosa que a todos nos cuesta mucho encontrar, y, por fin,  lo encontró y lo pudo hacer realidad. Estoy tan orgullosa de ella que no me salen las palabras para poder describirlo como realmente toca. 
Why do I say that it is one of the most important events of her life? Simply because she had been searching for his life purpose for many years, which we all find it difficult to find, and, finally, she found it and made it happen. I'm so proud of her that I do not get the words out to be able to describe how she really plays.
Mi hermana ha dedicado toda su vida a ayudar, sobre todo a los niños con  necesidades especiales y dificultades de aprendizaje. Yo, como maestra, sé lo importante que es que haya personas como mi hermana y que lleven a cabo esta labor tan importante. 
My sister has dedicated her whole life to helping, especially children with special needs and learning difficulties. I, as a teacher, know how important it is to have people like my sister and to carry out this important work.
Así que, después de mucho tiempo, mucho esfuerzo y dedicación, los resultados han llegado en forma de una clínica llamada Neuroteruel cuyo propósito no es más que hacer que tanto niños como padres tenga una vida mucho mejor y de calidad. 
So, after a long time, a lot of effort and dedication, the results have come in the form of a clinic called Neuroteruel whose purpose is to make both children and parents have a much better and better life.
Pues bien, ayer pudimos asistir mis padres, mi abuela y yo desde Valencia a la inauguración de NeuroTeruel en Teruel para apoyar a la pequeña de la casa. 
Well, yesterday we were able to attend my parents, my grandmother and I from Valencia to the inauguration of NeuroTeruel in Teruel to support the little girl in the house.
La verdad es que fue todo un éxito y pudimos conocer algunos de los niños que lleva mi hermana y que seguirá con ellos en este nuevo espacio dedicado a ello. 
The truth is that it was a success and we were able to meet some of the children that my sister is taking and who will continue with them in this new space dedicated to it.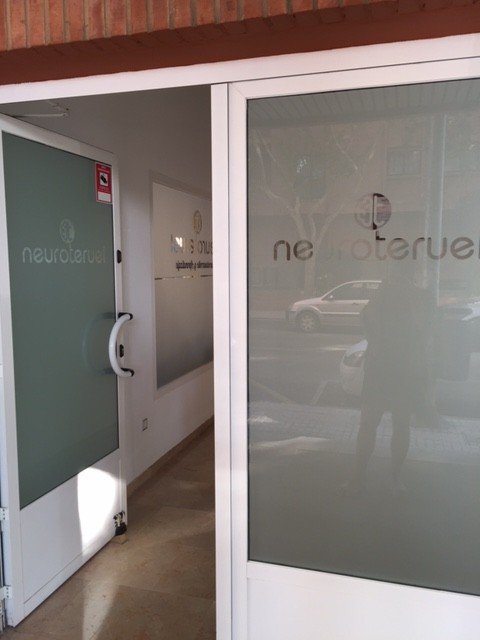 Aquí tenéis la entrada a la Clínica. Los vinilos les han quedado preciosos. 
Here you have the entrance to the Clinic. The vinyls have been precious to them.
Ahora os enseño la sala de mi hermana, que ha quedado genial pero que, poco a poco, irá decorando para que quede aun más preciosa si cabe. 
Now I show you the room of my sister, who has been great but who, little by little, will decorate to make it even more beautiful if it fits.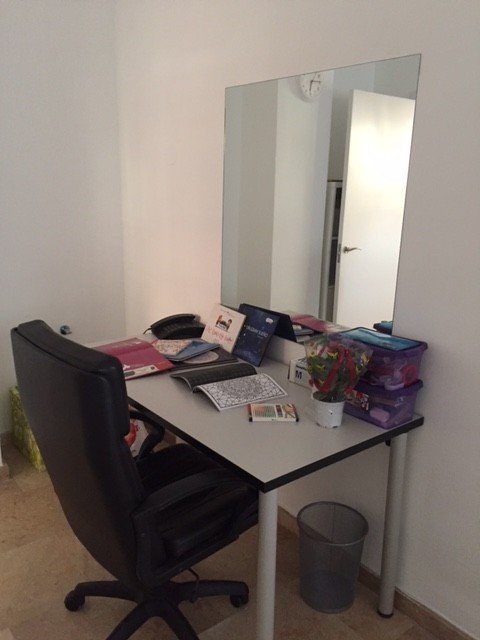 La mesa de oficina de María. 
Maria's office table.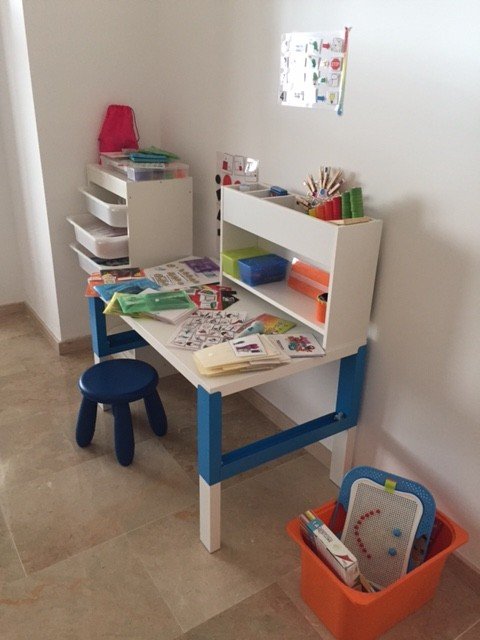 El rincón de trabajo de los niños con el material necesario para ello. Mucho del material lo crea ella misma. 
The children's work corner with the necessary material for it. Much of the material she creates herself.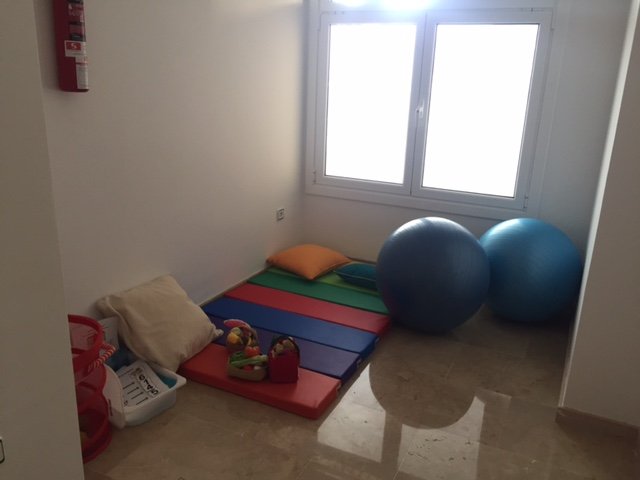 Creo que este rincón va a ser uno de los preferidos de los niños, ¿qué pensáis?
I think this corner is going to be one of the children's favorites, what do you think?
Ahora es el turno para el espacio de Sonia, la terapeuta ocupacional, compañera de mi hermana en esta aventura. 
Now it is the turn for the space of Sonia, the occupational therapist, companion of my sister in this adventure.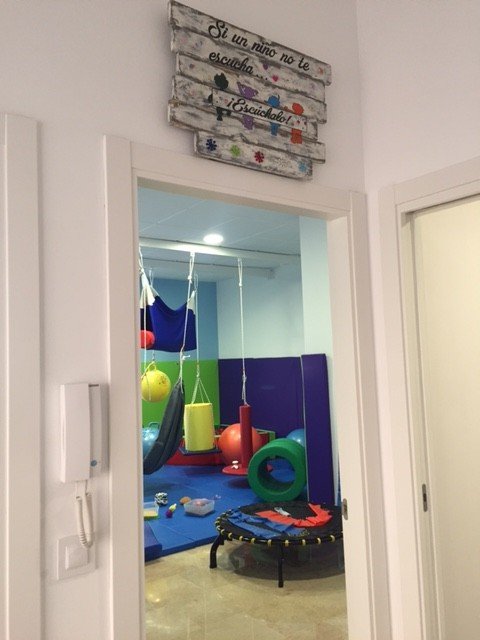 Ya sólo el primer vistazo tan colorido te invita a no quedarte fuera y entrar. ¡Una pasada!
Already only the first look so colorful invites you not to stay out and enter. Awesome!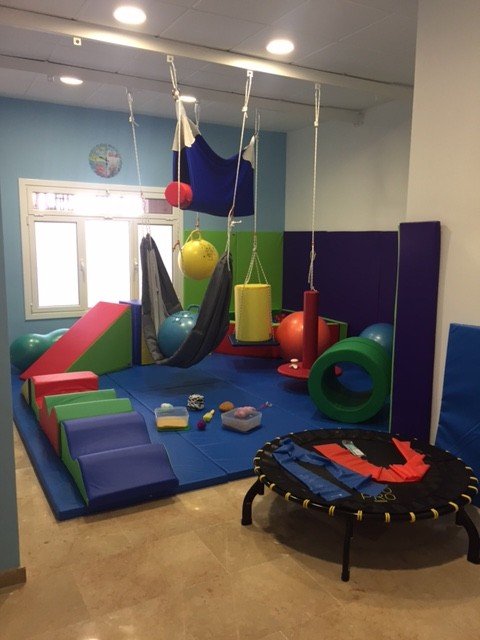 Si fuera madre de alguno de estos niños, sin duda, llevaría a mis hijos a este lugar. La sala de Sonia está muy bien acondicionada para que los niños no tengan ningún percance y aprendan al máximo. 
If I were the mother of one of these children, I would certainly take my children to this place. The room of Sonia is very well conditioned so that the children do not have any mishap and learn to the maximum.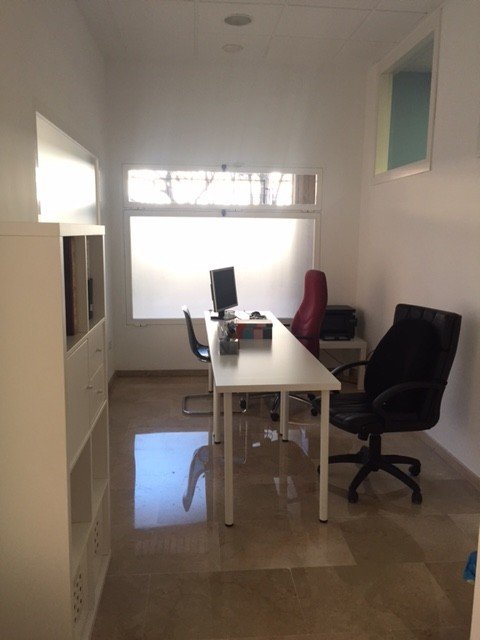 Y aquí, la oficina común donde tanto María como Sonia atienden a los padres. Falta una silla que sacaron fuera donde nos ofrecieron un maravilloso "piscolabis". 
And here, the common office where both Maria and Sonia attend the parents. Lacking a chair they pulled out where we were offered a wonderful "snack".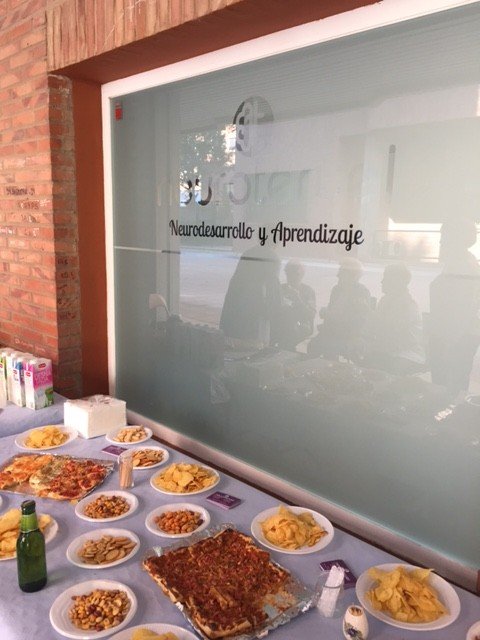 No faltó de nada. Estuvieron muy atentas a todas las personas que acudimos allí a apoyar esta gran iniciativa. 
There was nothing missing. They were very attentive to all the people who went there to support this great initiative.
Y, por supuesto, nosotros disfrutamos de todo y de la compañía tanto de las personas cercanas como las que conocimos nuevas. 
And, of course, we enjoyed everything and the company of both the people close to us and those we met new.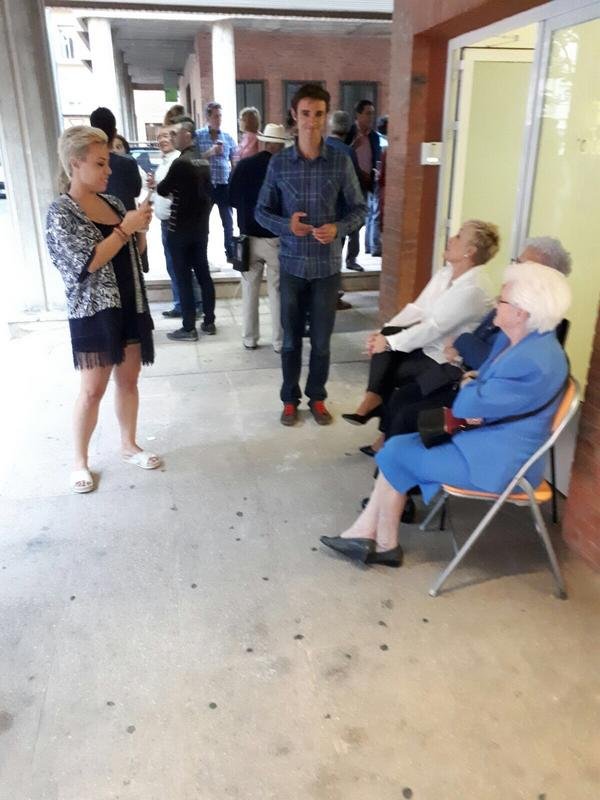 Aquí me tenéis haciendo fotos para no variar, junto con mi madre, mi abuela, la abuela de Sonia y mi cuñado. 
Here you have me taking photos not to change, along with my mother, my grandmother, Sonia's grandmother and my brother-in-law.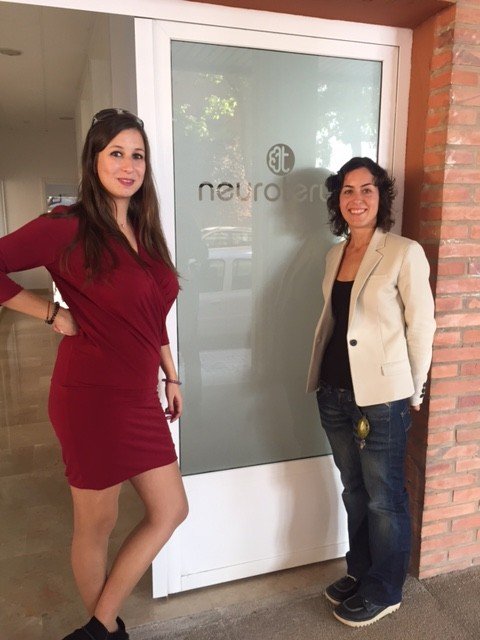 Y aquí, las protagonistas del evento junto a la entrada de la clínica. A la izquierda, Sonia. Y a la derecha, mi querida hermana María. 
And here, the protagonists of the event next to the entrance of the clinic. To the left, Sonia. And to the right, my dear sister Maria.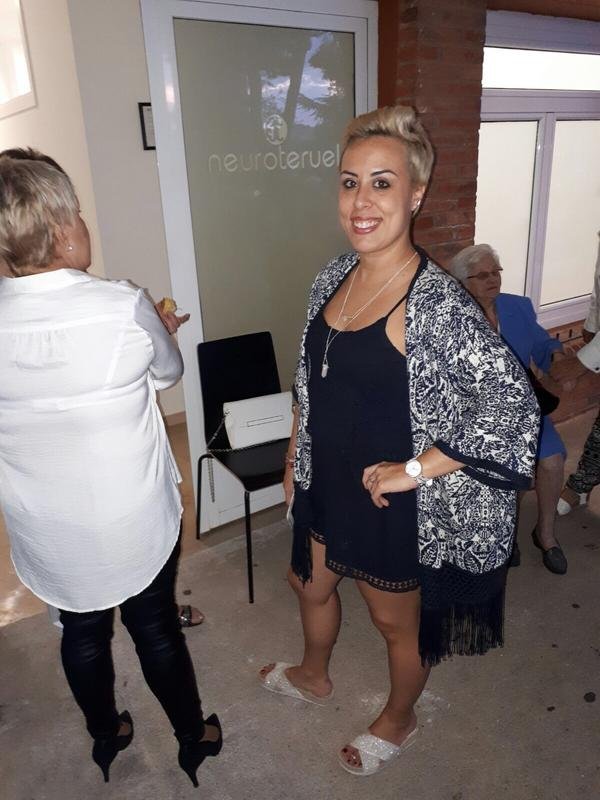 Y esta soy yo. Mi padre haciéndome fotos para que todo el mundo sepa que donde mi hermana me necesite, allí estaré. 
And this is me. My father taking pictures so that everyone knows that where my sister needs me, I will be there.
Por último y para finalizar, no quería despedirme sin dejados un súper vídeo que realizó mi querido padre sobre la clínica. Espero que lo disfrutéis.
Finally and finally, I did not want to say goodbye without leaving a super video that my dear father did about the clinic. I hope you enjoy it.