YouTube Video

Como Participar En El Pre Sale De APR
1) Entra aquí: https://discord.gg/TAbaN79
2) Contacta a APR KING#5732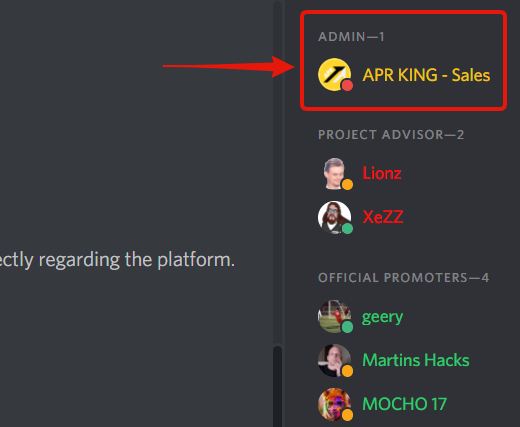 Le dices que quieres comprar un Masternode y que yo te envié: TheKinGeeK#8321
Nota: Soy parte del Equipo de Promoción de APR, así ellos saben que estoy haciendo mi trabajo 🙂
APR King te dará las instrucciones de a donde enviar el pago en BTC exacto, luego que envíes le das el hash ID y tu email principal ya que ahí te enviaran el recibo y te agregaran a la lista de compradores Privados. Cuando salga la billetera oficial la cual estará en Linux, Windows, y Mac entonces te volverán a contactar y te enviaran tu masternode o monedas de APR a la billetera.
Si no tienes suficiente BTC para comprar un Masternode completo 100, 200, o la cantidad deseada de APR coins. Creo que el mínimo son 100 monedas y te costaría acorde, el precio es alrededor de .00043Sats cada moneda de APR.
Rentabilidad de APR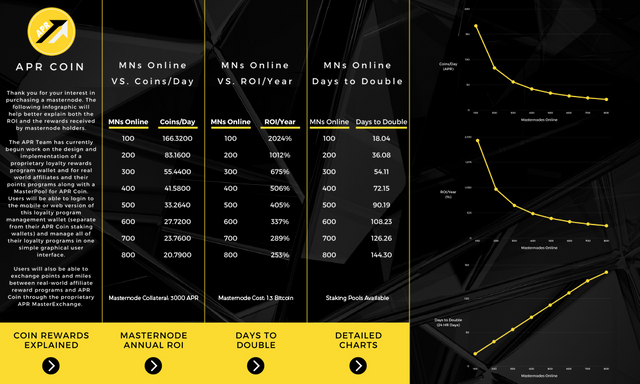 Utilidad de APR


Texto para que puedan traducir
APR Magic - Marketing: Hello @everyone we are excited to announce the official summary of the real world use for APR Coin. We are proud to be the 1st project in the crypto space in the Loyalty Rewards Management industry.
Real World Use: The APR Loyalty Platform (Final Name and Release Date TBA)
The APR Team has currently begun work on the design and implementation of a proprietary loyalty rewards program wallet and for real world affiliates and their points programs along with a MasterPool for APR Coin. Users will be able to login to the mobile or web version of this loyalty program management wallet (separate from their APR Coin staking wallets) and manage all of their loyalty programs in one simple interface.
Users will also be able to exchange points and miles between real-world affiliate reward programs and APR Coin through the proprietary APR MasterExchange. Redemption for shopping and gift cards will be just as simple. They will be able to park real world loyalty program points or miles in the APR MasterPool, a proprietary staking pool, to prevent said points from expiring. While storing coins in the APR MasterPool, users will earn APR Rewards based off of their network weight.
This real world implementation, yet to be named, will accessible by not only large retailers and companies, but small businesses as well. A custom API will be created to allow businesses globally to create and connect to their loyalty program to the APR loyalty rewards program wallet and exchange.
Enlaces Importantes
Discord: https://discord.gg/TAbaN79
Sitio Oficial: https://www.apr-coin.com/
Whitepaper: https://www.apr-coin.com/whitepaper
Twitter: https://twitter.com/aprcoinofficial
Instagram: https://www.instagram.com/aprcoin/
BitcoinTalk ANN Thread: https://bitcointalk.org/index.php?topic=2976500