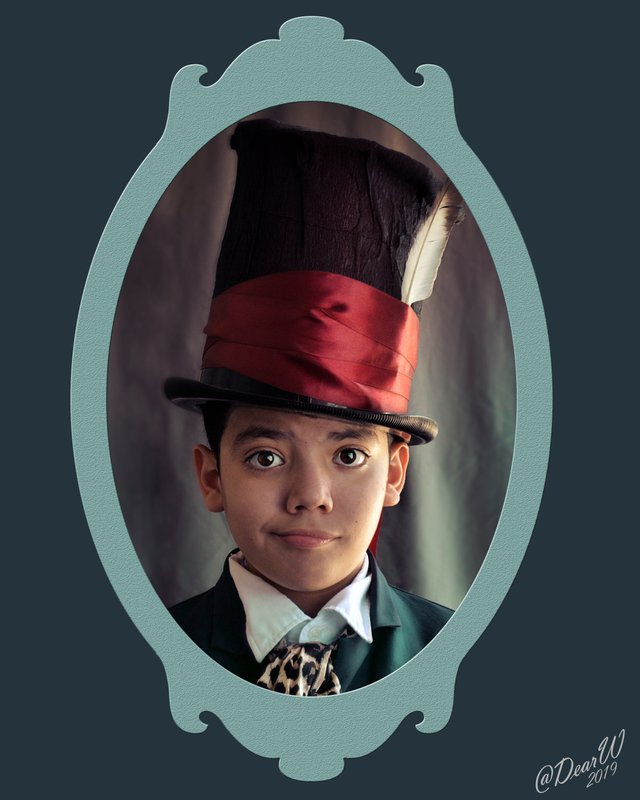 ¡Hola, hola! mis queridos lectores.
Espero que como siempre todos se encuentre bien. Este proyecto el día de hoy tendrá un giro inesperado.
Todo es perfecto y todo tiene su momento, ese es el porqué de mi artículo fotográfico de hoy. Las fotografías que están viendo tenían más de un año guardadas en negativo esperando a que literalmente la inspiración para procesarlas llegara. Debo aclarar que este es un post fotográfico siendo complementado con mi experiencia personal y cualquier contenido referencial que considere relevante o apropiado. ¡Comencémos!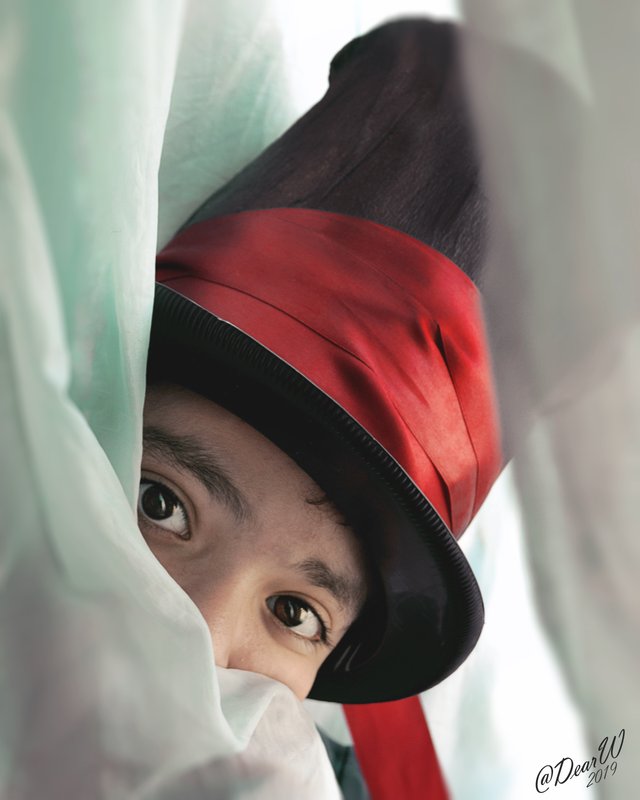 EL NIÑO
Érase una vez un niño tímido con muchas ansias de expresarse, era una tarde normal en su escuela y la maestra acababa de anunciar las formación de equipos para una dramatización; asustado lo único que deseaba era que la experiencia fuera lo menos traumática posible porque nunca había hecho tal cosa. Lo que el niño no sabía era que la oportunidad estaba de su lado, le había tocado representar a uno de sus personajes favoritos, El Sombrero en Las aventuras de Alicia en el país de las maravillas.
El equipo de trabajo estuvo conformado por su maestra, compañeros, madre y padre, cada uno con una función específica hicieron del producto final un éxito. Ese día no solo regresó a casa con una buena calificación sino también con la convicción de que era capaz de lograr lo que quería, que las cosas siempre salen bien y que siempre tendrá quien lo apoye. A partir de ese día su voz se empezó a notar, abrió un canal en Youtube, comenzó a opininar con criterio y sin temor, unos meses después cantó frente a todos sus compañeros y posó para estas fotos que le quedarán también de recuerdo.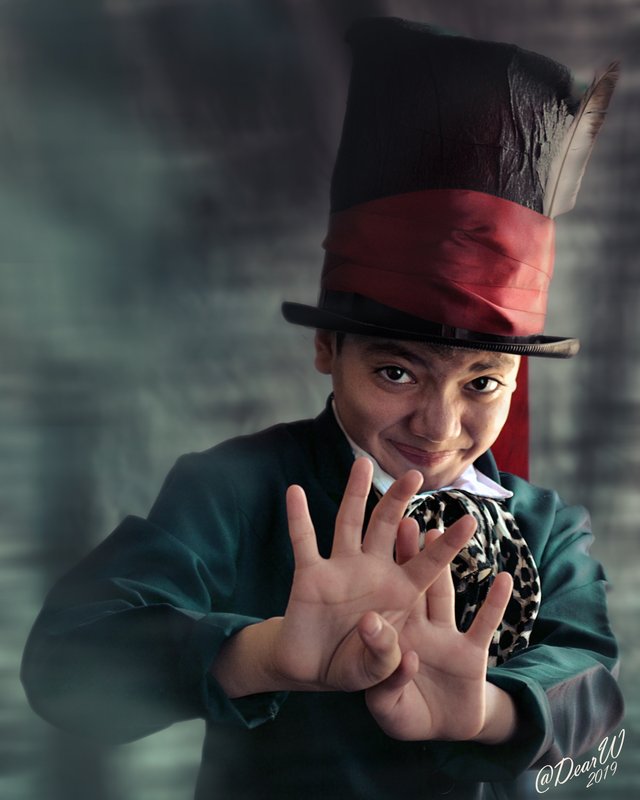 EL SOMBRERERO
Es un personaje del cuento "Las Aventuras de Alicia en el país de las maravillas", escrito por Lewis Carrol.
Se cree que Carrol para crear el personaje usó como referencia a los sombrereros de la época quienes al inhalar vapores de mercurio producto de la fabricación de los mismos les provocaba envenamiento.
Es comúnmente llamado "El Sombrerero Loco" sin embargo su nombre real es "El Sombrerero".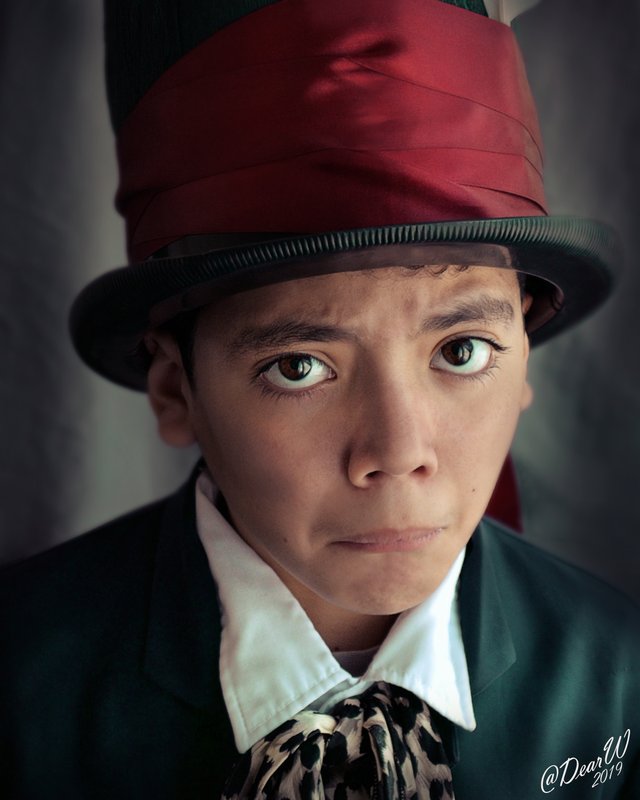 ANTES - DESPUÉS - PROCESO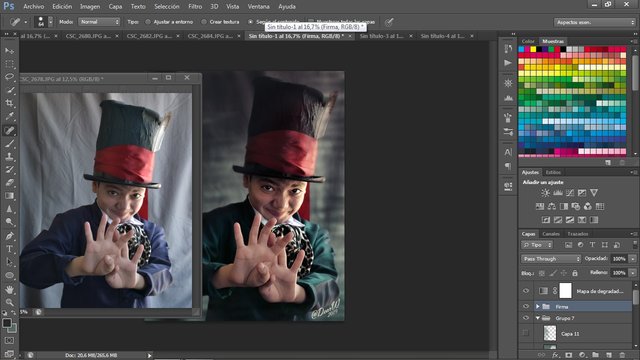 DATOS EXIF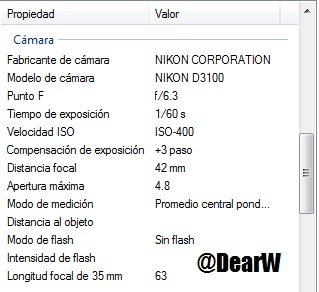 CREDITS:
Fotografías hechas con // Photos taken with a Nikon D3100
Editadas con // Edited with Photoshop CS6
Separadores hechos en // Dividers made with Canva Gracias al tutorial realizado por
Fuentes // Sources: Wikepidia, FANDOM.
Encuentrame en Twitter and Instagram
Juguemos DrugWars , Steem Monsters or Magic Dice.

---
Sponsored ( Powered by dclick )