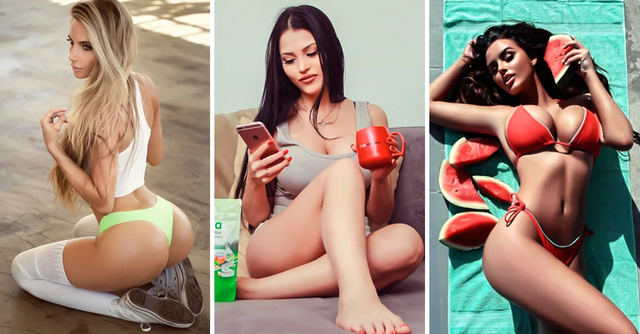 No es una crítica, es una autocrítica para nosotros los hombres.
Hace ya varias semanas publique un artículo sobre el sexo de la pornografía y la frustración en nosotros los hombres, ahora quiero publicar otra autocrítica y esta vez es en el concepto de belleza, y más en redes sociales.
Se dice que facebook fue diseñado para compartir fotos, ideas y más recientemente para comprar y vender, Twitter es el desagüe del mundo, aquí está la mayor comunidad de haters (supera a la de YouTube), YouTube para subir contenido útil o futil. E Instagram es para compartir momentos al instante, Instagram vende lo bonito, lo chévere.
Pero ¿que pasa cuando lo bonito y lo chévere tiene como estándar mujeres de más de 1,70, sin celulitis, sin grasa en el abdomen, siempre maquilladas y con poca ropa? Simplemente se modifican las reglas de la sociedad, y observas que las mujeres "normales" no tienen cabida en esta red social.
Y es culpa de estas denominadas modelos de Instagram? Más que culpables yo las veo como una respuesta a la sociedad infantil en la que vivimos, en la que todos los hombres (feos, bonitos, pobres o ricos) ambiciosos de tener una mujer con esas características nos enamoramos perdidamente del físico y no de su actitud.
Vuelvo a analizar mi cuenta, me siguen 400 personas, casi todos amigos, familiares o amigos pero yo sigo a casi 1000 cuentas, en su mayoría mujeres hermosas, que viajan alrededor del mundo, sus sueños operados, cintura plástica, con 20 años y botox en su rostro, extensiones en el cabello y biopolímeros en su trasero.
Frente a esa realidad, todas las mujeres normales me parecen algo simples, cotidianas y realmente "feas", hasta que conocí a una de estas modelos de Instagram en la vida real y comprendí que su negocio es verse bonita y exuberante para las fotos, retoca con Photoshop todas y cada una de sus publicaciones y me explica de forma muy inteligente y con una sonrisa en sus labios que ella entiende mi pensamiento, pero que ella solo cumple con su trabajo.
Inmediatamente pensé: tengo dos autocríticas para nosotros los hombres.
*Primera: creer que en el mundo real todas las mujeres serán tan hermosas cómo estás modelos que venden su belleza (y con razón las ganancias son altas).
*Segunda: creer como hombre que estás modelos modelos son tontas, rubias o estúpidas. Son muy inteligentes al comprender el marketing digital que existe en la actualidad, comprende mejor el mercado que mucho de nosotros y en general son millennials del siglo XXI.


It is not a criticism, it is a self-criticism for us men.
Several weeks ago I published an article about the sex of pornography and the frustration in us men, now I want to publish another self-criticism and this time it is in the concept of beauty, and more in social networks.
It is said that Facebook was designed to share photos, ideas and more recently to buy and sell, Twitter is the drain of the world, here is the largest community of haters (surpasses that of YouTube), YouTube to upload useful or futile content. And Instagram is to share moments instantly, Instagram sells the beautiful, the cool.
But what happens when the beautiful and the cool have as standard women over 1.70, without cellulite, without fat in the abdomen, always made up and with little clothes? Simply modify the rules of society, and observe that "normal" women have no place in this social network.
And is it the fault of these so-called Instagram models? More than guilty I see them as a response to the childhood society in which we live, in which all men (ugly, beautiful, poor or rich) ambitious to have a woman with these characteristics we fall madly in love with the physical and not with their attitude.
I re-analyze my account, 400 people follow me, almost all friends, family or friends but I follow almost 1000 accounts, mostly beautiful women, who travel around the world, their dreams operated, plastic waist, with 20 years and botox in her face, hair extensions and biopolymers in her butt.
Faced with that reality, all normal women seem simple, everyday and really "ugly", until I met one of these Instagram models in real life and I understood that your business is looking beautiful and lush for photos, retouching with Photoshop each and every one of her publications and she explains to me in a very intelligent way and with a smile on her lips that she understands my thoughts, but that she only fulfills her work.
Immediately I thought: I have two self-criticisms for us men.
First: believe that in the real world all women will be as beautiful as you are models that sell their beauty (and rightly the profits are high).

Second: believe as a man that you are model models are silly, blonde or stupid. They are very intelligent in understanding the digital marketing that exists today, understand the market better than many of us and in general are millennials of the 21st century.