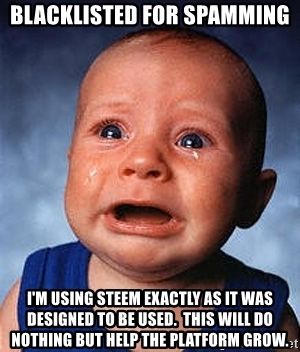 @money-dreamer was blacklisted for sending 50,000 memos in the last 30 days (almost 14,000 in last 7 days), spamming posts and contests. I've been approached by 3 different people independently about his activities.
After review, I decided to ban him from using our service. After he was blacklisted, he decided to flag all my posts in retaliation and as well as left a lot of comments claiming I am a scammer and robbing people.
You are a scammer that is robbing anybody that competes with you!
Another list of users that @buildawhale robbed. Is this an exit scam? They will slowly "ban" users of the service claiming spam stealing their funds. They will eventually grow this list until people catch on and at that time they will just start keeping everyones funds. They target high bidders. Be careful everyone. You have been warned!
You going to return my money? I am going to start sending comments to blogs on every bid to your buildawhale and pushup bots warning them that you robbed me and you will probably rob them in the future. I am going to launch my bot in 24 hours from now and I will start working on more plans to get my money back. You owe me about $1,000 and I'm going to get my money back.
I removed three votes (35.424 SBD) to his spammy posts, something I rarely ever do and not even remotely close to $1,000. In 6 months of running @buildawhale with 500-1000 bids/day, this is the third time I have done it.
These are only a few examples, he sent a lot more.
A small sample of his memo spam:
I have been told I am allowing abusers to take advantage of the platform, and I have been trying to stop it since I started @buildawhale but reporting spam and encouraing quality content with our daily curation.
In the past, I sent everything to SteemCleaners as that is how abuse is supposed to be handled (via flags). There is just too much of it, and after the @grumpycat episode I decided to be a lot more public about my efforts as I am being accused of being an enabler, yet I see very few doing anything to stop the spam and abuse.
In about 5-8 hours he will start spamming every user of @buildawhale as well as who knows who else. With a message similar to this:

This is one of the primary reasons most bot owners do not blacklist users. It's a thankless abusive job and very subjective.
Another user who posts 20 times to dmania daily, has been yelling at me for "censoring him" after adding him to the blacklist.
My current blacklist can be found here, not all of them are obvious as they are part of a network but most of them are clear as day why they were blacklisted. I spend hours every day looking through incoming bids to find spam and abuse that should not be rewarded through paid upvotes. It is extremely time consuming and not always easy to draw the line. Some are worse than others, if it was my choice I would blacklist far more than I do.
I have to restrain myself as the majority of content on Steemit is little or no effort. I focus on the worst offenders and low hanging fruit. Since blacklisting users I have noticed a huge improvement in the quality of posts being submitted to @buildawhale and our daily Curation Digest as been a lot easier to process through the 500-1000 bids a day.
Unfortunately when reviewing other bid windws I see they are just using other bots and still doing what they do. Having to look at the shit being submitted on a daily basis to build a daily Curation post or find spam is depressing and discouraging.
If you want to report abuse, we have an #abuse channel on our Discord. It is completely anonymous as no one else (including you) will see what is typed in the channel.

X48EJ

My recent popular posts