Photograph Title
[ENG] " Precision of Nature "
[PL] " Precyzja Natury "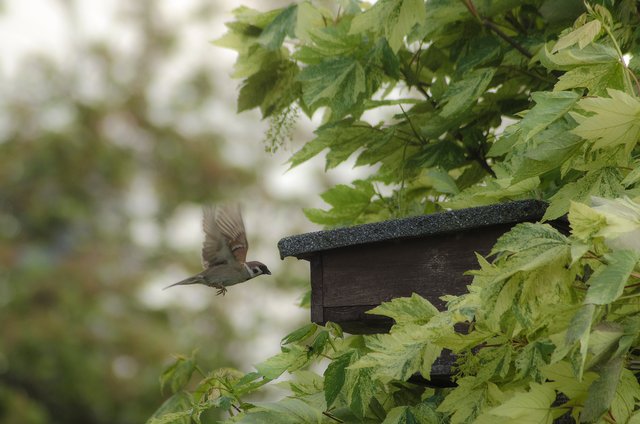 Symbol:" KNZP0003 "
[ENG] The photograph depicts a sparrow approaching the fuselage at high speed. It's amazing what body control this bird presents when it hits such a speed in a hole with a diameter slightly larger than its body.
[PL] Fotografia przedstawia wróbla, który z dużą prędkością zbliża się do wlotu kadłubka. Niesamowite jaką kontrolę ciała prezentuje ten ptak trafiając z taką prędkością w otwór o średnicy nieco większej od swego ciała.

[ENG] Author: Krzysztof Mrozek
[PL] Autor: Krzysztof Mrozek


[ENG] Equipment: Nikon D7000 + Cokina 100-400 4.5-6.7
[PL] Sprzęt: Nikon D7000 + Cokina 100-400 4.5-6.7


---
[ENG] If you like my work, you can support me so that I can create even more valuable publications. Just press upvot, but I will also be grateful for all other forms of support:
[PL] Jeśli podoba Ci się moja twórczość, możesz mnie wesprzeć bym mógł tworzyć jeszcze wartościowsze publikacje. Wystarczy wcisnąć upvot, ale wdzięczny będę również za wszelkie inne formy wsparcia:
Bitcoin



ADRES: 34XuU9zxFxnTX1xrHpGTFY2erHjQCWBC7F
Litecoin



ADRES: LSJWpNAfVZ6btkWVJVjwwuCNuZxHhCLYXh
Etherum



ADRES: 0x7108a1873cf191608c63d270afa20fe9585282bf
Lisk



ADRES: 2640670408996808454L




[ENG] You can also find my works at:
[PL] Moje prace znajdziesz również na:



[ENG] All photos and texts published in this post are copyrighted works within the meaning of the Copyright Act, and their use, copying and publishing as your own is prohibited
[PL] Wszystkie zdjęcia i teksty opublikowane w tym poście są autorskimi pracami w rozumieniu ustawy o ochronie praw autorskich, a ich wykorzystanie, kopiowanie i publikowanie jako własne jest zabronione