Dzisiaj chciałbym zaprezentować Wam kolejną ciekawą monetę - jest to 1/8 talara czyli tzw. pół-ort Księstwa Legnicko-Brzesko-Wołowskiego, wybity przez księcia Jana III Brzeskiego w 1659 roku, na pamiątkę śmierci i pogrzebu jego pierwszej żony, Zofii Katarzyny Podiebrad, księżnej brzesko-legnickiej: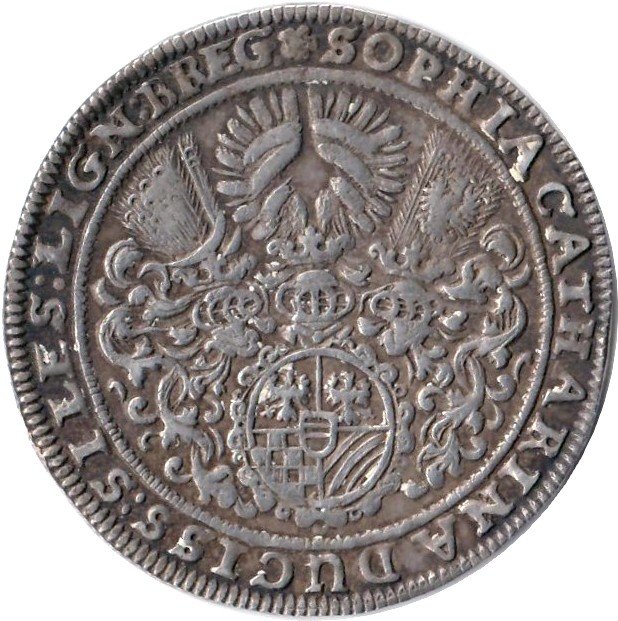 Sophia Catharina Duciss Siles Lign Breg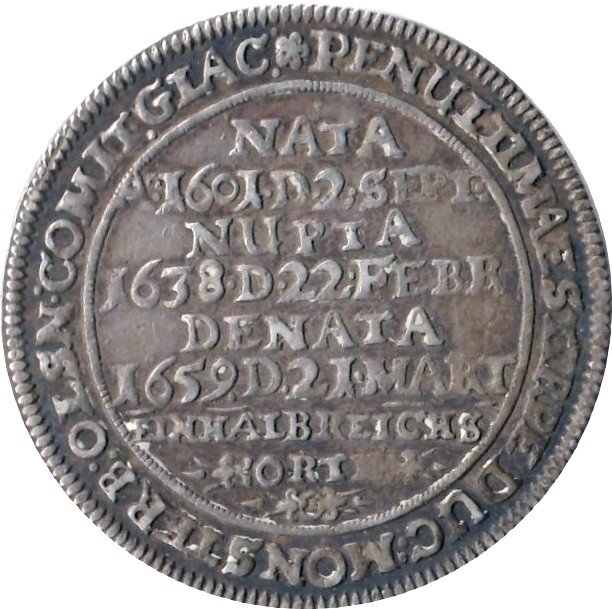 Nata 1602 D 2 SEPT, Nupta 1638 D 22 FEBR Denata 1659 D 21 MART
Einhalbreichsort
czyli w wolnym tłumaczeniu: Zofia Katarzyna, księżna śląska, legnicko-brzeska, urodzona 2 września 1602 roku, poślubiona 22 lutego 1638 roku, zmarła 21 marca 1659 roku.
Dokładna legenda:
(Av.) SOPHIA CATHARINA DUCISS(a) SILES(iae) LIGN(icensis) BREG(ensis) ("Zofia Katarzyna księżna Śląska, legnicka, brzeska"), (Rv.) PENULTIMA E STIRPE DUC(um) MON-STERB(ergensium) OLSN(ensium) COMIT(um) GLAC(ensium); w polu: NATA / A(nn)O I60I D(ie) 2 SEPT(embris) / NUPTA / I638 D(ie) 22 FEBR(uarii) / DENATA / I659 D(ie) 2I MART(ii) / EIN HALB REICHS / ORTH ("ostatnia z rodu książąt ziębickich, oleśnickich i hrabiów kłodzkich, urodzona roku 1601, dnia 2 września, zamężna 1638, dnia 22 lutego, zmarła 1659 dnia 21 marca")
To bardzo ciekawy przykład wczesnej monety okolicznościowej - wprawdzie można nią było płacić, określono jej nominał, ale była to emisja wybitnie pamiątkowa, nie przeznaczona do normalnego obiegu - tego typu monety wręczano uczestnikom pogrzebu i były one swego rodzaju nekrologiem. Nakłady tego typu monet były relatywnie niewielkie, stąd dzisiaj stanowią one zazwyczaj dużą rzadkość.
Moneta ta jest zaliczana do obszaru zainteresowania polskiej numizmatyki, bowiem wybito ją na Śląsku, w Brzegu, będącym we władaniu bocznej linii Piastów (w tym wypadku linii legnickiej, która wygasła w 1675 roku wraz ze śmiercią Jerzego Wilhelma).
*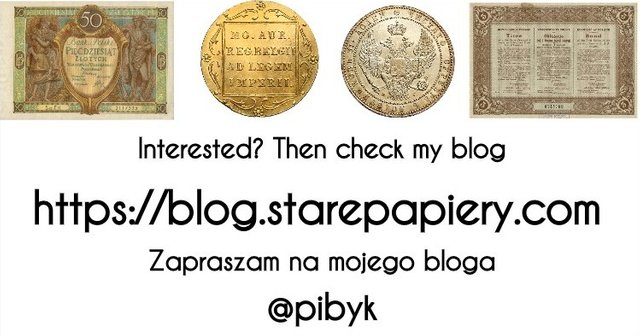 ---
Posted from my blog with SteemPress : https://blog.starepapiery.com/moneta-nekrolog/
---