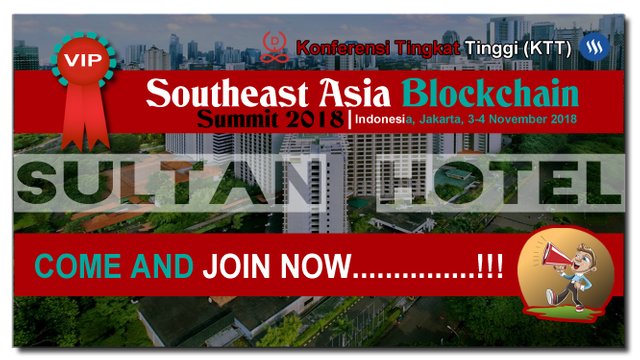 Today we are entering the digital era where all the needs of human life can be helped by technology. The journey of time from one era to another has brought us into a fantastic world. On this earth's surface there are tens of millions of living beings who have put their lives into technology. It also has driven various activities from scientists to develop various technologies that can drive the economy in various industrial sectors.
One technology that is being discussed in various countries is Blockchain. In its movement Blockchain has pushed considerable opportunities for developers and investors. At first Blockchain was only understood as a service engaged in cryptocurrency. However, as the development of the Blockchain era turned out to be applicable in various industrial fields such as state finance, agriculture, the economy, business and so on. With this growth has also provided job vacancies for a number of people along with the movement of production of Blockchain products.
Thus, we must get an understanding of this technology. Because a number of scientists have proven that Blockchain has a considerable influence in the future. Maybe all this time we've listened to the terms Bitcoin, Crptocurrency and other terms that might be a little scary like hackers. I would really be very sorry if you had never heard this before. But if your life is indeed far from a fantastic world or maybe you have long lived in the mountains, then you must immediately move out to get knowledge about it.
Where Can I Find Knowledge About It?
If you really are looking for that, then I will gladly bring you to a decent place. This is my secret recommendation, why? Because you are a very lucky person because you have obtained this information. Some people even really want to be able to attend this big meeting. I think this is confusing you, let's just discuss it in essence.
Next November will be held Southeast Asia Blockchain Summit 2018. This is a big meeting and will be the first history in Indonesia. In this meeting well-known developers and instructors will take you further into the Blockchain world. I strongly believe that this will get knowledge that will be better than learning alone or just asking some company leaders.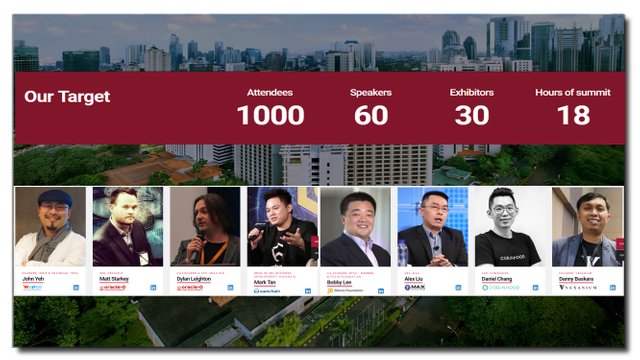 I will give you an idea that the 2018 Southeast Asia Blockchain Summit is the only very high-class conference. We will start with simple questions.
When will the Southeast Asia Blockchain Summit be held?
The event will be held for two days, on 3-4 November 2018.
Where will this event be held?
The committee has planned that this event will be held at The Sultan Hotel and Residence Jakarta which is on Jalan. Gatot Subroto RT.1 / RW.3, Gelora, Tanah Abang Central Jakarta 10270, Indonesia.
Who will be the Speaker?
In class you will listen to material that will be delivered by famous instructors in the Blockchain world. Just imagine you will meet people like Boby Lee who is a Bitcoin Foundation person, Oscar Darmawan who is the CEO of Indodax, Dylan Sharkey who is a partner of the Open Fund Blockchain, Matt Starkey who is the Oracle-D CEO, Dylan Leighton who is a CTO Oracle-D and there will be around 60 speakers that will fill the classroom.
What will I get if I join this event?
In this meeting you will give you knowledge about Blockchain. The main focus of the conversation is Blockchain to solve problems in the Industrial world that currently occur in various countries. This meeting will be the implementation and implementation of Blockchain in the world of law, financial services, health, energy, insurance and government.
Why do I have to attend this event?
This is a question that is often asked by various people when going to a meeting. Alright, try to understand what impact you will get when attending a meeting. Believe me after you are present at this meeting there will be many experiences that you find. This will have a good impact on the growth of your life when entering the digital world today.
Here are some of the impacts that you will receive if you attend this meeting :
Add new insights; especially in the Blockchain field of concepts, aspects and applications of Blockchain in life.

Allows you to establish cooperation with various parties involved in the business and business industries. Because in that meeting you can be sure you will meet 1000 people who are engaged in different fields.

Open new business opportunities for future investments that will move through Blockchain technology.

Allows you to get job opportunities in several well-known companies.

Makes you move further from being left behind by the knowledge and development of the technological world.
In such a way that I have explained it to you, what is still a consideration for you so far? Could it not be interesting enough to tempt you into this world? You have a few more days to think about this.
Let's Join Now!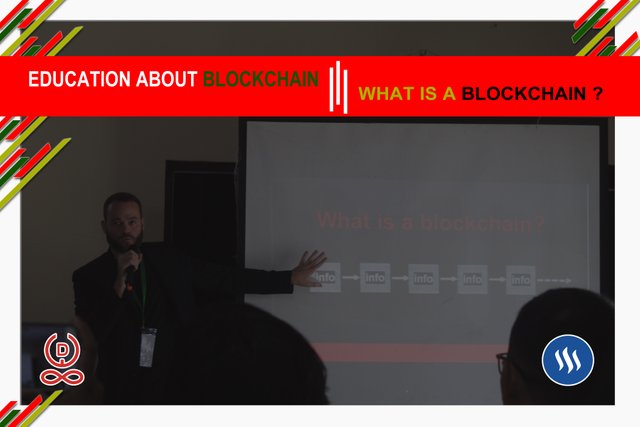 Think in the coming era that everything will be found very easily. Are you currently giving a hundred percent trust in a number of internet applications that are hitting your data and privacy? Have you found something better than other data storage technologies and applications than the Blockchain? Do you believe in full social media today that allows others to freely send your data from one person to another? Are violations happening? This means that there are violations that are happening in the security of your data on social media.
But that won't happen on the Blockchain because all data will be maintained through smart contracts. Maybe you are planning to buy a house and are looking for it. If you were looking for a house beforehand, you need delivery and it will take a long time to take care of the papers. But in the course of the time to come, you will find the house quickly. Everything takes place very easily and you will find it by just pressing a few buttons on the screen of your phone. All of that would be possible if the Blockchain world was dreamed of being realized in all aspects of life. Then there will be many other things that you need to know and even exceed what I explained.
Then, what are you waiting for? Go immediately to their project room and buy a ticket to enter the Southeast Asia Blockchain Summit 2018 class.
For More Information
Do you have questions for this event, immediately give your comments and responses or visit the official pages below :
Project site: http://southeastasiablockchain.com/#aboutsea
Speaker: http://southeastasiablockchain.com/#speakersea
SELECTED SPEAKER COMPANY WEBSITES:
For information tasks
---
---
[INDONESIA]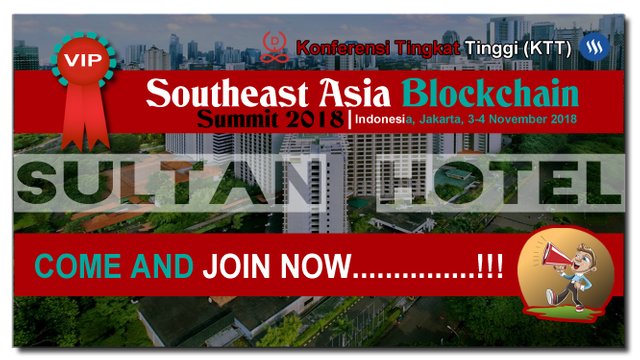 Saat ini kita memasuki era digital dimana semua kebutuhan hidup manusia dapat terbantu oleh teknologi. Perjalanan waktu dari satu era ke era yang lain telah membawa kita memasuki dunia yang sangat fantastik. Dimuka bumi ini ada puluhan juta makhluk hidup yang telah mengantungkan hidupnya kepada teknologi. Hal itu pula telah menggerakkan berbagai aktivitas dari ilmuwan untuk mengembangkan berbagai teknologi yang mampu mendorong perekonomian di berbagai sektor industri.
Salah satu teknologi yang sedang menjadi perbincangan di berbagai negara adalah Blockchain. Dalam pergerakannya Blockchain telah mendorong peluang yang cukup besar bagi pengembang dan investor. Pada awalnya Blockchain hanya dipahami sebagai sebagai sebuah layanan yang bergerak dalam bidang Cryptocurrency. Namun, seiring perkembangan zaman Blockchain ternyata dapat diterapkan diberbagai bidang Industri seperti keuangan negara, pertanian, perekonomian, bisnis dan lain sebagaianya. Dengan pertumbuhan tersebut juga telah memberikan lowongan pekerjaan bagi sejumlah orang seiring dengan pergerakan produksi produk Blockchain.
Dengan demikian, kita harus mendapatkan pemahaman tentang teknologi ini. Karena sejumlah ilmuwan telah membuktikan bahwa Blockchain memiliki pengaruh yang cukup besar di masa depan. Mungkin saja selama ini kita pernah mendengarkan istilah Bitcoin, Crptocurrency dan istilah-istilah lain yang mungkin sedikit menakutkan seperti hacker. Saya akan benar-benar sangat menyayangkan jika Anda tidak pernah mendengarkan hal ini sebelumnya. Namun jika kehidupan Anda memang jauh dari dunia yang fantastik atau mungkin saja Anda telah lama hidup di pegunungan, maka Anda harus segera bergerak keluar untuk mendapatkan ilmu tentang itu.
Dimana Saya Bisa Menemukan Pengetahuan Tentang Itu ?
Jika Anda benar-benar sedang mencara tentang itu, maka dengan senang hati saya akan membawakan Anda pada tempat yang layak. Ini adalah rekomendasi saya yang sangat rahasia, kenapa? Karena Anda adalah orang sangat beruntung karena telah mendapatkan informasi ini. Sejumlah orang bahkan sangat menginginkan untuk dapat hadir dalam masuk kedalam pertemuan yang cukup besar ini. Saya pikir ini sedang membingungkan Anda, marilah kita akan membahas pada pokoknya saja.
Dibulan November mendatang akan di adakan Southeast Asia Blockchain Summit 2018. Ini adalah pertemuan besar dan akan menjadi sejarah yang pertama kali di Indonesia. Dalam pertemuan ini para pengembang dan intrukstur terkenal akan akan membawa Anda bergerak lebih jauh memasuki dunia Blockchain. Saya sangat meyakini bahwa ini akan mendapatkan pengetahuan yang akan lebih baik dibandingkan belajar sendiri atau hanya menanyakan kepada beberapa pemimpin perusahaan.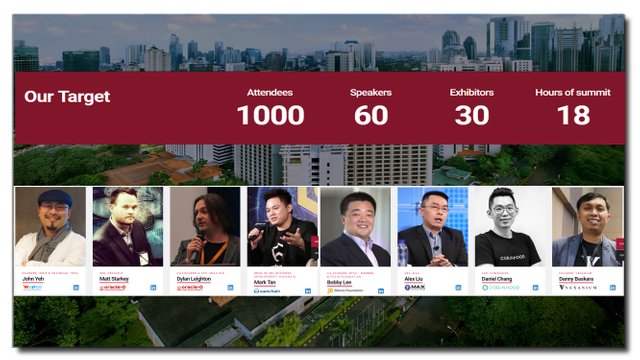 Saya akan memberikan gambaran kepada Anda bahwa Southeast Asia Blockchain Summit 2018 adalah satu-satunya konferensi yang sangat berkelas tinggi. Kita akan memulai ini dengan pertanyaan-pertanyaan sederhana saja.
Kapan Southeast Asia Blockchain Summit akan dilaksanakan?
Acara ini berlangsung selama dua hari yakni, pada tanggal 3-4 November 2018 mendatang.
Dimana acara ini akan dilaksanakan?
Pihak panitia telah merencanakan bahwa acara ini akan dilaksanakan di The Sultan Hotel and Residence Jakarta yang berada di Jalan. Gatot Subroto RT.1/RW.3, Gelora, Tanah Abang Jakarta Pusat 10270, Indonesia.
Siapa saja yang akan menjadi Speaker?
Di dalam kelas Anda akan mendengarkan materi yang akan disampaikan oleh intruktur terkenal dalam dunia Blockchain. Bayangkan saja Anda akan bertemu dengan orang-orang seperti Boby Lee yang merupakan orang dari Bitcoin Foundation, Oscar Darmawan yang merupakan CEO Indodax, Dylan Sharkey yang merupakan partner dari Blockchain Open Fund, Matt Starkey yang merupakan CEO Oracle-D, Dylan Leighton yang merupakan CTO Oracle-D dan akan ada sekitar 60 speaker yang akan mengisi ruang kelas.
Apa yang akan saya dapatkan jika mengikuti acara ini ?
Dalam pertemuan ini Anda akan memberikan pengetahuan kepada Anda tentang Blockchain. Fokus utama dari pembicaraan adalah Blockchain untuk menyelesaikan permasalahan dalam dunia Industri yang saat ini terjadi diberbagai negara. Pertemuan ini akan penerapan dan implementasi Blockchain dalam dunia hukum, pelayanan keuangan, kesehatan, energi, asuransi dan pemerintah.
Kenapa saya harus mengikuti acara ini?
Ini adalah pertanyaan yang sering di ajukan oleh berbagai orang ketika akan mengikuti suatu pertemuan. Baiklah, coba pahami apa saja dampak yang akan Anda dapati ketika mengikuti pertemuan. Percayalah setelah Anda hadir pada pertemuan ini akan ada banyak pengalam yang anda dapati. Hal itu akan berdampak baik terhadap pertumbuhan hidup Anda saat masuk kedunia digital saat ini.
Berikut beberapa dampak yang akan Anda terima jika mengikuti pertemuan ini :
1.Menambah wawasan baru ; terutaman dalam bidang Blockchain mengenai konsep, aspek dan penerapan Blockchain dalam kehidupan.
2.Memungkinkan Anda untuk menjalin kerja sama dengan berbagai pihak penggelut dunia bisnis dan industri bisnis. Karena dalam pertemuan itu bisa dipastikan Anda akan bertemu dengan 1000 orang yang bergerak dalam bidang yang berbeda-beda.
3.Membuka peluang bisnis baru untuk investasi masa depan yang akan bergerak melalui teknologi Blockchain.
4.Memungkinkan Anda untuk mendapatkan peluang kerja di beberapa perusahaan ternama.
5.Membuat Anda bergerak lebih jauh dari ketertinggalan terhadap pengetahuan dan perkembangan dunia teknologi.
Sedemikian rupa saya telah menjelaskannya kepada Anda, apa yang masih menjadi pertimbangan bagi diri Anda sejauh ini?. Mungkinkah itu belum cukup menarik untuk menggoda Anda memasuki dunia ini? Anda memiliki waktu beberapa hari lagi untuk memikirkan ini.
Let's Join Now!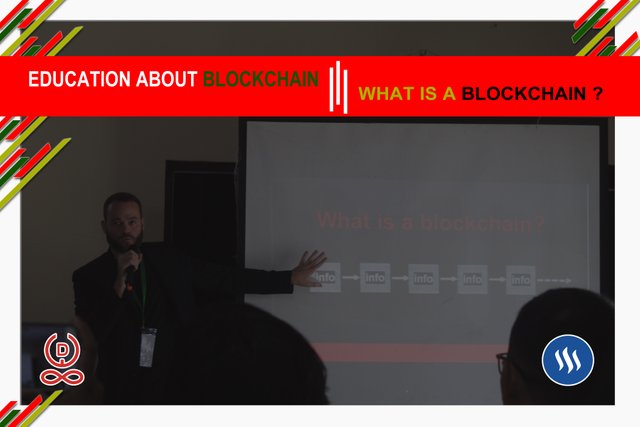 Coba pikirkan di era yang akan datang bahwa segala hal akan didapati dengan sangat mudah. Apakah saat ini Anda meberikan kepercayaan seratus persen terhadap sejumlah aplikasi internet yang memekan data dan privasi anda? Apakah Anda telah menemukan sesuatu yang lebih baik dari teknologi dan aplikasi penyimpan data lainnya dibandingkan Blockchain? Apakah Anda percaya sepenuh dengan sosial media saat ini yang memungkinkan orang lain secara bebas mengirimkan data Anda dari satu orang ke orang lain? Apakah pelanggaran sedang terjadi? Artinya ada pelanggaran yang sedang terjadi dalam keamanan data Anda di sosial media.
Namun hal itu tidak akan terjadi di Blockchain karena semua data akan terjaga melalui kontrak cerdas. Mungkin saja Anda sedang berencana untuk untuk membeli rumah dan sedang mencari itu. Jika sebelumnya Anda mencari rumah membutuhkan perantaran dan akan memakan waktu yang cukup lama untuk mengurus surat-surat. Akan tetapi dalam perjalanan waktu yang akan datang, Anda akan menemukan rumah dengan cepat. Semua berlangsung dengan sangat mudah dan Anda akanmenemukannya dengan hanya menekan beberapa tombol di layar Hand Phone. Semua itu akan mungkin terjadi bila dunia Blockchain diimpikan akan terwujud dalam segala aspek kehidupan. Kemudian akan ada banyak hal lain yang perlu untuk Anda ketahui dan bahkan melebihi apa yang saya jelaskan ini.
Lalu, tunggu apa lagi? Segera pergi ke ruang projek mereka dan belilah tiket untuk masuk kelas Southeast Asia Blockchain Summit 2018.
For More Information !
Do you have questions for this event, immediately give your comments and responses or visit the official pages below :
Project site: http://southeastasiablockchain.com/#aboutsea
Speaker: http://southeastasiablockchain.com/#speakersea
SELECTED SPEAKER COMPANY WEBSITES:
For information tasks
---
The Youth Steem Indonesians Community : @pojan, @adilvakhri, @bangmimi
https://steemit.com/~witnesses
---
By : @ponpase | From Indonesia
For : Science, Life, Spirituality, Inspiration, Nature, Philosophy.
---
If you like sevenfingers in giving a curate you can also follow sevenfingers CURATION TRAIL Here
---

---
---