Simply staggering.!! Skyfall - cover by @dianakyv. #songrequest challenge by @musicforsteem.
Credit:
@dianakyv
As a proud supporter and promoter of the #Steem Blockchain and Community, I am constantly on the look out for outstanding talent on #Steem that represents what #Steem is all about.
Recently, I came across the outstanding singing talent of @dianakyv as I was scanning the @musicforsteem Community.
Her voice is simply staggering and when I found out that @musicforsteem launched their #songrequest challenge I just had to set @dianakyv the challenge to do a cover from the great Adele.
Imagine my excitement when she took up the challenge to sing Skyfall.
Her choice to sing Skyfall was a brave decision as I knew how powerful her voice had to be to match that of Adele's.
Then came my overwhelming surprise earlier to finally hear her track.
Staggering.!!
Simply staggering.!!
For those that may have missed it, I highly recommend grabbing your earphones, cranking up the volume and listening to her performance.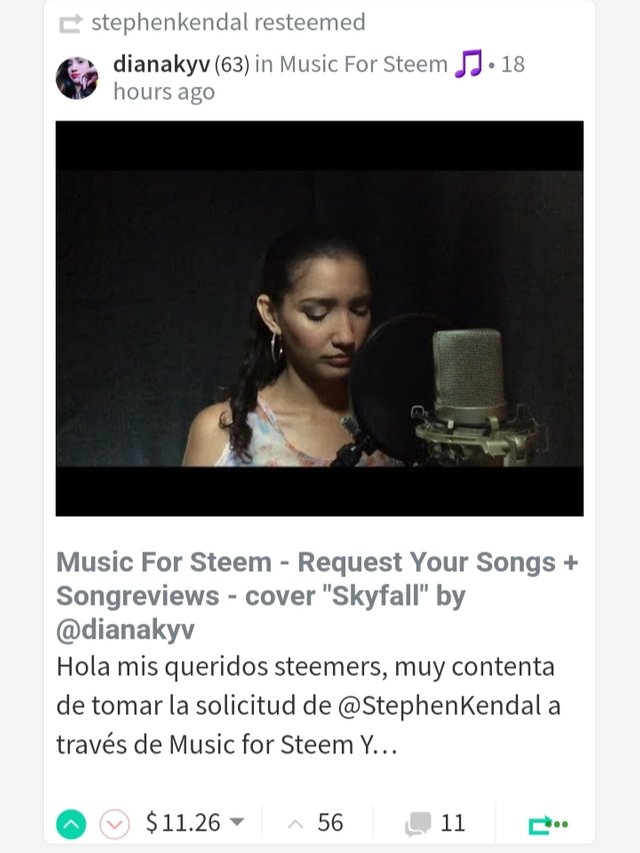 Credit: @dianakyv
https://steemit.com/hive-137433/@dianakyv/music-for-steem-request-your-songs-songreviews-cover-skyfall-by-dianakyv
Credit: @dianakyv
Simply Staggering.!!
I am sure you will all agree that this performance is simply staggering and I cannot begin to tell you how proud I am of @dianakyv for delivering this breathtaking performance.
Please join me and wish @dianakyv all the success in the #songrequest challenge by @musicforsteem
Thanks again for reading.
Stephen