20 questions with Marji J. Sherman
"Sorry for the delay... the chemo has been kicking my butt the past couple of weeks," Marji J. Sherman writes before answering the 20 questions I sent her way a few weeks prior.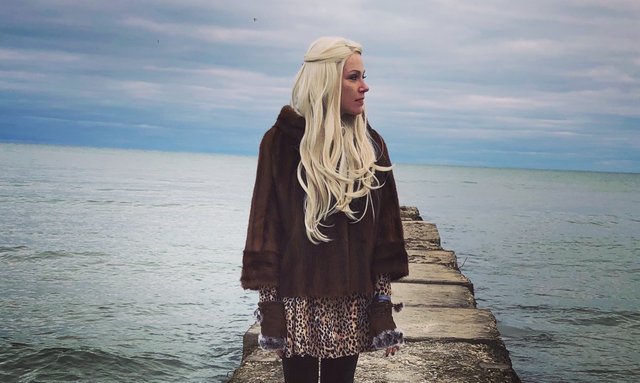 The social media professional — followed by more than 190,000 on Twitter — need not apologize. After all, the past 6 months have taken her on a chemo journey while battling endometriosis. But Marji, who has surpassed expectations throughout her entire life, apologizes anyway. She expects a lot from herself.
As a 13-year-old, Marji was told she would never graduate from high school due to an autoimmune disorder. She graduated. She was then told she wasn't strong enough to attend college. She walked across that stage as well. She was given a shot at landing a social media director job if she could meet an international sports nutrition company's engagement expectations within a month. She surpassed expectations within three weeks.
In this 20 questions interview, Marji delivers key insights on social media strategy, while vulnerably opening up about how her personal faith has served her during what has been an incredibly difficult year.
---
20 questions with Marji Sherman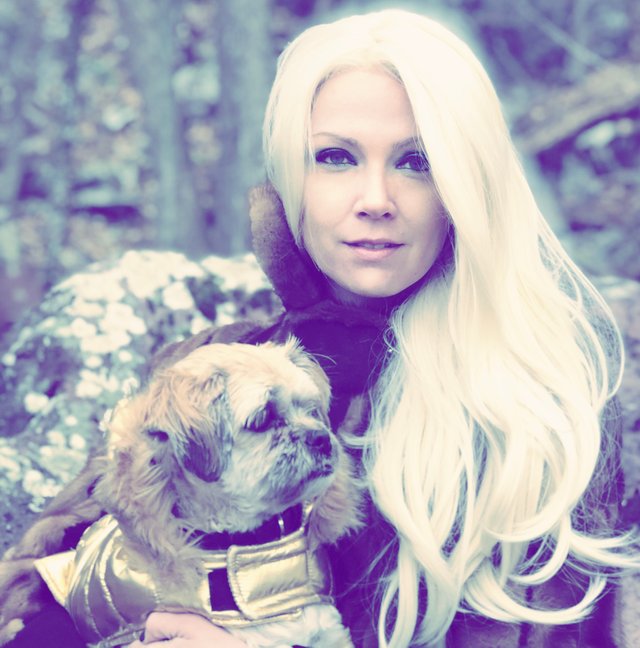 1 - How would you describe yourself in one sentence?
Marji - An empathetic Christian intent on letting God use her life for His plans.
2 - If we consider My Space and LinkedIn to be the original social media networks (2003), social media is only 15 years old. How did you first discover social media and what led you down the path of becoming a strategist?
Marji - Funny story. I started out in communications research in NYC, but moved back to Miami when my mom was diagnosed with cancer. I ended up taking a job as a hostess on South Beach while I job searched. I finally ended up at an interview to be the social media director for an international sports nutrition company. They said if I could get them the engagement they wanted in one month, I could stay and they would raise my salary by $10K. If I fell short, I would be fired after a month. I surpassed all of their engagement expectations within three weeks.
3 - In your opinion, what is the biggest mistake businesses make when it comes to social media?
Marji - They don't take it seriously and assign an intern to manage everything. That might have worked when social media was first becoming a thing, but it is much more advanced now and requires someone trained to manage it all.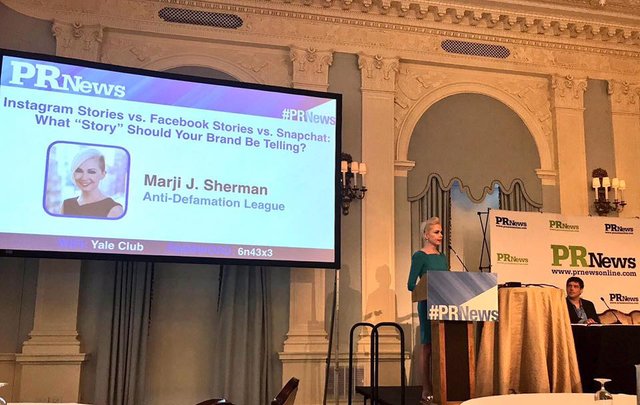 4 - What has been your secret sauce in terms of obtaining nearly 200,000 Twitter followers?
Marji - Authenticity and engagement. I have always been transparent on my blog and Twitter account, even when it's uncomfortable. I've found people really relate to that type of honesty. I also follow back whenever I can and respond to every Tweet that comes through. This makes people want to follow me because they know that I am not "too cool" to respond, or some bot.
5 - In an interview earlier this year, you said Twitter was your wildcard social media pick for 2018 when it comes to one of the most useful social media networks. What are your thoughts, looking back at that pick?
Marji - Yes! And it definitely proved to be one. Politics has kept Twitter alive over the past couple of years and it will continue to do so. Twitter is one of the few networks where the majority of users are public and there to make a statement. It's heaven for highly-charged discussions.
6 - Gazing into the crystal ball for 2019, what social media network would you consider to be next year's wild card?
Marji - LinkedIn. It's going to have to make some major updates in order to keep up with competing networks. It also needs to get away from launching features before they are fully checked for bugs. It could be so powerful if it paid more attention to usability and less attention to just copying its competitors.
7 - You've spoken (and written) about the importance of communicating effectively to different generations. When it comes to millennials, do you think, overall, they're a misunderstood generation?
Marji - Absolutely. A professor in college told our class that most females were there just for their MRS degree and then called me out directly as being a gossipy sorority girl who only cared about her popularity. I told him that I actually didn't belong to a sorority and then met with him 1:1 to ask for guidance for an internship for the summer. He was shocked and realized that he had misjudged his freshman class. He became one of my greatest mentors to date. I think this is how it works with millennials, as well. A few have given us a bad name and other generations have chosen to just blindly agree with the stereotype without fully understanding where it is coming from. I have to be careful myself to not judge the next generation as I interview them for future roles. Just because they have a different way of working and communicating, does not mean they are lazy and worthless. There is also always the go-to saying that if millennials are such an outrageous generation, it's the generations judging us who raised us.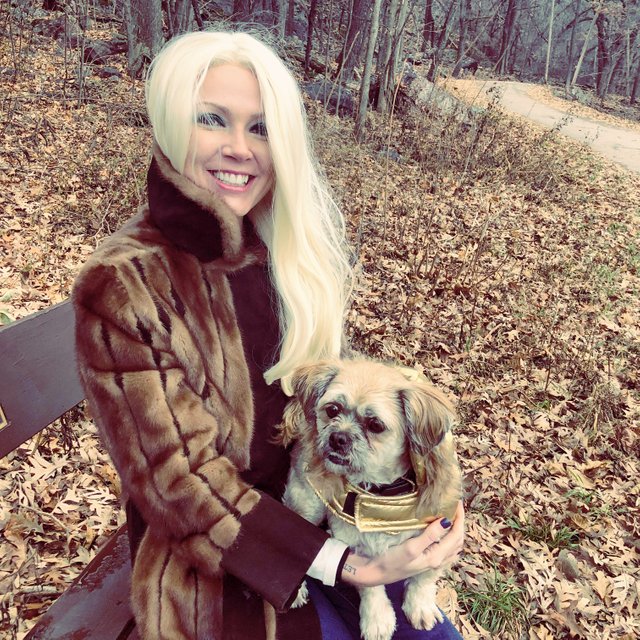 8 - When it comes to social media marketing tactics, what should we keep in mind when it comes to Gen Z?
Marji - They are more private than millennials and they want to personally be marketed to. They can sniff out inauthenticity and will immediately shut down to brands they feel are not being honest. If you engage with them to share in a campaign on social media, make sure it's nothing too private. Long gone are the days of blanket responses and uniform customer service answers. Wherever you can, personalize, personalize, personalize.
9 - You've shared a bit about your chemo journey for endometriosis. How hard has that experience been this year?
Marji - So much tougher than I ever imagined it to be, but also such a huge growing experience. I feel like I am a completely different person than when I started on this journey six months ago. There have been lots of tears, sleepless nights, hospital visits and literally screaming out to God to make it all stop. All of that has only strengthened my relationship with God and others in my life. I also feel like I have more empathy for women on the infertility journey. I knew it was horrific, but I had no idea it felt like a part of you died forever. I also have spent a copious amount of time deconstructing current relationships and constructing new ones to ensure that I am surrounding myself with the right people.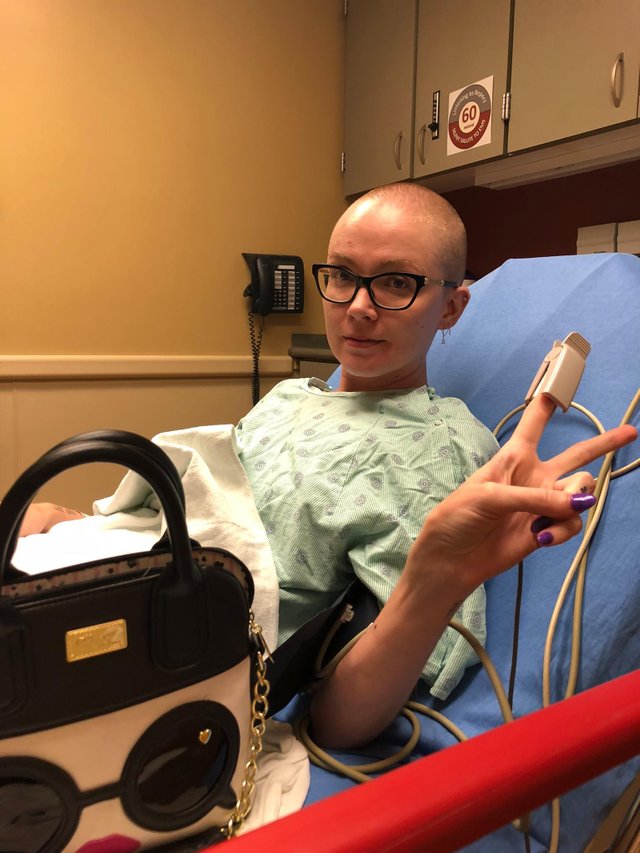 10 - The very first word you use to describe yourself on your Twitter bio is "Christian." How has your faith played a role during this difficult time?
Marji - It has played the main role, keeping me fighting this disease as hard as I possibly can. My faith is central to who I am, the very core of my being. I have fought with God, yelled at him at all hours of the night, but also have surrendered to him, remembered that he has a purpose for my life so much larger than I could ever imagine in this moment. Just when I think I have reached the max amount of pain I can feel, I remember that I am here to serve a Higher Power. It was actually a huge decision for me to add "Christian" to my profile a few years ago. I knew I would lose some followers, but I could not keep quiet about the very core of my being. It was one of the best decisions I've made in my career.
11 - The "Almost Everything" section of your website is home to some of your own beautifully-written poetry. Why is it important to you to write in this form?
Marji - When I started my blog in late 2013, it was for myself. It has always been about being authentic, real, and sharing a part of myself. I used to not even edit my blogs in fear that it would cut out some of the authenticity. I never, ever wanted it to be about the number of people who read a post. I wanted it to be as honest as possible and reach who it needed to reach. So when my blog sky-rocketed in early 2014, I was paralyzed. Suddenly I had people telling me exactly how they felt about my writing, either praising or attacking every single viewpoint I had. I felt vulnerable and exposed, but still pushed through to write as honestly as possible.
By 2015, though, I had a lot of unpublished writing and thoughts that I wanted to share with a more private audience. That's how "Almost Everything I Wish I'd Said The Last Time I Saw You" was started. I didn't tell anyone about it at first, finding such a freedom in writing for an audience of three people. Then more people found out about it and suddenly I was getting texts asking if a certain post was about so and so, or if I was okay because one poem happened to be so sad. And everyone, EVERYONE, thought (still do) that the posts were about them. I cringed when that started happening because I knew it was the end of my private moments of what I refer to (lovingly) as my "second blog." I embraced the popularity of it and started an Instagram account for it earlier this year. It's incredible to see how people respond to different posts and how much just a simple poem can affect someone else's life. I'm so proud of where it's at now because it is truly my own creation.
I'm already thinking of where to go now, though, with my more private writing. Maybe writing under a pseudonym? :)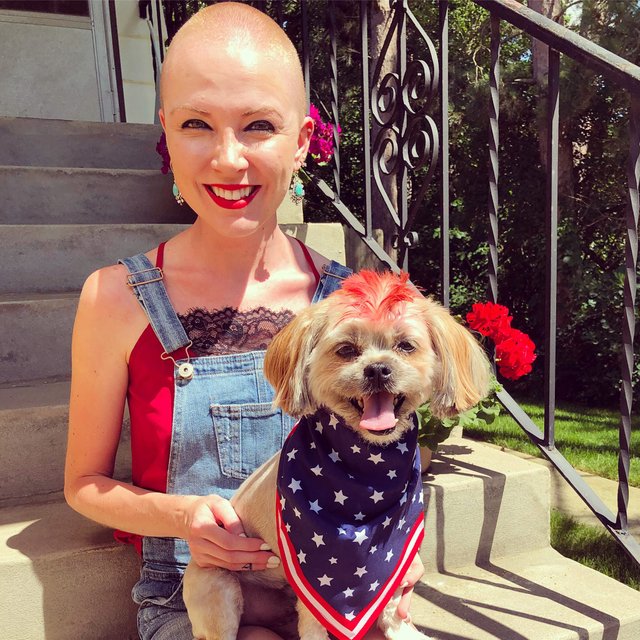 12 - This interview is being posted on a social media blockchain called Steemit, where users can upvote posts they like and popular content is rewarded with a cryptocurrency called Steem. Is this a platform you'd ever consider blogging on? Why or why not?
Marji - That's a tough one. It sounds like a great way to get out there, but at the same time goes against my belief that writing is not about the number of readers, but more about what needs to escape your soul. The minute you put a number value to your writing, you start blocking yourself from saying things and unconsciously manipulating your words.
13 - What is your favorite song?
Marji - Iris by the Goo Goo Dolls. It is a truly inspired song, written in one night when it suddenly came to them. I love how it says, "I don't want the world to see me/'Cause I don't think they'd understand/When everything's meant to be broken/I just want you to know who I am." It's exactly how I feel about my relationships in life. I want to keep parts of myself private (which has become harder and harder) because people are so quick to use vulnerabilities to try to destroy you. At the same time, I need that one person who sees me for all that I am. I am very good at putting on a smile and staying positive. I need someone in my life who can see through that sometimes and force me to feel exactly what I am feeling in that moment and be exactly who I am. I think that is truly love.
14 - Who is your favorite author?
Marji - Iain S. Thomas. OMG. He is incredible. I found his blog, "I Wrote This For You," the day after my sister died. It became a major healing source as I dealt with her suicide and tried to still live my life. He knows how to get his readers to feel the exact emotion he wants them to feel. His sensitivity to the world and how emotions play a role in our lives is astounding. I can't say enough good things about him.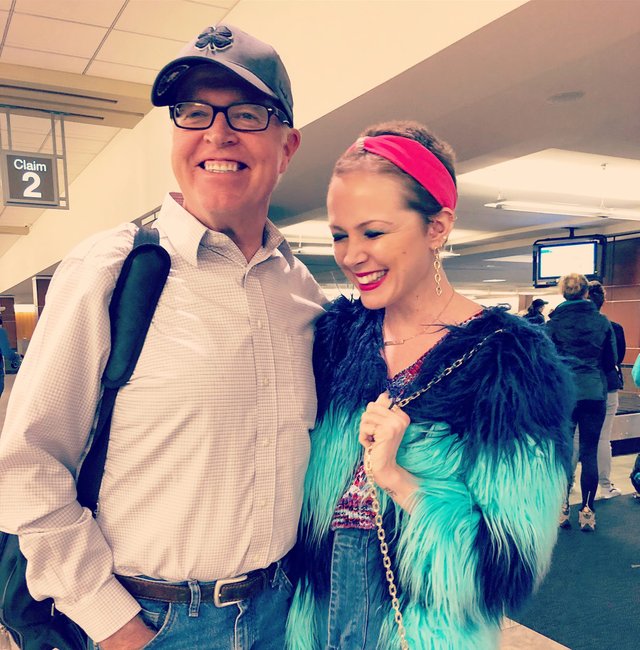 15 - What does your perfect Saturday look like?
Marji - Breakfast in bed, walking my boyfriend's and my dogs along the lakeshore, brunch with good friends, a trip to some art galleries, getting lost in thrift stores and cuddling up with a martini — and all of the dogs in front of my fireplace — to write.
16 - Do you have any regrets?
Marji - One of my favorite movies is called, "Evening." It's a beautiful portrayal of a woman dealing with dementia and facing painful memories from her younger life. There is a point where she tells her daughters, "There are no mistakes." I love that concept. I could say that I regret my previous marriage, certain jobs, etc., but all of those things have shaped me and made me a stronger woman. I am grateful for all of the challenges God has given me and all of the decisions I have made in my life because I am thankful to be who I am right now in this moment.
17 - What's your biggest pet peeve?
Marji - Liars. Maybe it's because I am just jealous I can't lie. I literally can't. I turn red and start giggling every time I try. A lot of people try to lie to me because they think I will be judgmental or not understand something. This bugs me beyond belief. Let me decide what I will be judgmental about, because most of the time I won't be. I will do my best to understand and stay open-minded. People don't understand how even the tiniest of white lies can cause insecurities and destroy professional and personal relationships.
18 - What is one place you've not yet traveled to that is on the top of your list of places to visit?
Marji - Tibet, even though it is one of the hardest places to visit. Though I am Christian, I meditate and do yoga. I relate so much to a lot of Buddhist beliefs that encourage people to look first inward and change their own emotions and beliefs when they are faced with conflict. This is such a powerful skill when facing opposition. I'd love to see where all of these philosophies were born. I also have a rescued Lhasa Apso, which is a breed that is believed to be reincarnated Buddhist monks who were not yet ready for Nirvana. And, believe me, he is definitely not ready for heaven.
19 - You get to have dinner with three people, living or dead. Who are you eating with?
Marji -
Anton Yelchin: He acted in my all-time favorite movie, "Like Crazy." When he died, I was so heartbroken. I started researching his life and found out what an incredible creative he was. He also had the most humble views of life, always remembering that his parents sacrificed their own ballet careers to bring him to the United States from Russia when he was young.
Dali Lama: I mean, who would not want to have dinner with him? Everything that comes out of his mouth is pure gold. I would love to be able to ask him questions about life and beyond.
Paul: Paul is my favorite of all of the disciples. He sinned so heavily and then completely turned his life around. He emphasizes the Christian need to socialize with the degenerates, misfits. His letters to his church are so grounded in life here on earth, providing realistic ways that we can all practice Christianity in our daily relationships. We don't have to convert everyone to be a good Christian. It's better if we live an example of a good Christian life, really showing people what it's like to have a strong relationship with God. I'd love to ask him for guidance in my own relationship with Christ.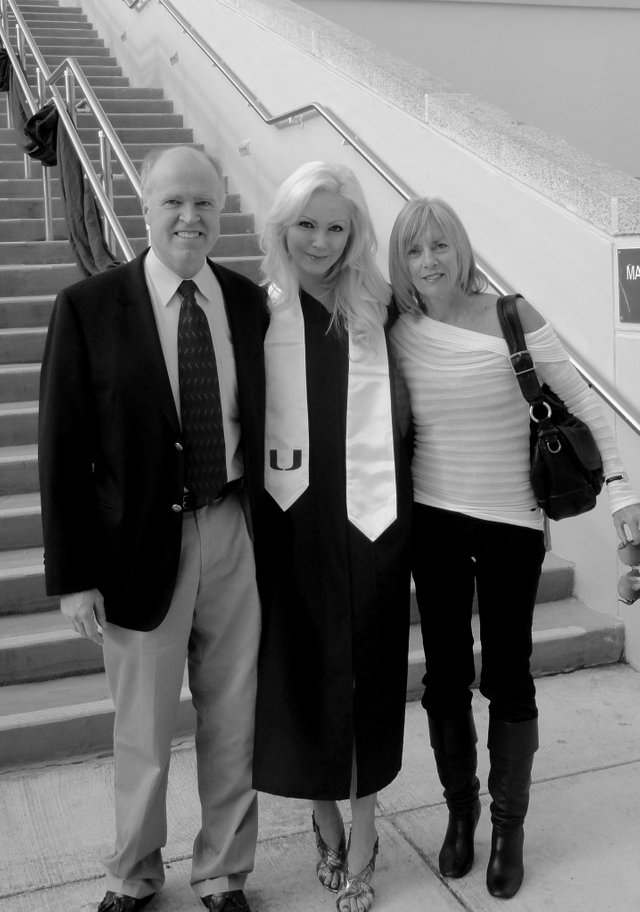 20 - What is one thing very few people know about you?
Marji - When I was 13, I was told I would never graduate from high school due to an autoimmune disorder. I insisted I not take any time off of school and continue all of my classes from bedrest at home. When it looked like I would graduate from high school, I was told I was not strong enough to attend college. Not only did I attend college, but I went to a college in Miami, far from where I grew up in Wyoming... all while maintaining 95 percent As for my grades. Three days before I was supposed to graduate from the University of Miami, I ended up taking an ambulance ride to the hospital where I was diagnosed with an aggressive kidney infection. The day before my graduation, I discharged myself against doctor's orders to make sure I could walk across the stage. Twenty pounds underweight, with the kidney infection still in full swing, I walked across the stage and accepted my diploma from President Shalala. That was by far the proudest moment of my entire life.
---
Thanks to Marji for sharing her inspirational words through this interview.
As always, thanks to all of you for taking the time to read.
Who would you like to see me throw 20 questions at? Drop me a comment below and I'll work on setting up the interview.
If you like what you read, be sure to follow my blog!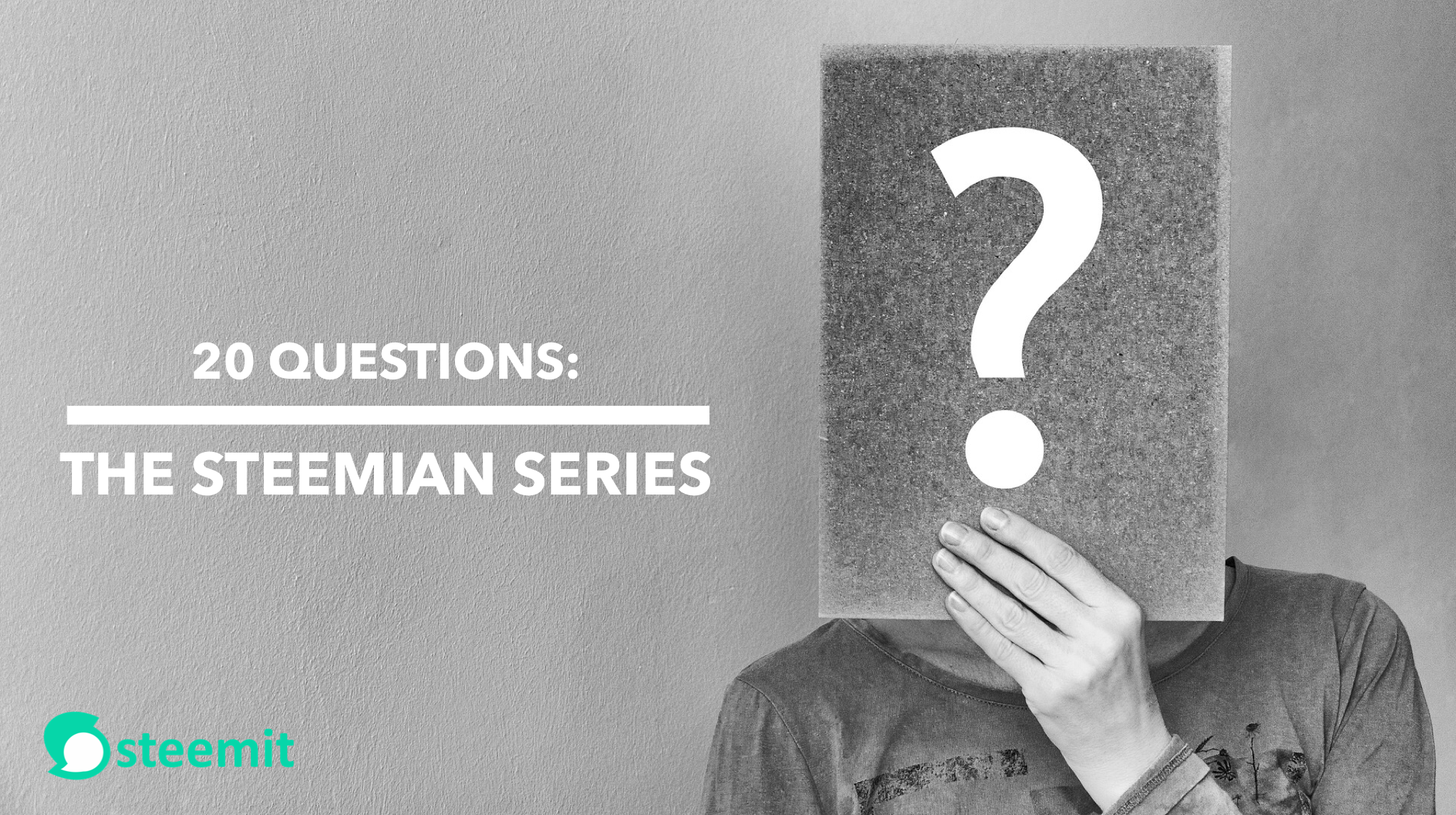 Previous "20 questions" interviews:
20 questions with @heiditravels
20 questions with @katecloud
20 questions with @manthostsakirid
20 questions with @blockchaingirl
20 questions with @piedpiper
20 questions with @stellabelle
20 questions with @budgetbucketlist
20 questions with @rogerkver
20 questions with @allasyummyfood
20 questions with @the-alien
20 questions with Janina Storace
20 questions with @mrs.steemit
20 questions with @andrarchy
20 questions with Scott Young
20 questions with Jesse Heiman
20 questions with @dragosroua
20 questions with Chelsea Dinsmore
20 questions with @sirwinchester
20 questions with Ludvig Sunström
20 questions with Kyle Eschenroeder
20 questions with @roelandp
20 questions with Tim Brownson
20 questions with Sean Ogle
20 questions with Henri Junttila
20 questions with Hal Johnson
20 questions with Farnoosh Brock
20 questions with Manny Kess
20 questions with John Goehrke
20 questions with Sunny Lenarduzzi
20 questions with The Cranky Flier - Brett Snyder
20 questions with Shawn Murphy
20 questions with Leo Babauta
20 questions with Jacob Staudenmaier
20 questions with Steve Scott
20 questions with Stefan Hyttfors
20 questions with Zachery Ty Bryan
20 questions with Ryan Lancaster
20 questions with Richard Millington
20 questions with E-mail Prankster
20 questions with Joseph Raczynski
20 questions with Elan Gale
20 questions with @surfermarly
20 questions with @kevinwong
20 questions with @donkeypong
20 questions with @gringalicious
20 questions with @tangerinetravels
20 questions with @lukestokes
20 questions with Jeff Reitz
20 questions with @anomadsoul
20 questions with @surpassinggoogle
20 questions with @saramiller
20 questions with @everlove
20 questions with Stephanie Ip
20 questions with @coruscate
20 more questions with @heiditravels
20 questions with @neilstrauss
20 questions with @lordvader
20 questions with David Schiele