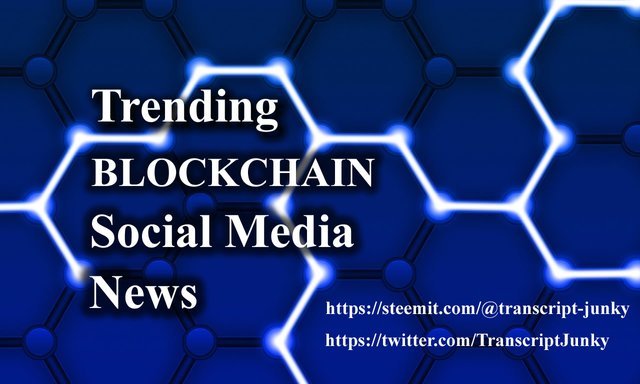 Top Current Blockchain Social Media Related News Resources
Crypto-Backed Brave Browser 2x Faster Than Chrome, Users Keep Migrating
"...Brave, the privacy-centric web browser that rewards users with the Basic Attention Token (BAT) cryptocurrency for viewing ads and rewards content creators for producing quality content, is not only proving to be the fastest growing web browser, but is also more than 2x faster than Chrome...."
Read More : https://www.investinblockchain.com/crypto-backed-brave-browser-2x-faster-than-chrome-users-keep-migrating/
Tweet this : https://twitter.com/TranscriptJunky/status/1128568245940703232
---
Facebook May Announce FB Coin Stablecoin in Q3
"...ocial networking giant Facebook is hiring PayPal staff ahead of its alleged cryptocurrency launch, Bloomberg reported on May 8.
Facebook, which has courted rumors over its planned entry into blockchain and payments for around a year, could launch its own token as soon as Q3 2019, anonymous sources told the publication...."
Read more : https://cointelegraph.com/news/facebook-may-announce-fb-coin-stablecoin-in-q3-say-anonymous-sources
Tweet this : https://twitter.com/BitcoinsNGravy/status/1126650057988530176
---
HTC Says Its Next Smartphone Will Run a Full Bitcoin Node
"...Mobile phone manufacturer HTC wants to let its smartphone customers plug into the bitcoin blockchain.
Speaking on Saturday at the Magical Crypto Conference in New York, HTC's Phil Chen revealed a new low-cost version of its blockchain phone, the EXODUS 1s, announcing that the device will be capable of acting as a full node for the bitcoin network, meaning customers will store the entire blockchain's data on their devices...."
Read more : https://www.coindesk.com/htc-says-its-next-smartphone-will-run-a-full-bitcoin-node
Tweet this : https://twitter.com/BitcoinsNGravy/status/1127873079344893953
---
Binance CFO Rips Facebook's 'Closed Blockchain Ecosystem' Under Megalomaniac Zuck
"...Facebook CEO Mark Zuckerberg is a megalomaniac who's launching blockchain and cryptocurrency projects in order to squeeze crypto companies out of the dominance he eventually wants to assert over the space. That's the opinion of Binance CFO Wei Zhou..."
Read more : https://www.ccn.com/binance-cfo-facebook-blockchain-mark-zuckerberg-centralized-hub
Tweet this : https://twitter.com/TranscriptJunky/status/1128215498728960000
---
White House Asks Users to Report Alleged Social Media Censorship
"...Doubling down on the idea that conservative views are being censored on social media, the White House launched a web form Wednesday afternoon that asks users to report any actions taken against them on platforms like Facebook and Twitter because of their political views.
"Social media platforms should advance freedom of speech," the White House declared on the web form. "Yet too many Americans have seen their accounts suspended, banned, or fraudulently reported for unclear 'violations' of user policies."..."
Read more : https://www.nasdaq.com/article/white-house-asks-users-to-report-alleged-social-media-censorship-cm1149897
Tweet this : https://twitter.com/BitcoinsNGravy/status/1128928949839417349
---
This Update Is Brought To You By :
https://steemit.com/@transcript-junky
https://twitter.com/TranscriptJunky
Support Our Efforts & Gain More Followers/Upvotes Via SteemFollower : https://old.steemfollower.com/?r=15236
---
Be sure to check out daily news on Bitcoin/Bitcoin Cash by : @bitcoinsandgravy ( https://twitter.com/BitcoinsNGravy )
Be sure to check out daily news on other cryptocurrencies by : @vlemon ( https://twitter.com/VinnieLemon )