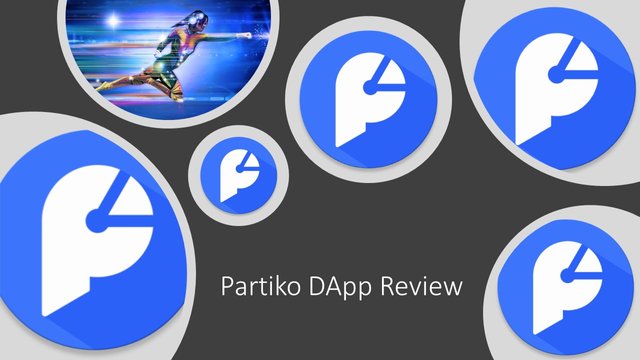 Introduction:
At the turn of the year I was writing about 2019 being the year of the Decentralised Apps (DApps) which I absolutely think it will be. In particular I wrote about the State of the DApps website which charts the progress of DApps across various categories (including Social, Games, Finance, and Wallets) and across various blockchains (Steem, EOS, Ethereum, GoChain, xDai and POA) – and it was at this moment when the crypto markets were probably at their lowest that I decided it's time to try some more DApps and to be less focused on just Steemit.
The DApp which stuck me that I would get most use from was the mobile app Partiko. The idea being that I could engage with the social aspects of the Steem Blockchain anywhere and anytime. I've not looked back and have used the App to engage much more, with at least 1,500 interactions with other Steem users, over the last two months.
Partiko
I had a general awareness of Partiko already, but it really struck me how useful the App was when I watched the Steemfest 3 livestream and listened to Sida (@crypto.talk) demonstrate Partiko and outline his vision and roadmap for Partiko with instant messaging, a delegation plan and the plan to include photos in comments.
I've found Partiko to be very supportive to new users of both the App and also newbies to the Steem Blockchain. As a new user of Partiko and if you have less than 100 Steem Power you can receive a 15 Steem Power delegation from Partiko – which will make it a bit easier to leave comments and engage with the community. Find out more here.
There are also recent announcements to support referrals to Partiko : this article is a review and not a referral plead but you can read much more about the referral programme here.
Getting Started
Partiko is available on Android and iOS and can be downloaded using the links from the Partiko website. Once downloaded it is the use of the commonly used SteemConnect that authorizes Partiko to engage with the Steem blockchain with activity such as posting, commenting, upvoting and claiming rewards.
Partiko is very intuitive, it grew on me quickly and has been my go-to App for reviewing my feed, commenting, upvoting and checking notifications.
Visual Features
As you can see from the image below there are five sections to the Partiko App; Home ; Trending: Points; Notifications and Search.
On this image below you can see that on the homepage you can see a feed of the accounts you follow and also a favorited section showing all the articles saved for future reference or reading (Mary @meesterboom now worryingly in my favourites!). Partiko informs users on the notifications screen of any currency transfers, mentions, upvotes or comments.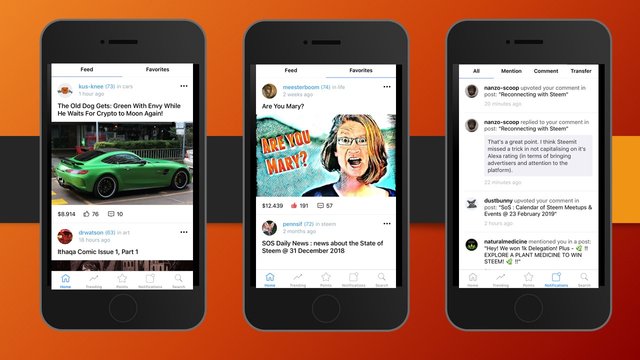 On this image below you can see the Homepage for the user where you can Claim pending Steem balances, and you can see all your posts and resteems. You can see the Partiko points total and tally on the points screen, and you can see a screenshot of a blank post template on the right-hand side.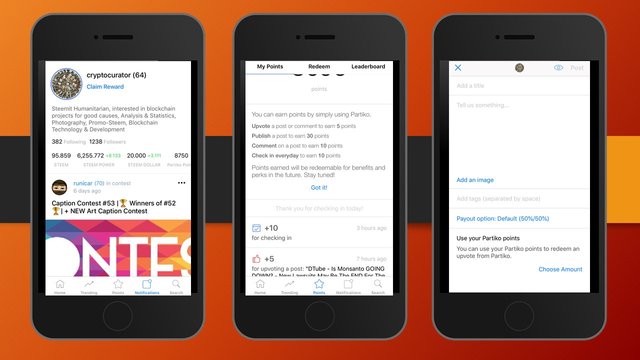 Gamification
An additional layer to the appeal of using Partiko is the gamification. Partiko have an in-app points system, and a leader board to show how you are doing versus other App users.
Users earns points through various different activities including referrals, comments, daily check-in, upvoting, and publishing posts. Users can collect the points, or they can be redeemed and converted into Partiko upvotes or saved for future perks and benefits that are unannounced.
Pros & Cons of Partiko
Pros
User friendly with a very clean professional look
Aimed at Steem Blockchain Users on the Go
Constant Development and quick response to support queries logged in the discord channel.
Fast Notifications
Gamification – with Partiko Points System
Users can put posts into a "Favourites" feed so that they can come back to them later with ease
Easy to share Steem posts across to other Social Media (using the three dots at the of any article)
Cons
Not possible yet to post pictures as comments on iOS
Every comment has a hardcoded "Advertising Signature"
Tables and Quotes in posts are not very well supported on Partiko and can be difficult to read
Alternatives
Other similar alternatives to Partiko as a social interface to the Steem Blockchain include: the first social platform on the blockchain Steemit, but also Busy, eSteem, SteemPeak and Steeve. The extent of the relative activity and transaction on all the Social Interfaces can be seen on www.StateoftheDapps.com. Here is a screenshot as at 5 March 2019: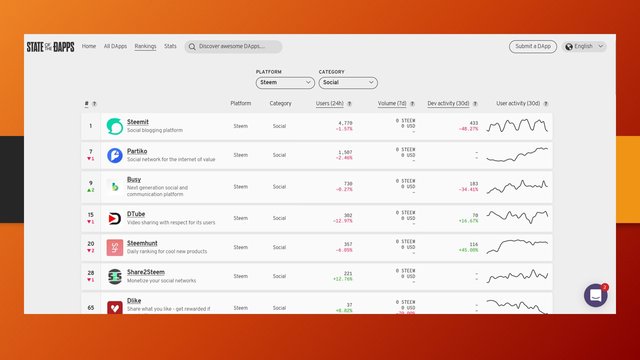 Conclusions
Partiko has been very well product managed, with great navigation, fast loading, neat slide upvoting, and a great search function all designed for the users in mind. I would not be surprised to see Partiko go from strength to strength and take even more market share from other social interfaces. Partiko is currently the fourth most used App on the Steem Blockchain and by no coincidence I conclude this review by giving Partiko 4 out 5 Stars.