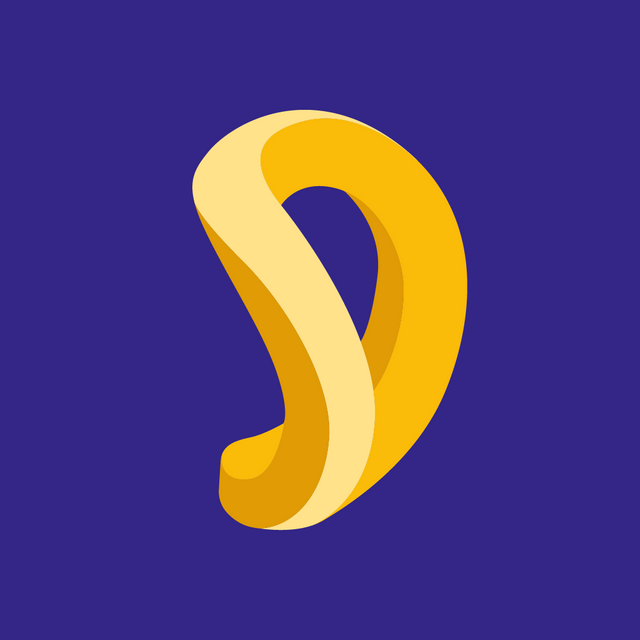 image source
INTRODUCTION
It is no longer news that the blockchain technology is here to stay. Looking back at the start and how far the journey has come, scaling so many hurdles with different groundbreaking solutions that have so far revolutionize the world and with the promising future that it will always get better.
There have been many innovative blockchain technologies, they are so numerous that it is very easy for people who are into cryptocurrency to get distracted or make wrong decisions to focus and promote the real project(s) that are actually living up to their promises and providing solutions to the real world issues.
It takes more than just the basic characteristics shared by the blockchain technology some of which are Decentralization, Transparency, Secure, Fast, Safe, Low cost of transactions, Easy accessibility amongst many others to make a blockchain project a success. Before getting involved in a project, potential users should do some research as to what the project entails, what it is aimed at, how it operates and so many other things and there is no better way than to read the project's whitepaper and blog publications. I, for instance, follow all these steps and it really helps me in weeding out the projects which have no clear vision or goal. But I found out about an interesting project called SNAX of recent through a Steemit blog post made by the Snax team. I came across it while surfing the Steemit trending page and it caught my attention. This made me dig deeper and carried out my own research, I was glad about my findings on this great project which is why I'm writing this blog post.
WHAT IS SNAX?
Snax is a Decentralized Social Media Overlay that rewards social media users for their various activities.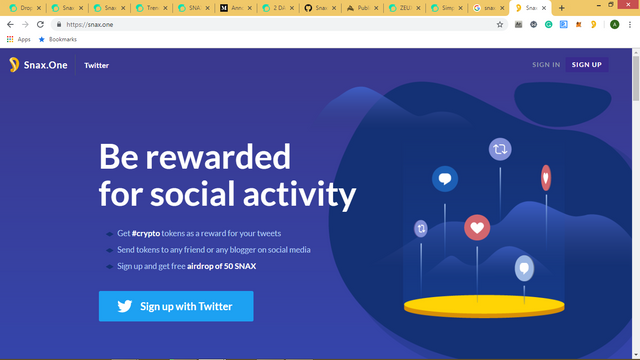 Snax does not require users of the blockchain to open a new social media account to have access and make use of the blockchain. Accounts are freely registered via any social media that is already integrated into the Snax blockchain. Currently, Twitter is the first and only social media that is integrated into the Snax blockchain, but I'm glad to inform you that starting from today May 14th, 2019, Steem will be integrated into the Snax blockchain which will allow users of Steemit to Sign up and Earn based on their activities on the Steemit platform. Isn't that great?! Now you can earn double on your Steemit posts and activities.
SNAX blockchain is really revolutionizing the way of earning on both the blockchain and social media. It is really a unique idea as this is the first project I'll witness that does not require earners create a new social media account to earn but just have to effortlessly integrate existing social media platforms such as Twitter, Steemit (Facebook, Reddit, and many other popular social media to be integrated in the future). Snax rewards users in form of cryptocurrency called Snax token.
I visited the SNAX blockchain website to set up my account and start earning immediately after digesting the whole idea of the project. I was required to sign up as a new user. I clicked on the Sign Up button and follow the processes of linking it to my twitter account. I received my first 50 SNAX tokens as a reward attached to the free airdrop Twitter Integration Sign up. This is a launch bounty that is currently going on, so I'll urge you to quickly sign up. I also received a few extra tokens into my SNAX wallet based on the calculated metrics from my tweets, these earnings will continue to roll in the more I keep performing activities with my twitter account.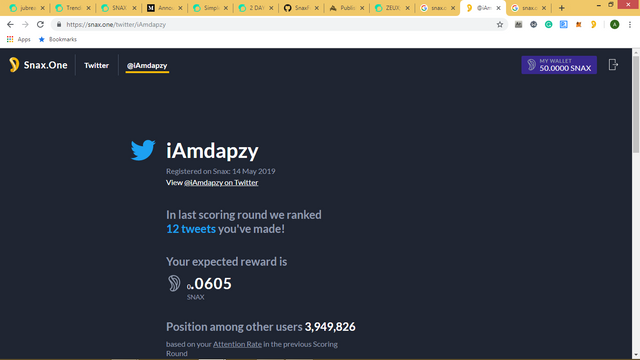 image showing the earnings from my twitter account after integration
The account set up process requires little or no guidance, but for the sake of people who might need it, I'll quickly explain the steps involved in account creation.
HOW TO SIGN UP
Visit the SNAX website
Click on "Sign up with Twitter"
A pop-up message on how to set up your wallet will come up, please do not ignore it, follow the instructions to set it up successfully. It can also be installed manually by visiting this address
Once the extension has been successfully installed, click on the logo from the extension tab and create a new wallet
Reload the Sign Up page after successfully creating the wallet.
Provide your Snax account name and authenticate the account by posting the auto-generated tweet via your twitter account

Now start engagements with your social media and earn rewards.
SNAX Bounty program
The bounty programs are currently going on. There are different methods to participate and earn from this bounty. One of the has been mentioned earlier which was the Twitter sign up bounty where users are rewarded with 50 SNAX Tokens.
Also, there is Steem bounty program where Steemit users are rewarded by just making a post of at least 1000 characters and share to the community using the tag #snaxBountyProgram.
Snax is allotting 5,000,000 SNAX tokens for Steem bounty program. The number of token rewards to be earned on a Steemit post can be calculated using the reward calculator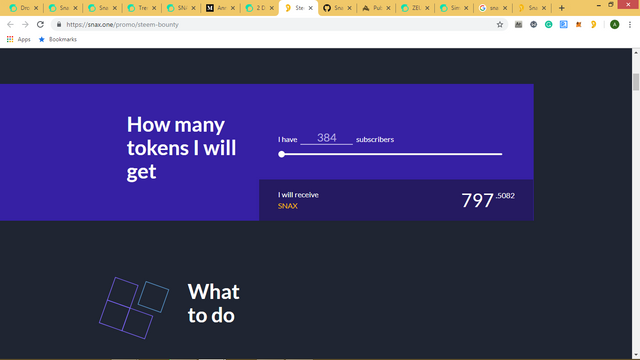 REMARKS
SNAX blockchain employs an entirely different process in decentralizing earnings on social media. Signing up very easy, as users just have to integrate their already existing social media and continue with the normal usage of such social media without any special task to earn other than using social media.
Users can even send Snax tokens to any content provider even when the receiver does not have a SNAX account, it will be received by such receiver once he/she signs up on SNAX, all for free. Users can also send tokens within themselves.
There are plans to add and integrate more social media  later in the future. But, currently, the focus is on the integration of Steem (happening today May 14th, 2019) and listing on third-party exchanges according to the project's roadmap.
CONCLUSION
I really like the idea behind this project as it part users don't have to worry about being engaged by only whales to make reasonable earnings as it is currently with the most of decentralized content reward system. All you need to do is engage. But this issue is only partially solved by this innovation as it will benefit those with high active followership than the ones with less followership. But overall, this is a great step in the right direction of decentralizing earnings via cryptocurrency.
Resources
All of the images used are screenshots of the website from my device. All other places where other images were used were duly cited.
Github profile:
Thanks for reading
I am jubreal