Do you know you can monetize your activities on social media? Snax provides free instant micropayment and money transfer for social media users across the globe. Let us learn about this highly lucrative platform for social media users.
---

Source
---
Social media have become an inseparable part of us. It is safe to say we are addicted to using some of these social networks. If you are someone who doesn't interact on Facebook, you have got to be interested in Reddit, Twitter or Medium. Some of us actually use more than ten established social networks on a daily basis. I was so fond of using Facebook a few years back. I was so active that I get hundreds of interactions on my posts on this network. It got to a point that I realized that it doesn't add any monetary value to my life. Hence, I stopped. I got acquainted with Instagram and built a reputation on it. I got tired of it eventually since my priority is always about meeting end means. In a nutshell, regardless of how a social network is, people usually get tired of it in as much as they get no monetary benefit from it. Most especially, now that we have various blockchain-based networks providing rewards dividends for people. It is usually all about making some money regardless of how little it is.
Get this right. It is not that our activities on social media aren't supposed to be rewarding (in term of money). That is exactly what Snax is emphasizing on. It is just that only professional media personalities (content creators, bloggers and vloggers) are the ones enjoying the dividends. Snax.one is here to help us stand our ground even as casual social media users. The time and resources we spend on these networks should bring monetary returns.
---
Introducing Snax & Benefits of Snax Blockchain
Snax is a blockchain-based network that agglomerates various established social networks with their users in one community. It provides reward based on their activities on the networks. In other words, Snax creates an economy for users' interactions on social media. Think about this: We all love to share stuff on Facebook, write and retweet interesting tweets and the likes. We enjoy meeting people and connecting with strangers from different part of the globe. We dedicate our time to do all these activities when we do not get monetary benefits. Snax is ready to reward us for our interactions on social media.
Rewards on Snax are very fair and transparent. That is one of the priceless features of this era-defining technology; blockchain. Getting rewarded is not all about having huge social media pages and communities. A page that has millions of followers without attention-catching contents gets no rewards. The one that has average followers but is very active and creates interactions among its followers is way better. Such a page will earn a good amount of SNAX tokens. This is to ensure a balanced system that is not biased but fair and transparent.
Apart from getting rewarded for our activities on social media, Snax creates a mainstream through which we can transfer money to people that are thousands of miles away. There are various traditional ways of sending money across the globe. These traditional means, however, usually costs some bucks. Even the use of decentralized money transfer firms attracts transaction charges. Snax is the only blockchain-based system through which you can transfer money to social media users without being charged. It is 100% free and secure.
What is more, Snax blockchain serves as a bedrock for the development of independent decentralized apps. As a developer, you can access this blockchain's Standard Development Kit (SDK) and build your apps.
---
Let's Talk About The SNAX Token
SNAX token is the fuel that powers the Snax blockchain. Everything on Snax network is built around the SNAX token. This is the token with which social media users will be rewarded. It is used to provide instant micropayment services for users. The amount of SNAX tokens paid to users depends on their activities on their social media accounts. You can transfer your tokens to other social media users as long as they are on the Snax network. To send money to people living in other parts of the world, simply purchase SNAX tokens and send to the recipient. The receiver can exchange the SNAX tokens to fiat. SNAX token is set to control the economy of social networks across the globe.
---
Do you know you can easily get up to 100 SNAX tokens for free right away? That sounds really cool. You just need to connect your social media accounts (Twitter and Steemit) and that is all. Go to Snax website and click on Sign up. The following page should show up.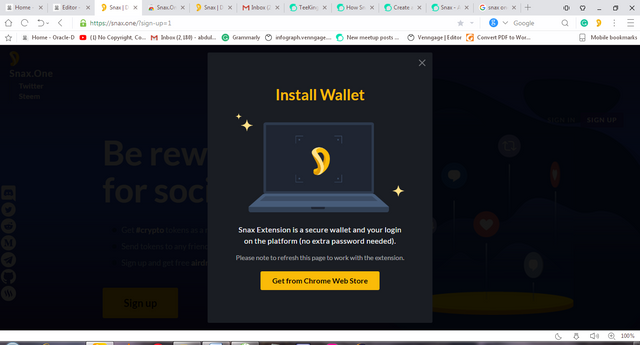 Click on Get from Chrome Webstore to download the wallet extension. You should find the extension at the top right corner of your browser when it is installed.

As the wallet page shows up, click on Create New Wallet.

From there, you will be required to create your password. Do as asked, copy the 12 words phrase generated for you and save it somewhere safe. Your wallet address shall be displayed to you afterwards.
---
Linking My Twitter Account
Now go back to Snax homepage and click on Sign up. You can sign up with your Twitter or Steemit account. Let us start with 'signing up with a Twitter account'.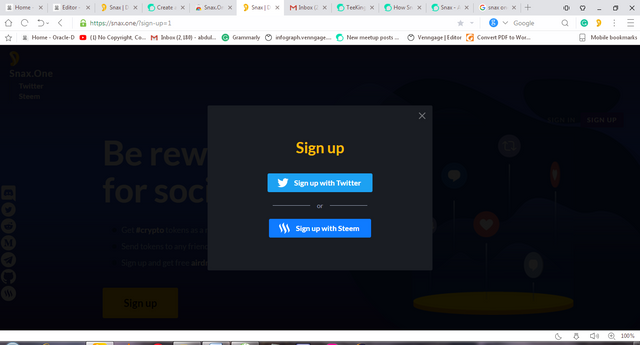 Now, choose a username and click on Authenticate With Twitter.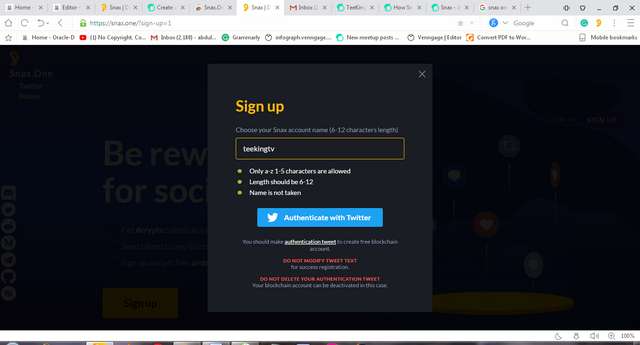 Post the tweet shown to you on a new tab.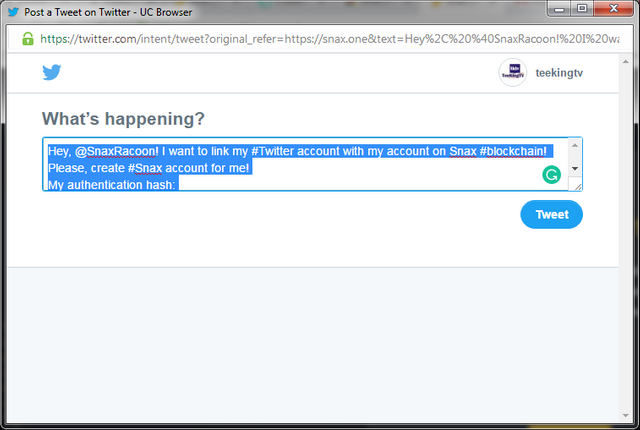 You should see the following message if all is done correctly.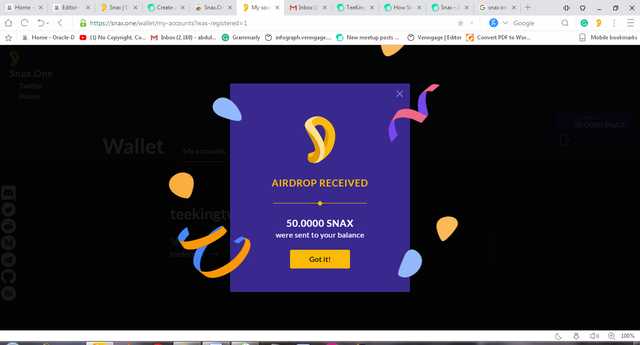 Now you have successfully integrated your Twitter account and in return, you were given 50 SNAX tokens. Awesome!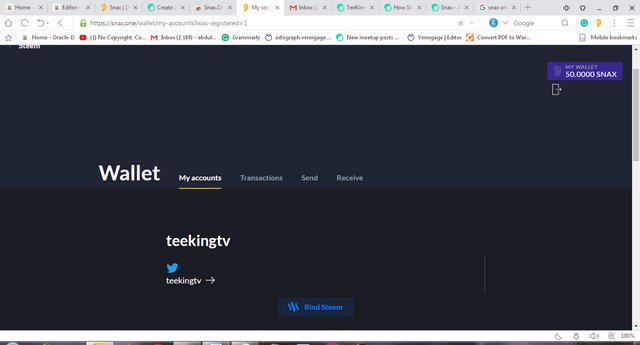 ---
Linking My Steem Account
It is time we bind our Steem account with Snax. Click on Bind Steem and you should see the following age pops up.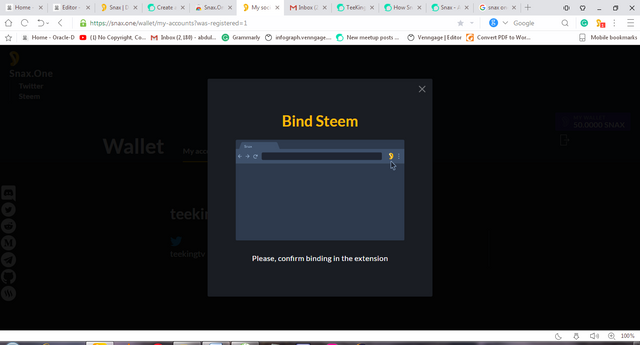 Click on the extension as requested to confirm the binding. After granting the binding permission, you should see the following page shows up.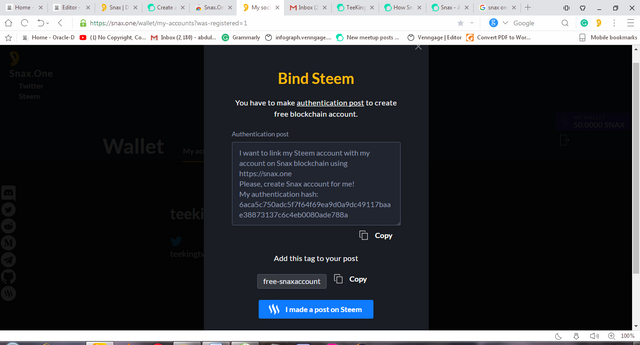 Authenticating my Steem Account
I want to link my Steem account with my account on Snax blockchain using https://snax.one
Please, create Snax account for me!
My authentication hash: 6aca5c750adc5f7f64f69ea9d0a9dc49117baae38873137c6c4eb0080ade788a
---
You Can Also Create A post About Snax
As a Steemian, you can also create a post about this beautiful platform. Learn more about that [here](https://snax.one/promo/steem-bounty.
---
Snax Github Repository
---
Links and References
---
DISCLAIMER
This is not financial advice, nor a guarantee or promise in regards to any result that may be obtained from using the above content. The information provided here is for informational and entertainment purposes only. It should not be considered as financial and/or investment advice. No person should make any kind of financial decision without first consulting their own financial adviser and/or conducting their own research and due diligence.