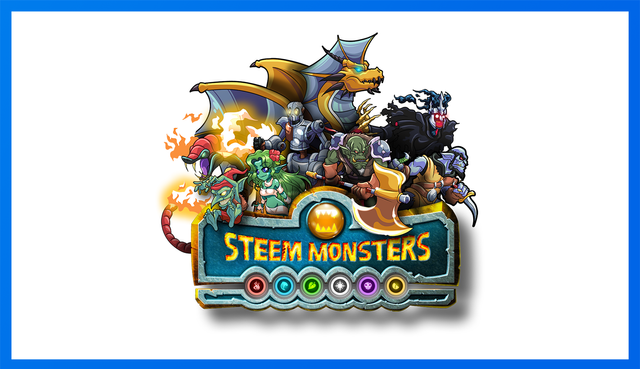 Steem Monsters is a fully decentralized, digital collectable trading card game built on the Steem blockchain, which is now also available on Smartsteem.com.
---
Have you already played the greatest game on our blockchain, Steem Monsters? Maybe you have bought the starter set or a few booster packs.
Then you know how addicting and fun it is!
We believe that Steem Monsters is an amazing game, which will levitate Steem to new highs.
And we wanted to give more people an incentive to buy packs and support one of the greatest projects on Steem.
Steem Monsters Arrived On Smartsteem.com
What better way is there to spend revenues from investing with us, than purchasing Steem Monsters packs? One might even call it investing, as cards have real value.
That's why Steem Monsters packs & starter sets are now available for purchase right on Smartsteem.com.
---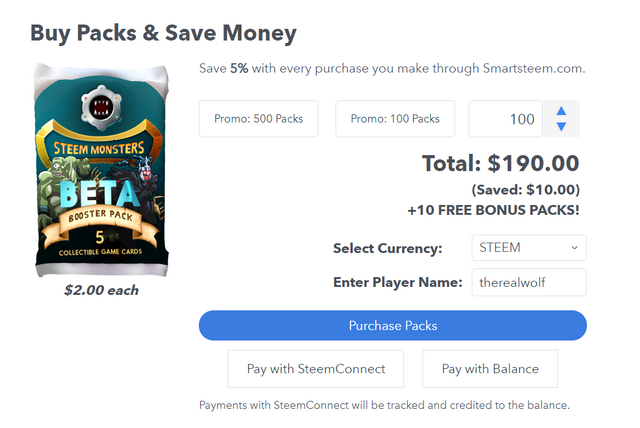 Payments can be made with steemconnect, manual transfer or directly with your smartsteem balance: https://smartsteem.com/balance/steemmonsters (login is required)
---
And you want to know the best thing?
Buy Packs & Save Money
You'll save 5% on every booster pack and starter pack you buy. Which means: you can even buy more packs.
This is made possible as Smartsteem is now an approved merchant of Steem Monsters. We receive a small commission when selling packs and of that, we're giving 50% back to you.
Getting Started
We've made sure that the payment process is as simple, secure and fast as possible.
Step 1
Go to https://smartsteem.com & login.
Step 2
Click on Balance > Buy Steem Monsters Packs (or direct link: https://smartsteem.com/balance/steemmonsters)
Info: If you haven't purchased the starter set yet, you can do that first. The steps are the same except the quantity is fixed to 1.
Step 3
Select how many packs you want to buy. If you buy 100+ more packs, you'll receive bonus packs.
Step 4
Select which currency you want to pay with (SBD/STEEM) and which steem account/player should receive the packs.
Step 5
Choose your preferred payment method.
SteemConnect: Click on "Pay with SteemConnect" and confirm the payment with your credentials. The 5% discount will be applied to your balance.
Manual Transfer: Click on "Pay with SteemConnect" and copy the memo starting with P-. Make a new transfer to steemmonsters with the memo you've just copied. The 5% discount will be applied to your balance.
Balance: Click on "Pay with Balance" and confirm the purchase. Payment will be processed in 10 to 20 seconds. The 5% discount will be subtracted directly.
Step 6
Wait for your packs and open up some legendaries.
And that's it. You've just purchased Steem Monsters packs and saved a few $ at the same time.
---
Your Feedback Is Appreciated
We are going to sponsor a few contests in the coming weeks & months, but for now, we're very much interested in hearing your thoughts.
Do you like this new feature? Are you ready to buy some packs & save money at the same time?
Leave us a comment and we'll make sure to read it.
Team Smartsteem
---
More about Smartsteem
---