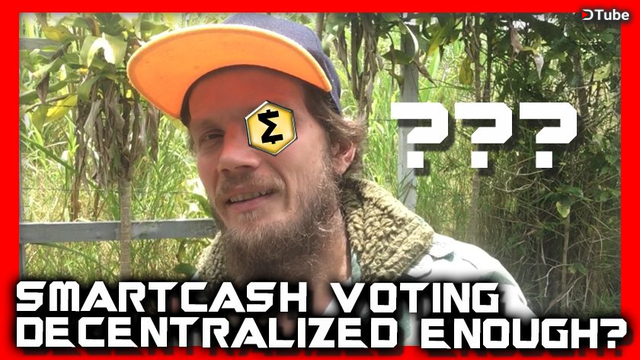 ---
A weird drama has appeared involving SmartCash and one of their former developers @msg768 who took the SmartCash tip bots for several platforms and left with them the project. In his public statement he critizises the lack of decentralization of voting for SmartCash proposals among other things. Here is his post: SmartCash Leaks - Episode 1 - TipBots Down
I wrote a long reply under that post which I share here once more:
Hi msg768, thank you for this insight into the SmartCash structures. It was certainly interesting and shows some serious concerns.

I would like to start with why you took the bots? Weren't you paid to create them for SmartCash? Why do you think you own them?

The fact that the founders rewarded themselves handsomely is pretty common in the cryptoworld. We see skewed distributions all over the place, for example Steem or even worse EOS and yet have grand hopes into the possibilities for these coins. I don't like it but that doesn't mean I think these coins are doomed. Quite the contrary. I feel very similar about SmartCash. Also, what you describe is a typical problem that all decentralized coins face: The first few years are still very much centralized and must gradually try to decentralize more.

However, SmartCash is currently suffering from an aggressive voting strategy from the whales. We didn't need your post to see this. For the past two months or so we see millions of votes smashing down the vast majority of proposals while before that we rarely saw more than 3 million total votes. The biggest problem with that is basically that it appears as if proposals are being decided by a few whales alone.

This is a big problem for growing decentralization of votes. Steemit inc. for example is never using their upvote power and only intervene by supporting dApps with delegated Steem Power. Making proposals censorship resistant and limit the massive influence of the founders in favor of more decentralization is something to strive for in the future. As it is in the best interest of the SMART blockchain I am sure we will find ways to make that happen together with the whales.

Also, I think that the Ben Swann proposal was indeed overvalued in terms of reach. But I also think that it was a prestige thing to support someone from the alternative media and freedom community. SmartCash has a lot of the Anarchapulco vibe and should in fact sponsor a few more people with maybe slightly smaller payments to create SmartCash sponsored content. I can totally understand why the whales threw their votes at him. It would have been nice to see Ben hold the coins instead of dumping them. Maybe this could be a part of a future proposal.

To repeatedly compare SmartCash with BitConnect is a pretty low attack, though and the only reason why I didn't upvote this otherwise interesting post. BitConnect was an obvious pyramid scheme that was doomed from the beginning. SmartCash on the other hand is a feature rich crypto with tons of cool open source development and a great vision. Managing the community treasury and voting process in a more decentralized way is achievable and I don't see the founders blocking that as they want to see SmartCash thrive more than anybody else.

And finally, dropping chunks of the treasury as airdrops on the holders and exclude the whales would surely redistribute wealth and voting power on SmartCash. My initial thought was that it would be a bad socialist move. But that would not take away anything from the whales, just make the community more powerful and lower the way to blown-up treasury, which will continue to grow afterwards anyway. On the other hand it would most certainly create a huge selling pressure on the price as many would just want to cash out the extra money to survive the bear market. So I don't know about that one.

All-in-all I think your post will hopefully by heard by the whales so that we can all come together and solve the decentralization problem for proposals and treasury instead of fighting and creating FUD for SmartCash. The price will probably drop much further together with the entire market. I hope I can use my chance to get a bigger stake then because I believe in the future of SmartCash. It is just so much more fun to hold and use compared to most other coins that I cannot help myself but to be optimistic.
---
▶️ DTube
▶️ IPFS