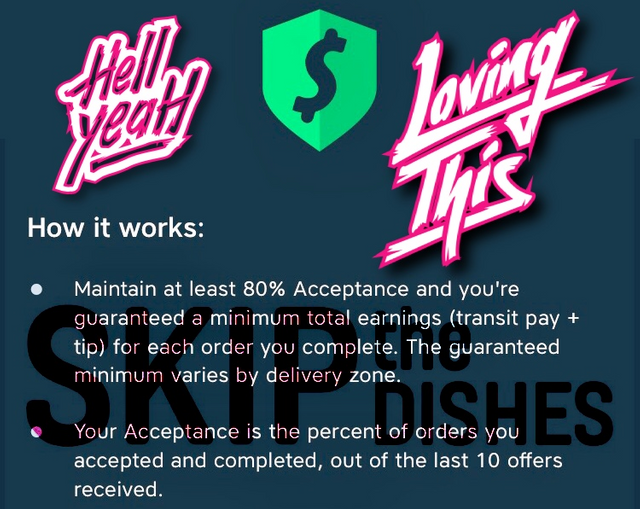 Last day of SkipTheDishes before I can be free for my vacation, its raining today pretty heavily and having a break from the morning rush I have been free to investigate things. Noticed that my app updated and it has a slightly different look, most things are all the same with minor tweaks in visual layouts with one major bonus with this update!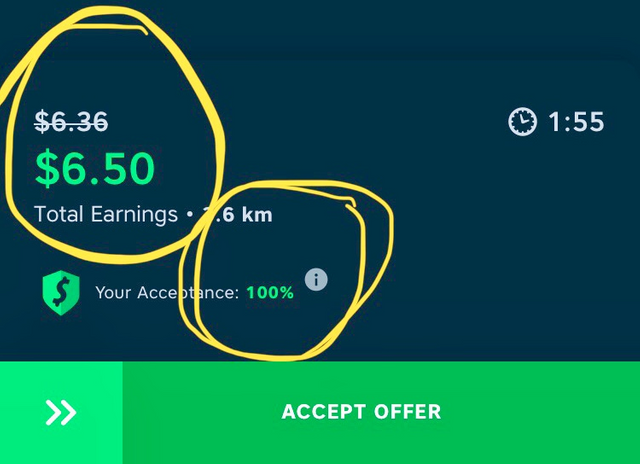 The text for earnings in green is new and the bottom line stating "Your Acceptance: 100%" was added which its nice to know my rating couldn't be any better! But what does that mean? Well along with this update came an email 2 weeks ago which doesn't happen often, announcing that SkipTheDishes is trying out the new priority shifting in a few select areas including mine. Based on our acceptance rating we gain priority on the shifting schedule and also delivery match queue but what they didnt mention in the email was the bonus relative to our rating. Sneaky buggers the update showing us our rating came much after the trial run email announcement and starting date yet nothing has been stated about the "bonus" earnings.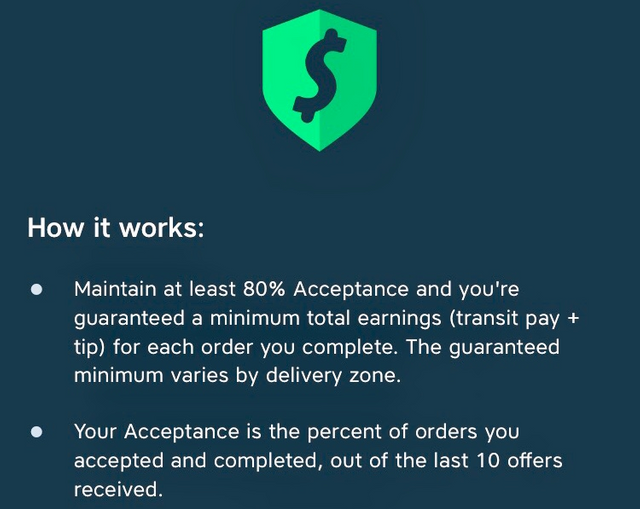 With me being so on it im pretty well certain I will maintain a solid 90%-100% acceptance rating which means only missing 1 out of a given 10. That also means say I miss a delivery early on I should be able to make up for it by the end of the shift with a 14-15 daily average. Still I find nothing that actually states how the math is done?
Questions
I have sent an email asking politely for further information since this is my employment and should be transparent with me.
What is my guaranteed minimum total earnings?
How is it calculated?
Is it a bonus on top of previous earnings or is it (full earnings - acceptance rating)?
How does this 100% acceptance rating affect my schedule now with priority scheduling?
I really like this idea for the sake of those of us that put the effort in and end up hearing horror stories about other guys, this will weed those people out or atleast give them far less deliveries maybe only enough for them to handle 😂
I am still on the fence though based on one thought, is this a bonus on top of wages or subtraction from wages based on rating? EG IF I was earning $10 prior per delivery to update but after I am earning $10.22 with 100% rating but if my rating was less than 80% would I make less than $10? Same question for if my rating was 90% would my new value be less than $10.22? OR would my 100% rating be completely equal to old income value and anything less than would take away from potential earnings?
I hope to get an answer via email soon but they have not been the most forthcoming with me, I suppose for now I can just be pleased with myself knowing I am doing the most that I can and not only from my viewpoint on this one.
I took on this job for the sake of having additional income thus allowing me to pay off my debts "you can't truly consider yourself ahead unless you are completely out of the hole" as my Grandfather always said I always thought he was saying "a head" as a kid but now it makes sense understanding his beliefs also. Though Gramps was big against centralized banking and debt he never said anything about not investing, if only he was alive and coherent enough to understand what potential blockchain holds!
Having this job has enabled me to continue on Steem & DTube without the need to take anything out, any slight change in my earnings makes a big difference over time. Content creation has enabled me to start diversifying my Steem & DTube investment while also saving for my next investment into Steem. I have been slowly saving and exchanging my Steem rewards over the last few months while also commencing my first powerdown of 1000 SP. Transfering that through @blocktrades to keep things simple I currently hold 0.0143 BTC and 0.5046 ETH on my ShakePay Wallet waiting for the next bull move. I figure sell when I see the combined value $400+ CAD depending on how strong the markets feel based on buy volume, you know the deal this is no investment advice 😁. This will be used for purchasing another server for a #OneLoveDTube Steem Witness, will need $600 CAD total. While I powering down I also continue to grow my SP faster than I am withdrawing which means that I have been able to pull out, after I sell at a higher price of course, $400+ worth of rewards while powering down and not hamper my staked investment of approx 10k SP.
This will mark the moment when I get an ROI for my Steeming investments to date then to only double down by supporting the network directly with a witness while also maintaining a solid 10k SP Steem investment 👌

Let me know your thoughts in the comments below!!!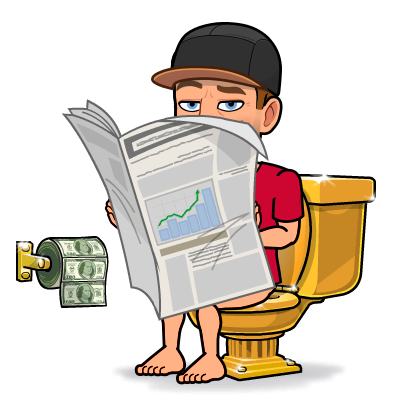 ShakePay Mobile Exchange App
Check Out ShakePay Here
Follow my referral and we both earn $10 with your first $100 purchase 💪
Buy & Sell, BTC & ETH from mobile or desktop with ease
KOHO Prepaid Visa & Mobile App
Check Out KOHO Here
Join me on KOHO to get transparency into your money and earn instant cash-back! Use my promo code "SAZN2DMR" to earn up to $60
No Fees whatsoever, ever!
Check Out Their Collection On Zazzle
Shirts, Mugs, Swag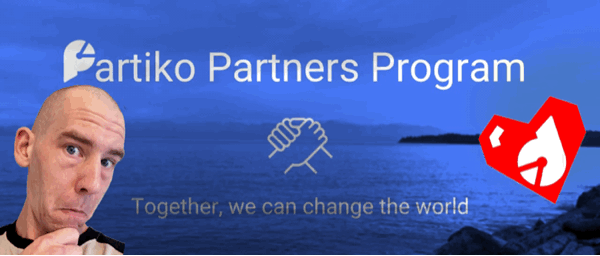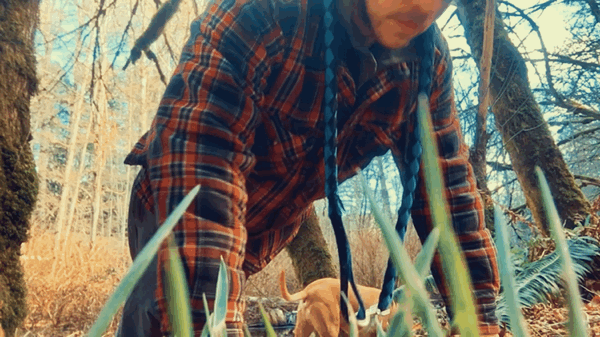 Wallet of a Minnow, Heart of a Whale