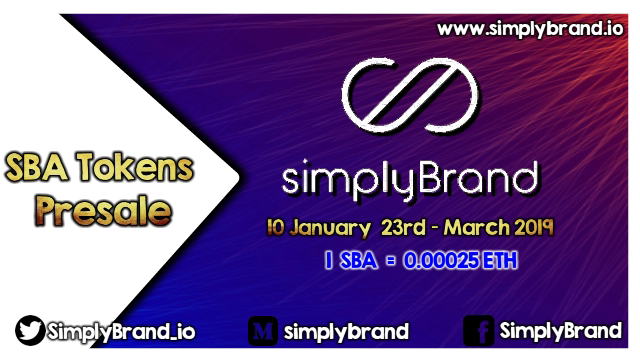 simplyBrand is the world's first blockchain-based e-commerce verification platform, launches their token pre-sale on January 10th, 2019 in conjunction with strategic partner COBINHOOD, a leading cryptocurrency service platform featuring zero-trading-fee exchange as well as an end-to-end ICO service provider. By integrating blockchain, AI and crowdsourcing, simplyBrand aims to end online counterfeiting through a safe and trustworthy digital commerce ecosystem. source
Recently, there was a trade war between two famous brands - the US and China. Since this war occurred fake and counterfeit products has been the order of the day in the E-commerce sector. Globally, counterfeit has been an unending threat to companies, individuals, customers, and world economies. Addressing the issue of counterfeit has been a bumpy ride for companies. Since E-commerce is a broad platform, brands are having a tough time tracing fake and counterfeit products. However, customers aren't exempted from this dilution, sooner or later they will fall in the traps of internet fraudsters.
With simplyBrand being a game changer, the platform has extended their proficiency to address some anonymous quandaries in the E-commerce space. With the help of blockchain technology, simplyBrand will be able to recognize and confirm products and commodities present on all platforms in the E-commerce space which includes a description, prices, images, locations etc.
The idea is, the platform will create a "blacklist" avenue in which participants will be rewarded with SBA tokens (the platforms native token) when they spot and report a fake or counterfeit product via the simplyBrand DAapp. The tokens given to the participants can be used to purchase brand privileged items or equally sell them on an exchange. This exercise will definitely eradicate "offensive product pages" vehemently as well as advancing the AI accuracy.
simplyBrand pre-sale programs;
✅

First Mover Program
The mover program consists of 14 phases. Participants who invests on the platform will share a bonus pool as well as other bounties as per the amount they invested in the given phase.
✅

Referral Bonus Program
This second point includes referring to friends on other social media platforms, each user has its own unique referral code in which they'll be given 1,000 SBA tokens for every valid referral they bring on board.
Note: A valid referral is one who invests in simplyBrand's pre-sale via the referral code given to them. Having said that, participants won't be rewarded for bringing a dormant investor on board, rather an active and advanced crypto trader who is ready to invest in simplyBrand.
✅

Token sale and allocation
At the time of this writing, pre-sale commences from 10th of January - 23rd March.
| Name | SBA | | | |
| --- | --- | --- | --- | --- |
| Type | ERC-20 | | | |
| Price 1 ETH | 4,000 SBA | | | |
| Hard cap | 40,000 ETH | | | |
| Soft cap | 4,000 ETH | | | |
| Marketing | 20% | | | |
| Development | 45% | | | |
| Operation | 15% | | | |
| Administration | 5% | | | |
| Legal regulation | 5% | | | |
| Business development | 10% | | | |
✅

Why participate in this project and buy tokens
One major advantage of having SBA tokens is the ability to purchase brands privileged items on simplyBrand platform or participants can sell them on an exchange if they wish to. Just as I stated above, participants who already invested a significant amount of money into simplyBrand will share a bonus pool and receive a bounty based on the amount they invested in that given phase.
My thoughts
Having explained the do's and don'ts about simplyBrand, it's now clear that only simplyBrand has the potency to eliminate fakes from E-commerce space as well as protecting other platforms from Fraudsters and online criminals. Don't sleep on this one! Be a part of this movement and make some profit for yourself. Join their presale now for a chance to get even higher bounties.
For more information and resources please visit the links below
★ twitter ★ facebook ★ Reddit ★ bitcointalk ★ Linkedln ★ youtube
Disclaimer:
This is not financial advice. Please do you own research before investing in cryptocurrencies or any digital asset. This blog post is done for entertainment and knowledge purpose only.