Great Sikh Warrior - Battle of Chamkaur
Hello, My All Steemians friends. Today I would like to share the greatest battle history of the world never fought before.
Before Briefing this real story lets me little brief about the Sikh community. They are the community who is known as in world for charitable work like providing Free foods(Langar), shelter and help all religion without distinction.
Sikh is the peoples in history who devoted their full life to serving others.
The start of Sikhism is from First Guru Nanak Dev Singh Ji(Born on 15 April 1469 in nonpartition part of India ). Who devoted his full life to helping and supporting needy person and spread this message to the whole world.
Sikh- Religion- it means who learn from his teacher.
You can see humanitarian groundwork of Sikh in the whole world.
Sikh people love the piece . But they are the patriot and helping people. They are the community who is the lion of the heart.
Sikh Aids
Today I will share you the world history best battle ie Battle of chamkaur. As we all aware of 300 Movie in which 300 Spartans soldier fight against Xerxes and his massive Persian army. They fight to death. We all are aware because Hollywood has made this movie such a wonderful way.
Similarly on the true incident ie Battle of chamkaur in which 40 Sikh Fought with 10 lakh Mughals.
Battle of chamkaur is lead by Sikh Great Guru. who is also 10th Guru of Sikhs. Guru Gobind sign has fought a lot of wars all were very Incredible. Mughals want to convert all in Islam. When his father, Guru Tegh Bahadur, was beheaded for refusing to convert to Islam, Guru Gobind Singh was formally installed as the leader of the Sikhs at age nine. Sikh wears the turban in the head and lives of others. Guru Ji had just created the Khalsa, a society based on equality and dutiful devotion to God.
According to historical sources, Battle of chamkaur was held on 5 Dec 1704 when Guru Gobind Ji has left Anandpur and just crossed the saraspur river (Punjab Place). At night he dedicated to staying night in haveli for rest.
As Mughals soldiers were looking for Guru Gobind Singh, to take his head as a trophy or bounty. After learning that the party of Sikhs had taken shelter in the haveli, they laid siege to it. they cordon off Guru Gobind Singh Ji and his contingents. The actual battle was said to have taken place outside the haveli where Gugu Ji is resting.
When Sikh realize this they are forty in number and Mughal are in lakhs. Sudden negotiations broke down and the Sikh soldiers chose to engage the overwhelming Mughal forces. It is alleged that the Sikh warriors were able to engage the Mughal troops in majority ie 10 lakh in number.
The Sikh warriors request from his Guru Escape with his two sons. Then Guru said they two are not only my son. You all my son.
Guru what said that time inspiring for all " Chidya naal main baaz ladava, Tabhi Guru Gobind Singh naam kahawa"
(I will make the sparrows capable of fighting the hawks, for it is only then that i will be able to uphold my name.)
They divided themselves group of four group people. five in each group.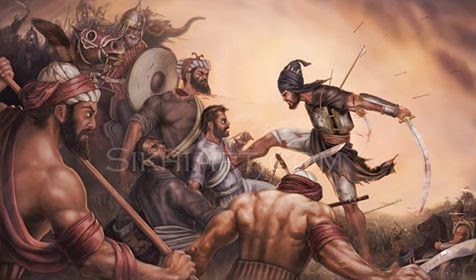 The Mughal wear leads my Gen Wazir Khan. They are very confident about win due to numbers ., But When they listen to war cry of Sikh's Glosbe. They feel afraid and doubting Sikh is not less. Because sound seems togetherness of lakhs of Sikhs. But in actuality, they were only 40 in number.
Sikhs are in the upper place of hills at chamkaur place. When Mughal's attack on Sikhs killed lakhs of Mughal's shoulders.
Guru Gobind Singh inspired all Sikh warriors by his Sikhs my war cry 'Sava Lakh Se Ek Ladaun' (One Sikh make a fight with one lakh twenty-five thousand) Will Make all Sikhs Believe Fearless.
At end Guru Gobind Singh left with his contingents safely, Lakhs of Mughals killed in his war!
https://steemitimages.com/DQmcSSiq5aDtrQR6TnTvR5HmBzr5pPbAK3H5CdMeBNFEVpu/Best%20sikh%20